*DOTD = Data of the Day*
The final 3 week countdown until the start of the 2020 MotoGP season has officially begun as Jerez awaits on the horizon. With a European tour scheduled to start in mid-July and conclude mid-November, MotoGP riders are set to race through a "sprint" of a season with 13 races currently on the schedule and about half of those being back-to-back races.
While our "Data of the Days" tend to analyze more rider and team performances, today we are going to layout some circuit analysis focusing on the 8 locations that the series will be traveling to this summer and fall. Below we have provided a test cross that examines two unique indexes:
1. Average Efficiency Index – identifies a rider's ability to make forward progress throughout a race, taking into account grid position, net movement and volatility
2. Average Net Movement Index – refers to the rate of passing between riders from start to finish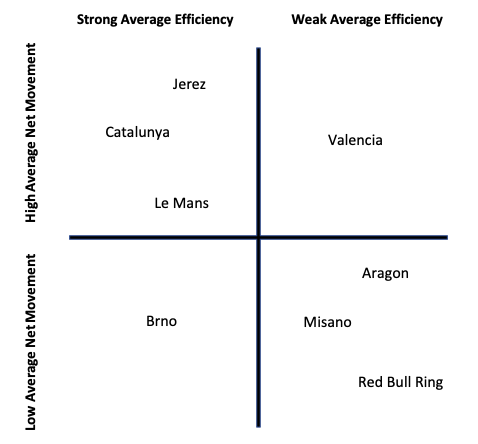 So what do the four quadrants within this cross test tell us about these 8 unique circuits?
Strong Average Efficiency + High Average Net Movement – Catalunya, Jerez and Le Mans
Significant levels of rider movement typically in the forward direction suggesting a very competitive circuit with numerous opponent overtakes and less manufacturer advantage, more rewarding to individual rider skill.
Strong Average Efficiency + Low Average Net Movement – Brno
Very efficient riding with less net movement suggesting a larger gap between riders as they hold their positions and endure less tiring, lap-to-lap battles.
Weak Average Efficiency + High Average Net Movement – Valencia
More frequent lap-to-lap battles with little room for riders to pull away as they must consistently defend their position and fight to regain any lost positions.
Weak Average Efficiency + Low Average Net Movement – Aragon, Misano and Red Bull Ring
A more spaced out environment where riders tend to hold their position and this static, sometimes backwards momentum ultimately outweighs significant forward advancement up the grid.
It is evident that the 2020 season is shaping up to be a highly competitive few months not only due to the unique and talented grid, but also because of the diverse set of circuits that await the return of the MotoGP paddock.