* DOTD = Data Of The Day *
The analytical study of a complex system, such as MotoGP, cannot be pinned on a single deciding factor. While each factor, or in this case performance index, can be studied individually, it is when the indexes are put into a complex system, of many components, that it is fine tuned to offer a deeper insight to the racing world.
So with that said, today's DOTD is going to examine a cross-referenced data set:
Average Net Movement by Circuit vs Top Historical Combined Index by Manufacturer
Let us break that down for you..
The "Average Net Movement by Circuit" is an index that was developed to supplement Grand Prix Scout's circuit analysis. By tracking the net movement between riders from start to finish, we can better determine the profile of each circuit.  From the data, we can infer that a circuit with a high net movement index is a more difficult circuit that holds less manufacturer advantage and rewards individual rider skill.
The "Top Historical Combined Index by Manufacturer" is simply the manufacturer that currently holds the strongest average Historical Combined Index for each circuit. This index is comprised of a Speed Index, handicapped by a Consistency Index.
---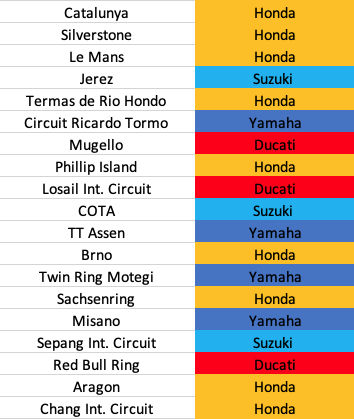 The chart above represents all of the 2019 circuits along with the top (current) manufacturer in regards to Historical Combined Index. The circuits are ranked by rate of net movement, Catalunya being the circuit with the highest rate and Chang Int. Circuit being the circuit with the lowest rate. As we stated before, the circuit with the highest rate of passing, in this case Catalunya, is considered to be the hardest circuit as it experiences smaller gaps between riders and more rider-to-rider interaction.
From the chart we can see that Honda holds the strongest indexes for the top 3 most competitive circuits. Yes, they currently have the unstoppable Marc Marquez riding for them, but the analysis goes much deeper than that. The overall Honda domination within this chart tells us that the bike is adaptable to unique circuits and that the riders have the ability to utilize the bikes' diverse set of characteristics to their full potential. This includes its agility through technical sections, its durability through repetitive deep braking, all backed with competitive acceleration out of corners.
It is no surprise that this chart portrays these 4 specific manufactures as we recognize them as the leading teams in the series. We hope to see Ducati, Suzuki and Yamaha move up the chart over time as they round out their bike profiles to improve their adaptability.