* DOTD = Data Of The Day *
All rider photos sourced from MotoGP.com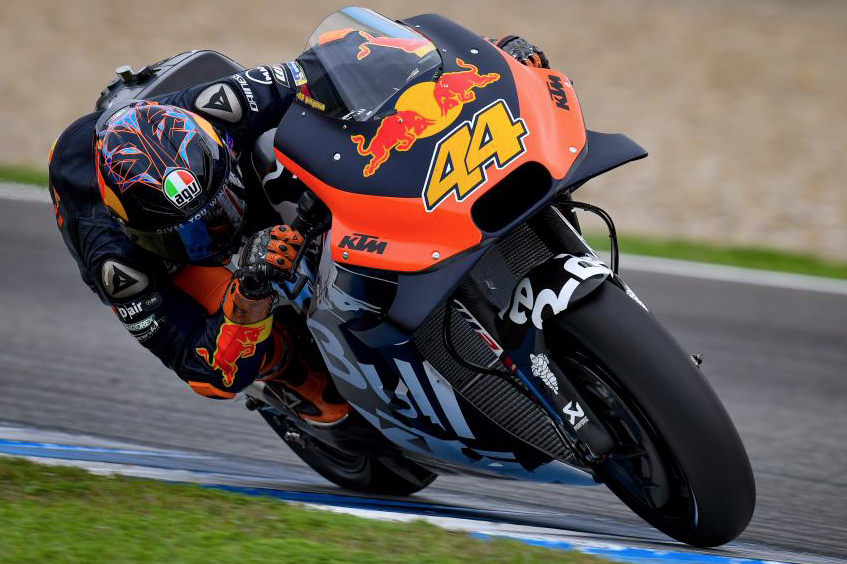 KTM joined the MotoGP scene in 2017 with Bradley Smith and Pol Espargaro as their first factory riders. Since then, the manufacturer has seen 2 new factory riders alongside KTM veteran, P. Espargaro as well as the addition of a satellite team.
The first few seasons for a new manufacturer are a critical time as they continue to develop and refine a competitive platform. The Austrian machine has been spotted in the limelight a handful of times as they charge into each race with ambition and hunger for more.
So let's lay out the annual progress of the KTM Factory Racing Team. The chart below tracks the highest ranked factory rider's Combined Index movement for each race over the past 3 seasons. Let me break that down…
Each colored line represents:
– A race season
– The general course of progression that the highest ranked KTM Factory rider experienced in terms of Combined Index over a full season
– The fluctuation in performance over a full season


Since a smaller Combined Index indicates a faster, more consistent performance, a negative slope suggests that the KTM Factory performance improved from the start of the season to the end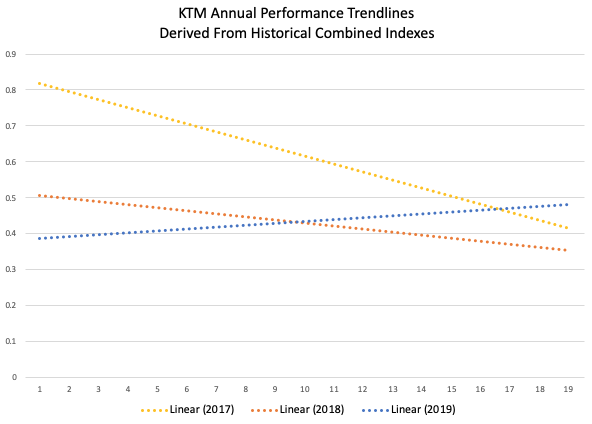 Please note that when we say "KTM" we are referring to the KTM Factory Racing team.
2017 (Yellow): KTM showed significant improvement throughout their first season in the MotoGP series. In fact, this season experienced the fastest rate of improvement for them as shown by the steep, negative line. With that said, the drastic slope of the line suggests outliers in performance, both good and bad.
2018 (Orange): Although it may not be obvious, from a data perspective, 2018 remains KTM's strongest year. Similar to 2017, KTM improved their performance gradually throughout the season as indicated by the negative slope. What stands out from the 2018 season is the consistency in performance. The flatter slope suggests a more dependable performance throughout the race season with overall lower/stronger indexes.
2019 (Blue): 2019 shares some similarities with 2018 in that the slope is quite flat suggesting a more uniform performance throughout the season. Unlike the previous two years, 2019 has a positive slope with suggests that the KTM Factory team started the season off stronger than they finished.