All rider photos sourced from MotoGP.com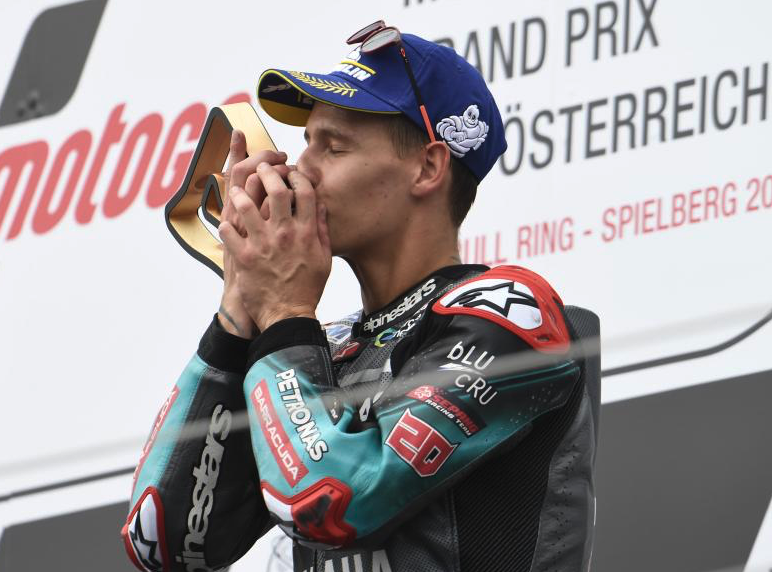 The newest member to the Petronas Yamaha SRT team, Fabio Quartararo, has left fans and opponents in awe one race after another. Last weekend, the young French rider claimed the 2019 Rookie of the Year award at the Twin Ring Motegi as he landed himself on the podium for the 6th time this year.
6 times in his first season. And guess what? 4 of those times he came in 2nd.
He may not have experienced the thrill of winning a MotoGP race just yet, but ranking 6th in the World Championship standings after the 16th round of the season isn't too shabby. And the icing on the cake – the only people ahead of him are seasoned, factory riders. To put this in perspective, Quartararo has spent his first season in tight battles with riders such as Marc Marquez, Andrea Dovizioso and Maverick Vinales.
He has shown his ability to start strong during qualifying which as we know, can make all the difference. Quartararo has had 10 front row starts with 4 of those being pole position.
So those are some more general stats on the young Yamaha star, what has his performance data shown us thus far?
Speed & Consistency
Rate Of Improvement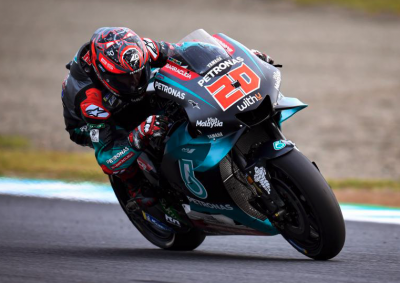 I've said it before and I'll say it again, Quartararo has developed a surprisingly mature riding style given his age and years on the circuit. His ability to not only adapt to a new bike so rapidly, but also to maintain such a competitive, consistent pace from one race to the next is admirable. It is no surprise that Quartararo earned the 2019 Rookie of the Year award as his riding reflects what one would say are years of not just training, but fine tuning skills to leverage his strengths over others.
The graphs below portray Quartararo's Speed Index and Consistency Index rate of change for all 13 races he has finished this season. Remember, a smaller index reflects faster, more consistent sector times. The indexes below represent a combined value with all sectors taken into account from each circuit.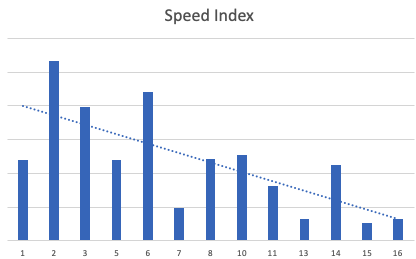 It is no secret that Quartararo has picked up his pace since the opening GP in Qatar. The first half of the season shows great fluctuation race to race with a dramatic improvement by the 7th round. Since then, he has been able to maintain a stronger speed index with overall more consistent times from one race to the next. Yes, there is a slight deviation in the second half the season but for his first year in the series, Quartararo's data shows promising potential as his adaptability and momentum forward exceeds expectations.
Similar to his Speed Index trajectory, #20's Consistency Index has continued to strengthen as he not only improves the numerical value, but is also able to quickly acclimate to a new circuit and bring this superior consistency to each race day. We all know that one fast lap is great and can get you pushed up to the front of the starting grid. But come race day, if you aren't able to put 20+ laps together, you will sooner or later be engulfed by the pack one lap at a time.
So, consistency is key, and Fabio Quartararo has that key. And when this is matched with his competitive sector times, Fabio is able to unlock his path to the podium.
A Strong Prey Amongst Ruthless Predators
As I said earlier, Fabio Quartararo has proved to be a very strong qualifier. Starting from the front row 10 times out of the first 16 races, his riding has been tested on a wide range of circuits with varying weather/circuit conditions. And through it (almost) all, he has prevailed.
Coming in as a strong qualifier has given Quartararo a huge advantage throughout the season. Not only because it throws him into the heat of it all, but because his skills as a prey on the circuit have continued to strengthen.
Earlier this year, the Grand Prix Scout team released a new indexing system that tracks each rider's ability to overtake opponents as well as to defend their position from those trailing behind. We call it the Predator / Prey Indexing system. How well can each rider approach a race with a balanced defensive/offensive riding style? We can tell you just that!
Each pass, each line chosen going in and out of a turn must be strategically planned as to not jeopardize your race position. Riders must be able to identify where they excel on each circuit, where they need to improve the most and then be able to match that with their surrounding opponent's in order to utilize their strengths the most.
Quartararo has a newfound ability to qualify in front, hold his position and defend his position in any given circuit conditions. Yes, sometimes one bike will hold an advantage over another, like Ducati vs Yamaha on a straightaway. But Quartararo has been able to recognize this and utilize the remaining sectors to gain ground on those in front and to defend from those behind. This is a unique skill, especially for such a green rider and we expect this strategic skill to continue to strengthen as he works on improving his predator mindset and execution.
A big congratulations to both Fabio Quartararo and the Petronas Yamaha SRT team as they continue their fight in the 2019 MotoGP season!