All rider photos sourced from MotoGP.com
Continuing on from our previous 2018 rookie piece, "Grid To Finish – 2018 Rookies Pt. 1" we are going elaborate on where exactly each rider has improved from the time they leave the grid to the time they fly by the checkered flag. Please remember, the analysis included takes into account only the first 9 races of the 2018 and 2019 comparison. 
Before we get started, we wanted to discuss the elephant in the room… Malaysian rider, Hafizh Syahrin will not be continuing on in MotoGP series next year. Starting with Yamaha and currently riding for KTM, Syahrin has been a memorable addition to the series and has claimed many achievements. He will continue to fight through the remainder of the 2019 season and help KTM as they evolve into a strong, competitive team in the series. Because of this, we have not included in-depth analysis on Syahrin in today's piece.
For the remaining two riders, we are going to lay out quick facts that give context to where they've been and where they're going in regard to race performance. Unfamiliar with our indexing system? Click here to learn more. 
#21 – Franco Morbidelli
Let's lay out some facts on the young Italian rider…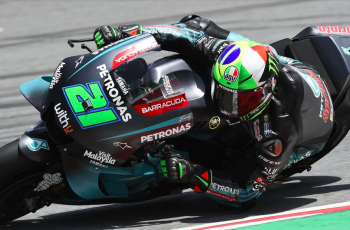 Morbidelli's combined index has seen consistent improvement for each comparable race between the 2018 and 2019 season. Additionally, his 2019 race to race performance has shown strong consistency with less fluctuation in combined index. His overall performance is much steadier this season.
Last year we saw a steady improvement each race as Morbidelli gained valuable time on the circuit. This year, his combined index trajectory has a positive slope, which suggests a weakening performance as the season evolves. So although he is holding a more consistent performance this season, his improvement each race is little to none.
The Yamaha rider has improved his speed index each race this year compared to 2018. Typically with an improvement in speed, a weakening in consistency is expected. Conversely, Morbidelli has been able to not only maintain but improve his consistency index alongside his speed index for a handful of races this season.
#30 – Takaaki Nakagami
Same same, but different….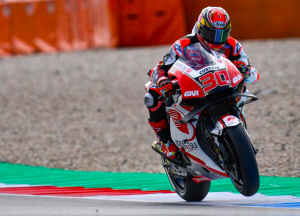 Similar to his competitor, Franco Morbidelli, Nakagami has improved his combined index for each comparable race
Although he has improved his overall performance, he has experienced a much larger fluctuation in combined index this season… Are we surprised? Not really. The Honda rider is developing his skills, trying new things and overall showing a significant push. Sometimes it will work out, sometimes it will backfire.
Nakagami has improved his speed index for every single race but has only improved his consistency index once so far this year. In order to remain at a competitive level, Nakagami must find his balance between his new found speed and a more mature, consistent style.
Both riders have shown great strides in improving their performance and keeping up with some of the most competitive riders the series has seen. There is clear evidence that Morbidelli and Nakagami are on an upward trend towards success but as they continue on through the season, they must prioritize their skill development. Each rider must find their "edge" that separates them out from the group.
We expect great things from these two as they have already made significant progress from their first season in the series to their second. Onward to the Czech Republic!