All rider photos sourced from MotoGP.com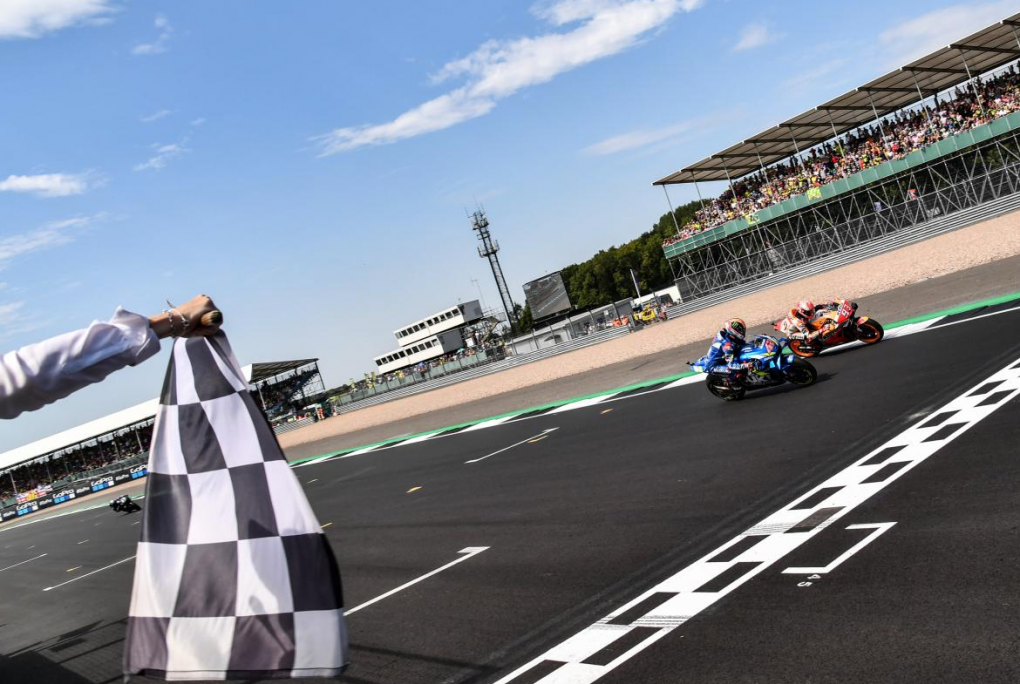 We are more than halfway through the 2019 season with chapter 12 (out of 19) in the books as riders left fans in awe at the Silverstone Circuit. Somehow, the riders keep topping the excitement and competitive level of each GP, one after another. This means that fans and teams are just about to reach their maximum stress level as each race elevates it even more…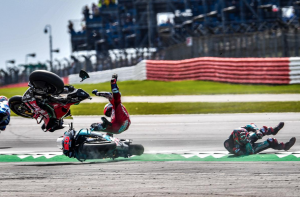 So, Silverstone. Similar to the opening Catalunya crash that involved four factory riders, the first lap of the British GP started with a bang as Quartararo slid out, forcing Andrea Dovizioso to literally jump the fallen Yamaha bike. From there, well the Ducati ended up in flames. Luckily, both Dovizioso and Quartararo walked/limped away from the crash with their self-esteem being the most injured part of them.
Fast-forward a few laps, Maverick Vinales overtook his teammate, Valentino Rossi who had started the race from P2 on the grid. From there, Vinales dragged Rossi and satellite Yamaha rider, Franco Morbidelli to the finish line and Yamaha took 3rd, 4th and 5th place.
Factory KTM rider, Johann Zarco had an ungraceful moment as he low sided and took out satellite KTM rider, Miguel Oliveira in the 9th lap. Both riders walked away with no severe physical damage.
Enough Summary – Let's Analyze
Let's start with Spanish rider, Maverick Vinales, who started from P6 and climbed his way to 3rd by the 7th lap. A strong grid start never hurts and Vinales did just that with 2 positions gained and finishing the first lap in P4. With his eye on the prize, the Yamaha rider played his strengths and knew that at this point, it was all about overtaking the one rider standing between him and the podium, his teammate, Valentino Rossi. So what did Maverick Vinales maintain throughout the race? Consistency! This is not to say that his speed was lacking, because he was able (unlike many riders) to match his superior consistency with competitive speed.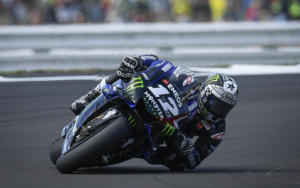 Maverick Vinales held the strongest consistency index for all sectors combined by a longshot. His consistency index in sectors 1-3 outshined almost all the other riders with sector 4 being his more vulnerable sector. We often see Vinales pick his way through the crowd, closing in on his opponents one lap at a time and this race was no different. His ability to maintain such a strong consistency allows him to hold his position, study his opponents and know where exactly to push his bike on a circuit without jeopardizing a strong finish.
Marc Marquez has endured back to back 2nd place finishes which if you saw his post-race interviews, he's not too happy about. For him, these last two races have been all about gaining more valuable championship points as he continues to excel in the championship rankings. On the other hand, Alex Rins is riding on a high as he claimed his 2nd win this season AKA his 2nd win of his MotoGP career. With a fierce battle between him and Marquez that came down to the last corner of the final lap, Rins reminded us that he and the Suzuki are just getting started.
Starting from P5, Rins made his way up to P2 within two laps. It wasn't until the 19th lap that he overtook Marquez after studying his strengths and weaknesses for almost the entire race. With well-preserved tires, as he always does, Alex Rins successfully identified both his and his bike's areas of strengths on the unique circuit where they were able to gain ground and apply the pressure. Let's break it down on a sector level…
To give credit where credit is due, Marc Marquez absolutely dominated sector 2 which happens to be the longest, most technical out of the 4 sectors. Given that sector 2 is so long, it allowed Marquez to gain more ground on those who had closed the gap within the remaining 3 sectors. Marquez and Honda are a dynamic duo in technical sectors and this hard-earned harmony gives the Spanish rider quite an advantage over others.
While Marquez flew through sector 2 with unmatched average speed and consistency, Alex Rins held his own, specifically in sectors 3 and 4. These two sectors became Suzuki territory as Rins maintained superior average speed over all his opponents and kept his consistency at a competitive level. Rins was able to identify Marquez's weaker areas and counteract with his own strengths.
Congratulations to both Alex Rins and the Suzuki team for an incredible win at the British Grand Prix!