All rider photos sourced from MotoGP.com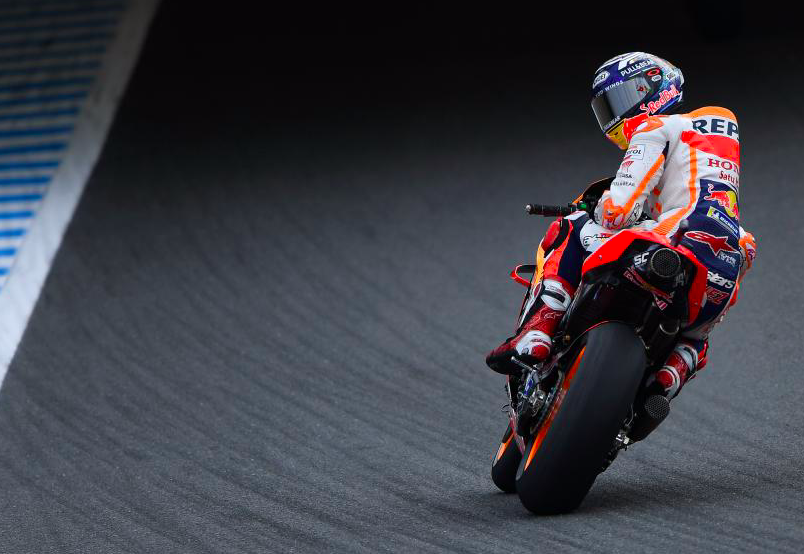 The 2019 MotoGP season has been noted as one of the most competitive seasons to date with both seasoned and newer riders testing and pushing the limits we once accepted. With new records being set and new individuals stepping into the spot-light, the end of the season rests on the horizon as teams prepare for the final 4 races. This weekend, we will see the newly crowned World Champion, Marc Marquez, defend his 2018 win at the Twin Ring Motegi where he crossed the checkered flag 1.573 seconds ahead of LCR Honda rider, Cal Crutchlow.
One to keep an eye on this weekend is Ducati Rider, Andrea Dovizioso who is currently ranked 2nd in the championship standings. Last year, the Italian rider took pole position in Japan and held a competitive position for a majority of the race until low sliding and crossing the checkered line in 18th place. Dovi sits 48 points ahead of Suzuki rider, Alex Rins and has a solid chance of bringing home the bittersweet 2nd place in the World Championship as he did last year.
Today we are going to examine riders and the upcoming GP from a few different angles including Super Combined Indexes, historical predator/prey rankings as well as forecasted weather for the race weekend. So sit back, relax and get ready to learn something new!
Super Combined Index Rankings:
Twin Ring Motegi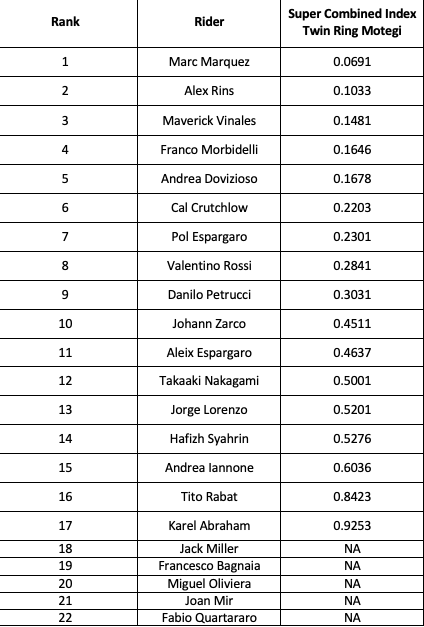 Some Key Players In This Weekend's GP:
Danilo Petrucci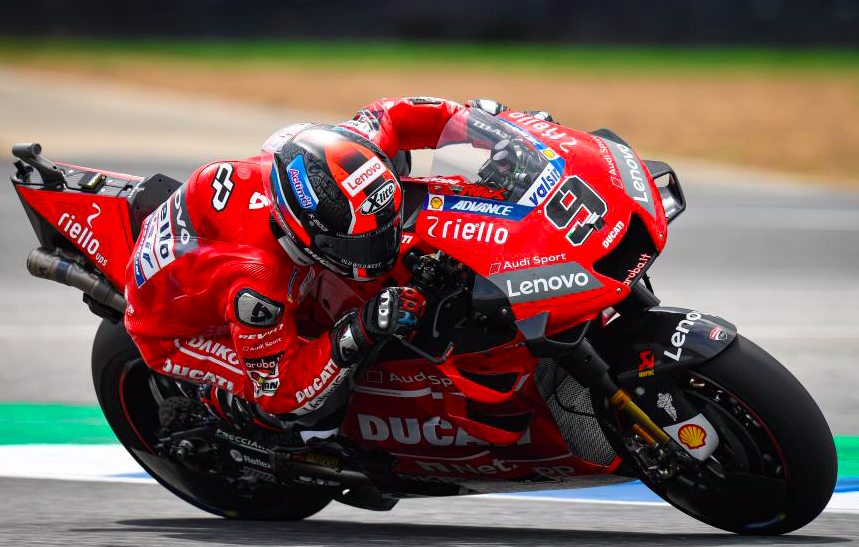 There are 3 separate topics to briefly touch on in regards to Danilo Petrucci:

1. When he succeeded on this circuit, where did he specifically succeed?
2. What advantage does he have going into race weekend?
3. How has his mental game influenced his 2019 season?
Two years ago, Japan saw Italian rider, Danilo Petrucci round out the podium just behind Marquez and Dovizioso. That year, he ranked within the top 3 for speed index for sectors 1 – 3 and in fact, held the strongest speed index for sector 1. The following year, his performance regressed as he finished 9th with a weaker speed and consistency. We need to see Petrucci channel his 2017 performance as he continues to adapt to the factory Ducati and utilize its unique characteristics.
Danilo ranks higher as a prey than a predator at this circuit as his ability to defend opponents from passing from behind outshines his ability to move forward through the pack. What does this mean? If Danilo can start the weekend with strong performance in free practice and maintain his momentum in qualifying, his chances of holding a superior position from the start seems much more likely than him climbing his way up the grid.
Earlier this season, Petrucci claimed his 1st race win of his MotoGP career. He endured an epic battle between himself, his teammate, Andrea Dovizioso and newly crowed World Champ, Marc Marquez. To top it off, it was at his home race in Mugello. So we saw Petrucci on the podium a few times in a row, he was hot and seemed unstoppable. But all of a sudden, the recently claimed "dream team" was no longer spotted at the front of the grid. There was no longer two factory Ducatis consistently leading the pack. So what happened?
The mind took over. His ambition led to his fall. Petrucci got so wrapped up in championship points and podiums, that he was no longer able to focus on the now. He wasn't able to focus on strategically riding his new machine and playing his strengths against his opponent's weaknesses. Luckily, we have seen an improvement and we believe that if he can harness his wandering mind and refocus on the now, we may just see him as one of the leaders fighting their way to Valencia.
Cal Crutchlow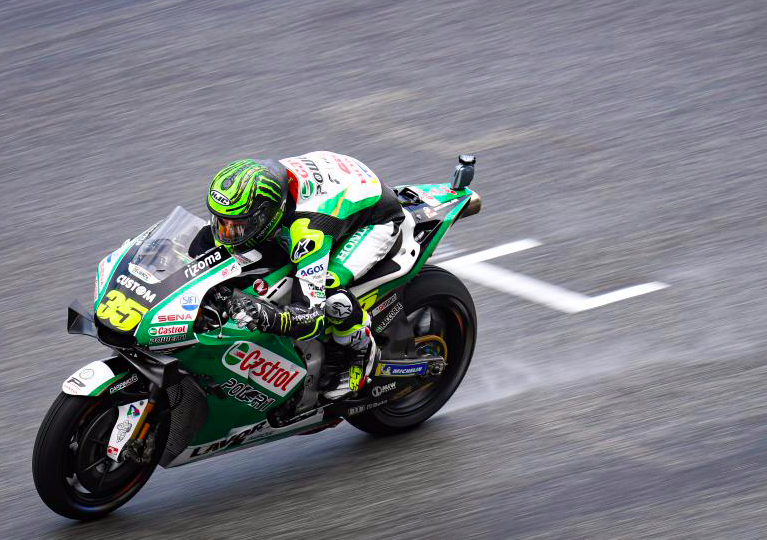 The epitome of a wild card, LCR Honda rider, Cal Crutchlow is an exciting racer to follow season to season. Wrapping up a mellow, not necessarily memorable 2019 season, we have seen a shift in the British rider's style as his number of crashes has dropped along with his competitive race pace. Currently ranked 9th in the world championship, Crutchlow has been spotted in the limelight a handful of times this season but has also been seen falling back as he struggles with the 2019 bike.
Regardless, Cal Crutchlow ranks 6th in Super Combined Index going into the Motul Grand Prix of Japan . So what have we seen from Crutchlow at the Twin Ring Motegi in the past?
In 2018 he started with a bang as he qualified onto the 2nd row of the grid in P4. Warm up lap, riders take their grid positions, 3… 2… 1… lights out!
Crutchlow maintained a strong race pace, ranking within the top 3 for speed index for each of the 4 sectors. What was his saving grace? Sector consistency! His superior consistency made all the difference as his most competitive opponent, Alex Rins, held an almost identical speed index for all sectors combined. Additionally, Crutchlow ranked #1 for prey index which translates to an unmatched defensive riding style as he was able to hold his lines and protect his position.

Alex Rins vs Maverick Vinales
167 points – 163 points = 4 points AKA the ever so slim gap between Alex Rins and Maverick Vinales in the championship rankings. One nationality, two manufacturers and two different riding styles. Both riders have had successful seasons thus far but must show no mercy as they enter the 4th to last race of the season.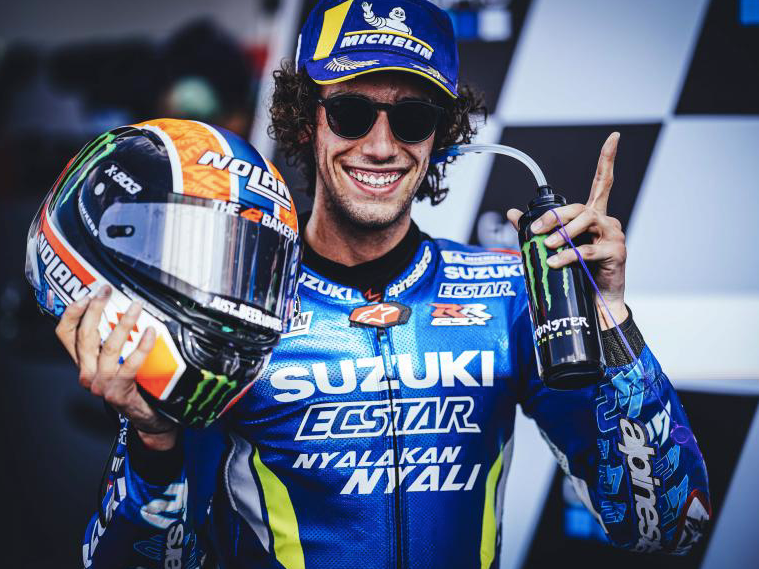 Looking at the Super Combined Indexes, Alex Rins holds a stronger projection as his historical data at this circuit, handicapped by his current season performance ranks 2nd. A slight advantage over Yamaha rider, Maverick Vinales, Rins has remained a threat throughout the entire season.
Yes, he has been a bit of a wild card, lacking a sense of consistency race to race, but just when he qualifies on the back of the grid and you count him out, he is seen moving through the pack and landing himself on the podium.
On the other hand, Maverick Vinales has maintained incredible momentum over the last few races and although he may rank 3rd by Super Combined Index, his current, empowered state of mind may just give him the edge he has lacked in Japan before.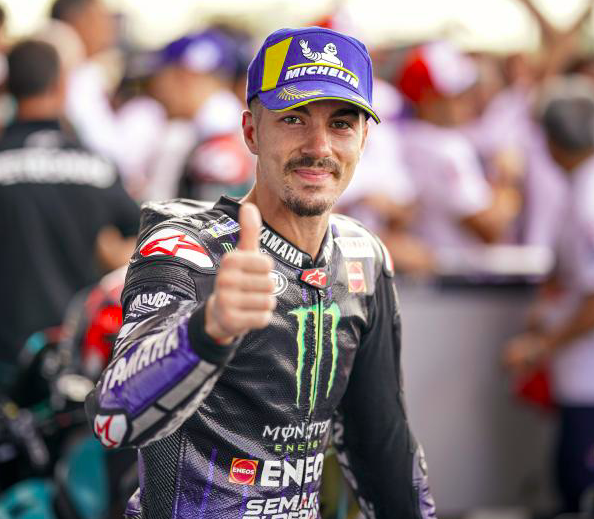 The Twin Ring Motegi is a fast circuit and for a bike that does not rank top in acceleration, a strong qualifying can significantly help secure a competitive race position. Acceleration power has been a struggle for Yamaha this season as they time and time again get swallowed by both the Ducati and Honda on straightaways. After qualifying P7 on last year's grid, Vinales had an underwhelming race, finished in 7th and walked away with 9 points.
To be frank, that is not going to cut it this weekend. Ducati rider, Danilo Petrucci is lurking just 1 point behind Vinales and his own teammate, Valentino Rossi sits just 18 points behind him.
4 races left, every single championship point counts as it can make or break a rider's top ranking position going into the final 3 rounds of the 2019 season.
Twin Ring Motegi Weather Forecast
The forecasted weather is a big shift from the last race's conditions in Thailand. Cloudy and wet, the Twin Ring Motegi is expected to maintain lower air temperatures with possible showers on Saturday. An increase in humidity from Friday to Saturday may push the cooler air temperatures to their saturation limit quicker than many had previously thought.
Cooler air has a smaller moisture holding capacity. This means that it takes less moisture in the air to result in precipitation when cooler conditions are present. So, possible rain on Saturday depending on the fluctuation in air temp and moisture levels. What else?
Probably one of the most significant influencers, circuit temperature. With clouds present throughout the weekend, limited incoming solar radiation will be able to reach earth's surface meaning less energy will be absorbed. It is the balance of incoming short wave radiation and outgoing longwave radiation that impacts circuit temperature. So even if the air feels moderate, the lack of radiation reaching the surface due to cloud coverage will result in significantly cooler circuit temperatures. The moisture levels are directly related to convective activity (cloud formation) so we can expect the presence of clouds to vary day to day.
Tire choice will be as crucial as ever. The awareness of one's riding style to acknowledge the starting grip, the potential grip partway through a race and ability to recognize the most demanding points of contact given the outlying factors will ultimately separate the leaders from the followers.

That's a wrap! The teams and riders have settled in at the Twin Ring Motegi and free practice Friday is just around the corner. Thank you for being part of Grand Prix Scout's journey through the 2019 MotoGP season and always remember, racing is more than a fast bike. It is a mosaic of variable circumstances.
Cheers,
Julia