All rider photos sourced from MotoGP.com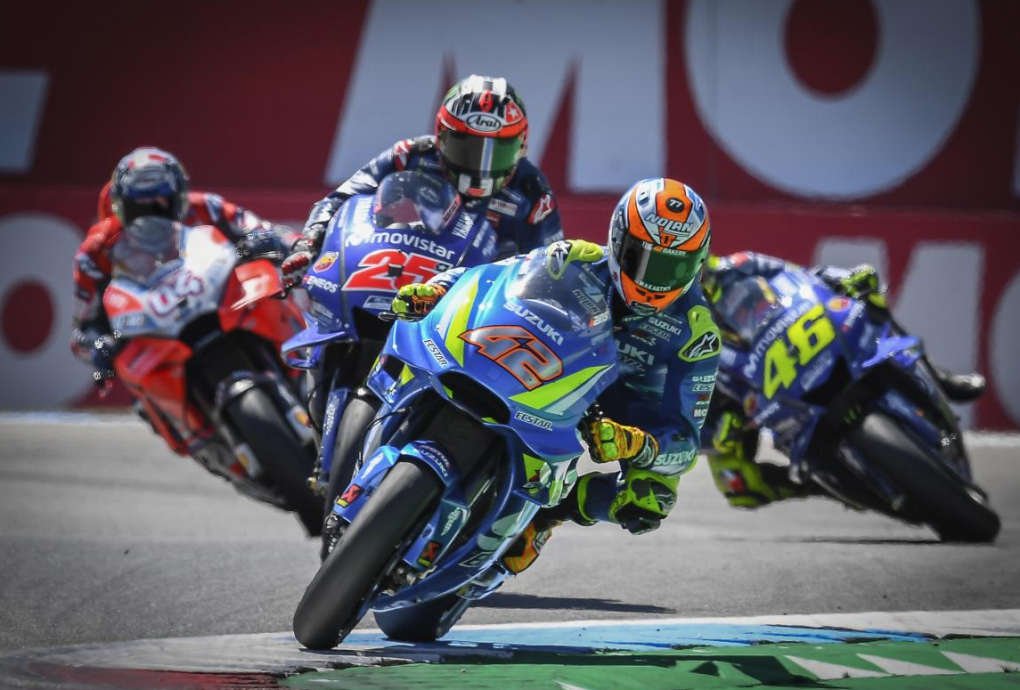 The teams and riders are heading to the Netherlands for round 8 of the battle for the 2019 Champion title! It's been an eventful start to the season and Repsol Honda rider, Marc Marquez, enters the race week with a 37 point lead over Ducati rider, Andrea Dovizioso.
This week, we are going to dive into the three podium riders that stood on the TT Circuit Assen podium just one year ago. Three riders, three manufacturers, one nationality. Let's welcome Spanish riders Marc Marquez, Alex Rins and Maverick Vinales to the party!
Last year, we saw one of Marquez's many 1st place podium finishes with a 2.3 second lead over the Suzuki superstar, Alex Rins. Those who excelled in speed, struggled a bit more with consistency. While this is a common occurance, fast times with poor consistency vs slower times with superior consistency, it takes the combination of both to be a race leader. Yamaha rider, Maverick Vinales could not bring speed and consistency together and rounded out the top three just 0.039 seconds behind Rins. 
Below we have provided the 2018 rankings between the three riders, identifying their overall areas of strengths and weaknesses for all sectors combined. Unfamiliar with the GP Scout indexing system? Click here to get a full run down.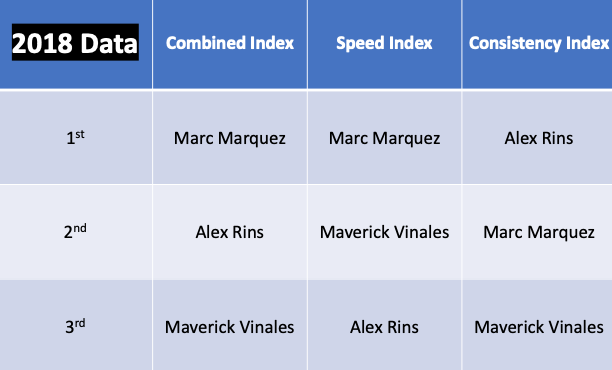 Let's Break It Down By Sector
Sector 1 ( T1)
Ranking 2nd most technical out of the four sectors, T1 was the only sector where Marc Marquez ranked #1 in speed. But he won, so shouldnt he be the fastest in all sectors? Not necessarily! Although he was not the fastest across the board, he was able to hold a balance between compeititve consistency and speed that enabled him to gain ground on his opponenets while holding his position. Does this help explain why he is the strongest predator out of these three at the TT Circuit Assen?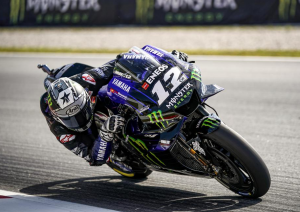 Consistency – 1 point Vinales. He couldn't bring the speed through this technical sector but he was able to hold his ground with a superior consistency. His defensive,  riding style paired with steady sector times justifies his top ranking prey index as he is able to block his lines and maintain momentum through each lap. 
Sector 2 (T2)
The power of the Yamaha! Vinales showed off the acceleration power of the Yamaha as he cranked out the strongest T2 times out of the three riders. He had fast times with weaker consistency, but hey, this was a section of the circuit where Vinales could gain ground on his opponents and seperate himself from those behind him. 
T2 going into T3 is where Rins began to shine through. The Suzuki is a powerful bike but can have a hard time keeping up with the other beast of bikes. That's okay though, because this greener rider is evolving to be one of the most mature riders in the field as his patience and consistency allow him to pick through his opponents and slowly climb the ladder. Speed will come as Rins gets more time in on the circuit and the bike continues to develop.
Sector 3 (T3)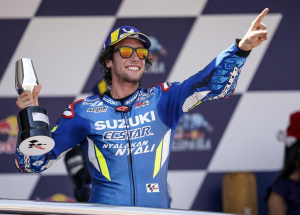 Speaking of speed, welcome to Sector 3 AKA Rins territory. Top speed, top consistency, all in the most technical of the four sectors. Rins has found harmony with that Suzuki and has an ability to utilize the agile profile of the bike without sacraficing his speed. Following in the footsetps of Marc Marquez who ranks 2nd for both speed and consistency in T3, Rins holds a big advantage over many of his opponenets as he exploits the power of his bike through technical, generally slower sectors. 
On the contrary, Vinales was not able to harness the fluidity we have seen between him and the Yamaha on other circuits. Historically competitive in more technical sectors, Vinales risked losing ground in T3  to those who were able to maintain momentum going into a complex set of turns from a straightaway.
Sector 4 (T4)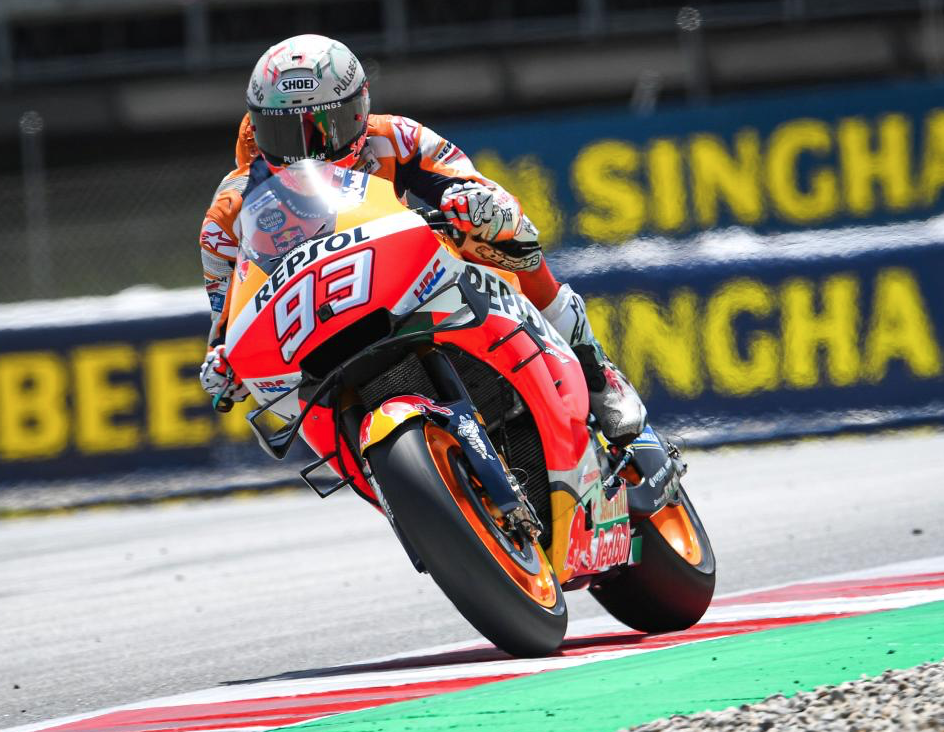 Coming out of the technical T3 into the final stretch, Marquez held his consistency and led the pack for the final 5 laps. You know how Marc usually gets a strong start off the grid and begins pulling away each lap? His ability to maintain consistency AND speed through technical sectors gives him a huge advantage as others sacrafice one or the other. Sectors such as T4 is where we see the underlying power of the Honda that many thought couldn't compete with some of the other bikes…. psssst, Ducati! 
Less technical sector? Let's welcome back Maverick Vinales and his top sector speeds. He may not be able to demonstrate this level of competitiveness in T3 but his speed through T4 allowed him to make up for time lost. But as we know, the Yamaha rider sat 3rd on the podium and our analysis shows that the difference between 2nd and 3rd was the level of consistency maintained through the fast sectors.
The TT Circuit Assen is a unique circuit and it is evident that no single rider dominates all four sectors. By breaking the circuit down, we are better able to understand where exactly each rider has excelled in the past and given their current performance, how we can expect them to finish at the upcoming races. 
Now for some GP Scout updates!
Our website received a makeover last week but don't worry, all the fun analysis is still there, just with a new look.
Be sure to check back throughout the week as we release additional pieces that analyze riders and teams as they head to Assen. 
Chapter 8 of the 2019 season is just around the corner and championship points are as vital as ever. Not only do riders need to focus on gaining more points to move themselves up in the ranking, but to also take those points away from riders who are just about ready to take off. Yes, I'm talking about Marc Marquez. 
Have a great week, never stop learning and spread the word of Grand Prix Scout!
Cheers,
Julia