All rider photos sourced from MotoGP.com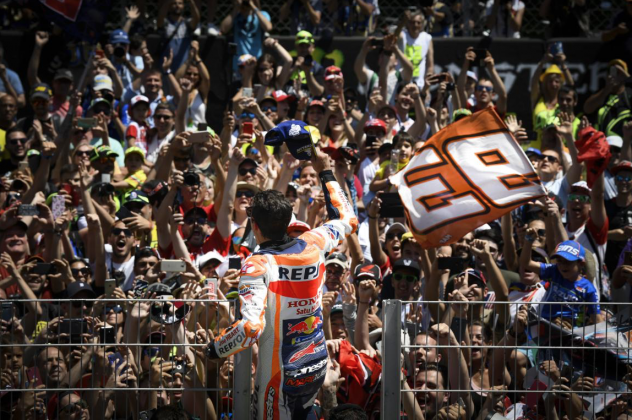 Almost every single race this season has been dubbed the most thrilling one yet, well that is until the next GP rolls around. The Catalan Grand Prix was no exception and brought some of the fiercest riding yet. After 24 laps on the hottest circuit of the season thus far, Repsol Honda rider, Marc Marquez has landed on the top of the podium yet again. Leaving his home circuit with a 37 point lead over Ducati rider, Andrea Dovizioso, Marquez has increased his momentum in the race for the World Champion title.
Seeing Marquez on the podium has become a regular occurance. We're not too surprised anymore but our excitement for him never dies. His riding ability and technique has and will continue to push the sport and drive compeitition. What's not so common? Seeing Danilo Petrucci on the podium three times in a row AND seeing the French rookie, Fabio Quartararo earn his first podium in the premier class.
Not only did Fabio land on the podium, but he was also the only Yamaha rider to finish the race… Way to go kid! Yes, the two factory riders got taken out but we'll get back to that. Quartararo now has a 29 point lead over the next highest ranked rookie, Joan Mir. What we saw from the Petronas Yamaha rider was fast, I mean FAST, sector 2 and 4 times. This allowed him to stay ahead of his most competitive opponents regardless of his weaker consistency index across all sectors. He was able to utilize his strengths where Petrucci and Rins faced more challenges.
So let's get back to this gnarly crash…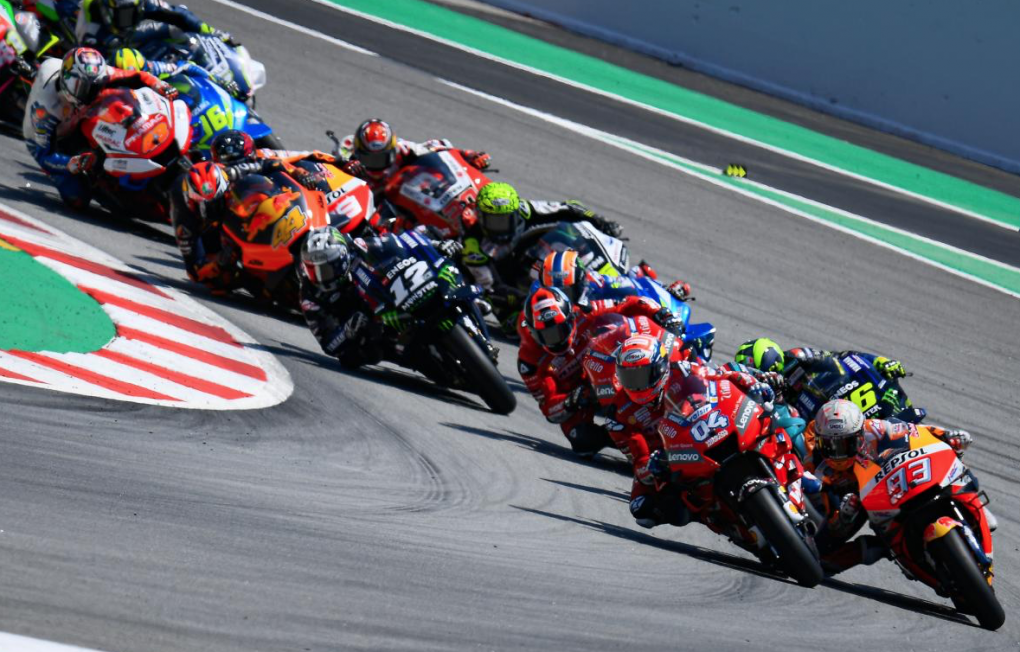 The race started out tight, with riders literally on top of each other. Mix that with new tires on a steaming circuit and you're due for some excitement. We all know what happened from there, Lorenzo lost his front and took out three of the top factory riders… ouch. While Dovizioso and Rossi kept their cool and later came to peace with the inccident, Maverick Vinales, who desperately needed these championship points was not so calm or cool or collected.
So what does this mean going forward?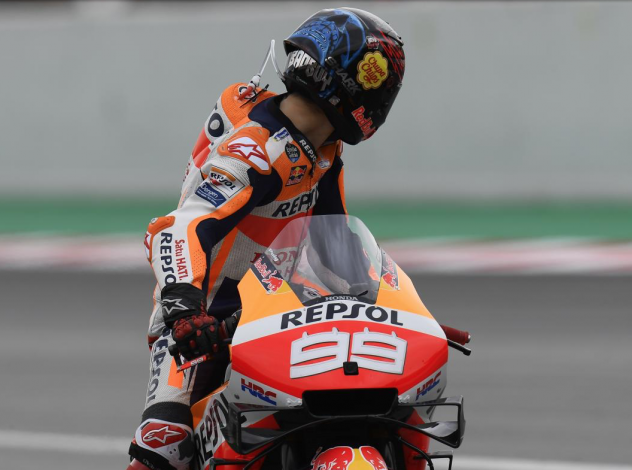 The championship points just got very interesting… As we mentioned earlier, Marc Marquez now holds a 37 point lead over Dovi. And although the Ducati rider (who by the way is a contendor for the World Champion title) recieved 0 points in Catalunya, he still holds a 2 point lead over Alex Rins who is barely holding onto third.
Danilo Petrucci has been taking the last few races by storm and is dangerously close to overtaking both Rins and Dovizioso. Looks like Petrucci's factory seat isn't so questionable going forward… Rounding out the top 5, Yamaha rider Valentino Rossi is sitting pretty with a 19+ gap above and below him.
Let's jump over to Rossi's teammate, Maverick Vinales, who hasn't had the most consistent start to the season. The Spanish rider did not have the home race he had intended. Starting from P6 on the grid and immediately jumping into 2nd place, everyone had an optimistic outlook for him. Fast forward to the crash, some yelling and angry gestures, Vinales recived 0 points and now sits in 11th place in the World Championship ranking. I know, 11th sounds rough. But it gets better from here! Vinales has a slim 13 point gap between himself and P6 in the rankings. The pressure is on for the Yamaha rider as he heads to TT Assen where he earned a podium position just last year.
Onward to the Dutch Grand Prix. Have a great week, never stop learning and ride on!
Cheers,
Julia