All rider photos sourced from MotoGP.com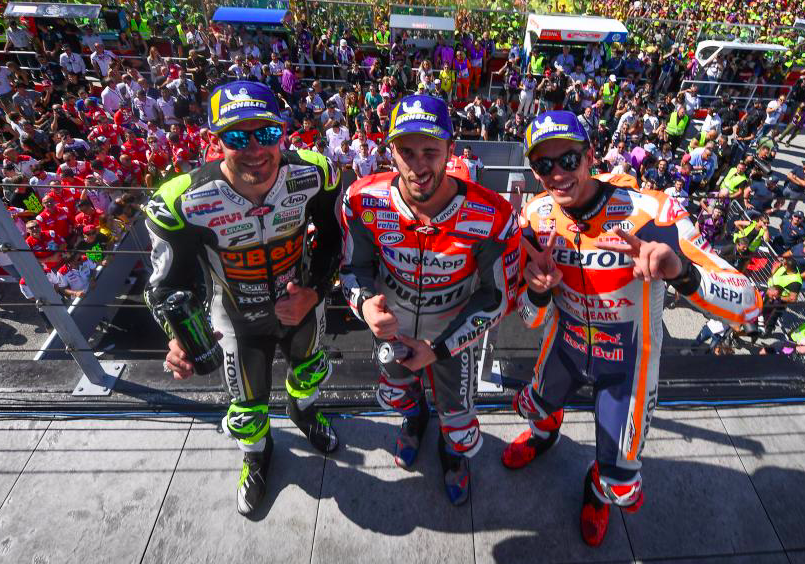 A quick week off and we're back for the San Marino Grand Prix! One year ago we saw Ducati rider, Andrea Dovizioso cross the checkered line with a 2.8 second gap between him and Repsol Honda beast, Marc Marquez. A solid 5 seconds behind Marquez was LCR Honda rider Cal Crutchlow who took the final podium position.
Defending his World Champion title, Marquez confidently heads into the weekend with a 78-point lead over Dovi as well as a strong Super Combined Index. Alongside him in the top index rankings we see Rins and Miller, two arguably greener riders who have made a lasting impression on fans and teams this season. For satellite Ducati rider, Jack Miller, this impression goes beyond the 2019 season as he has made a name for himself at the Misano World Circuit.
We have a variety of stats and analysis to get you ready for the San Marino Grand Prix so buckle up and get ready to learn something new!
Riders Ranked By Super Combined Index
This index utilizes Grand Prix Scout's historical combined index which reflects a rider's speed handicapped by their consistency on either a sector or circuit level. From there, we factor into account current season performance and use this qualatative data to reward some riders and penalize others.
A smaller index = stronger, faster, more consistent performance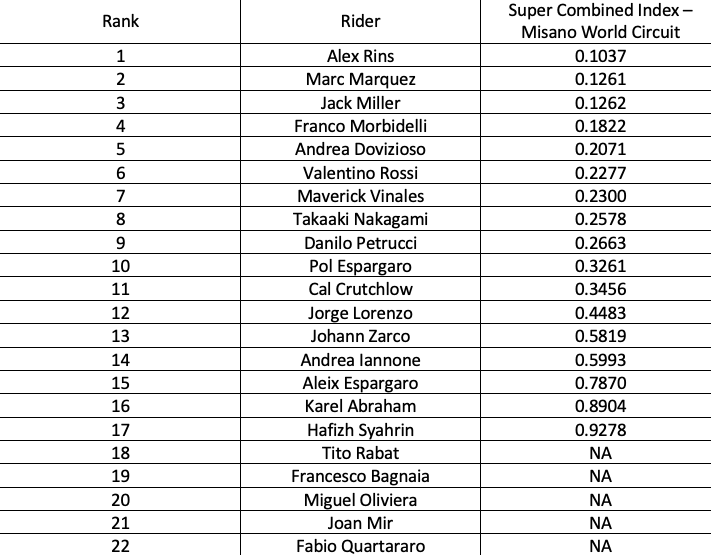 Remembering Marco Simoncelli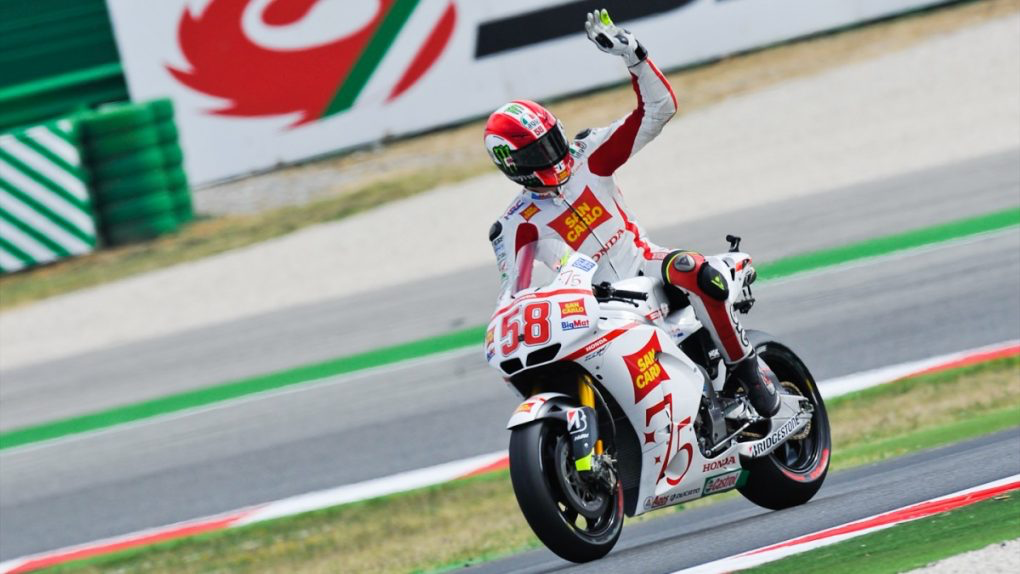 As fans from around the world travel to the Misano World Circuit Marco Simoncelli, we want to take the time to remember those who paved the way and ultimately shaped the series into what we all know and love today. Marco Simoncelli was an Italian racer that joined the MotoGP series in 2010 with the Honda team. Prior to moving up to the premier league, Simoncelli raced in the 125cc class for four years and then the 250cc class for another four. Claiming his first and only World Champion title in 2008 in the 250cc class, Simoncelli found passion and success in all aspects of life as he was known for his charisma and genuine nature on and off the circuit. In 2011, Marco Simoncelli lost his life after a traumatic crash at the Sepang Circuit. The following weekend, as riders headed back to Europe for the San Marino Grand Prix, the Misano World Circuit announced they would be renaming the circuit to honor Italian rider, Marco Simoncelli. Gone but not forgotten, Simoncelli will be honored once again at the San Marino Grand Prix this weekend.
That is a wrap my friends. Full steam ahead as teams and riders prepare for the next GP! The championship points are as close as ever with 6 of the top riders on each other's heels. How close you may ask?
3rd place – Alex Rins 149 points vs 4th place – Danilo Petrucci 145 points
5th place – Maverick Vinales 118 points vs 6th place – Valentino Rossi 116 points
7th place – Jack miller 94 points vs 8th place – Fabio Quartararo 92 points
Race weekend skies are looking clear with sun all three days. Will Marc Marquez claim his 11th podium finish of the season? Will Yamaha rookie Fabio Quartararo score his 4th pole position since joining the series? Time will tell… It's race week!

Cheers,
Julia