All rider photos sourced from MotoGP.com
After a quick week off, teams and riders have arrived at the Circuit Ricardo Tormo where they will kick off their final three back-to-back rounds of the 2020 MotoGP season. While a few fan favorite faces will be missing (Marc Marquez, Iker Lecuona and potentially Valentino Rossi), the fight for the World Champion title remains in full swing with the top 5 riders separated by a slim 28 points.
Earlier this week we posted an article that explained 3 key things to consider as the race weekend begins to help fans organize and mentally prepare for what is sure to be an eventful weekend – if you haven't already, give it a read!
Today we are going to look back at what exactly unfolded just under 1 year ago at the Valencia Grand Prix. Three riders, three manufacturers and three unique styles that landed them on the podium. Enjoy!
---
3 Manufacturers – 1 Podium
Originally published on November 18th, 2020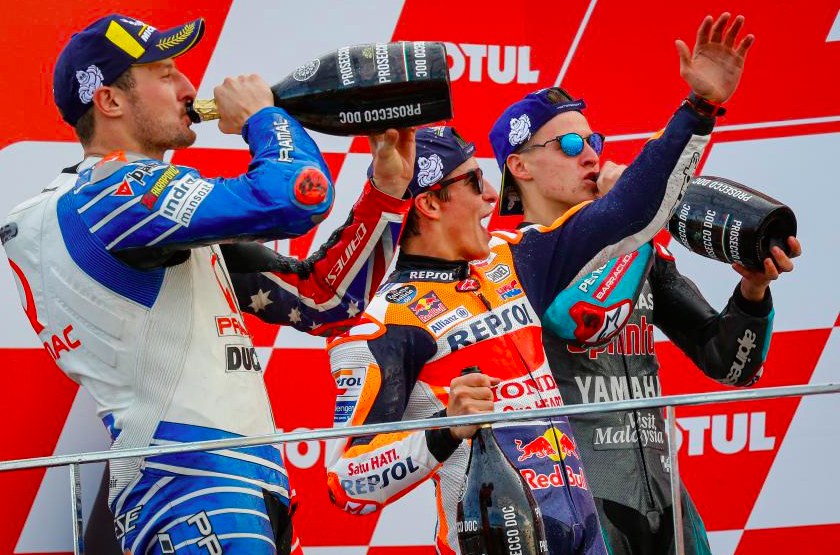 The Valencia Grand Prix never fails to disappoint as both the tight circuit configuration and annual weather events test each team's ability to adapt and prevail in unfavorable conditions. Last year riders (literally) swam across the checkered line as the Circuit Ricardo Tormo experienced on and off flooding throughout the weekend. This past weekend, Mother Nature held back in terms of precipitation but threw quite the curveball – cold, cloudy conditions that resulted in considerably low circuit temperatures, causing major grip issues.
After a handful of crashes Friday and Saturday, riders lined up on the grid and Sunday race day was off! Let's hit a few of the highlights:
Spanish rider and 5 time World Champion, Jorge Lorenzo finished his last race of his career in 13th place after announcing his retirement earlier in the week.
Both LCR Honda riders crashed out, raising the eyebrows of many individuals who to continue to ponder who will be filling the Factory Honda seat. Johann Zarco who was sitting in for Takaaki Nakagami on the LCR team not only low slided out of a corner but was also taken off his feet (almost a full backflip) by Iker Lecuona's KTM after a high speed low slide seconds after Zarco's… Thankfully, rider is OK!
French rider and Rookie of the Year, Fabio Quartararo claimed the Independent Rider of the Year award as he took yet another podium finish.
Maverick Vinales locked down P3 in the World Championship rankings as he finished just 1 position behind 3rd place contender, Alex Rins. With a slim 6 points between them, Vinales concluded the 2019 season with 211 points and Alex Rins finished with 205 points.
2019 World Champion, Marc Marquez finished his almost perfect season with a race win followed closely by Fabio Quartararo and Pramac Ducati rider, Jack Miller. Three riders with very different styles, very different machines and a 2.4 second gap by the time the checkered flag was out. Let's identify some of the key factors that contributed to each rider's success at the final GP of the 2019 season.
1st Place – Marc Marquez, Repsol Honda Team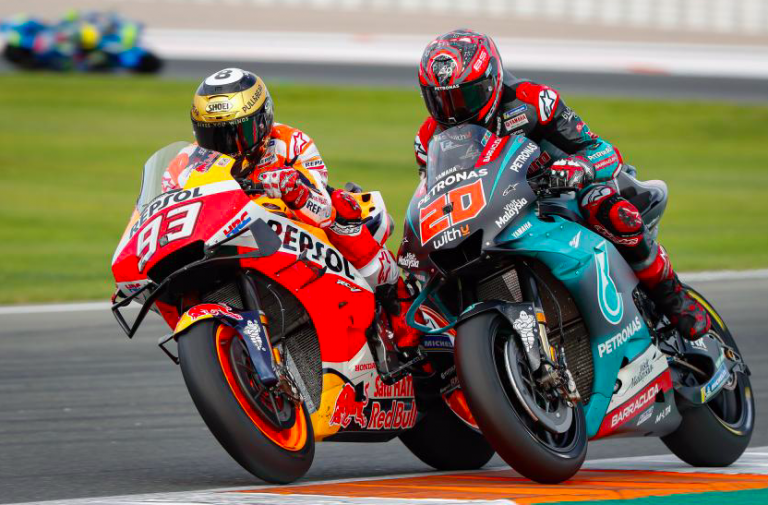 It is no secret that Marc holds something over the entire MotoGP grid. But where exactly does he shine? What made his last race of the season so spectacular?
For starters, his speed isn't too shabby. That's not to say that he held the strongest speed index for all 4 sectors of the Circuit Ricardo Tormo. Sectors 1 and 3 are specifically where the Spanish rider dominated. In fact, these two sectors had the biggest gap in speed index from the top ranked rider to the second highest ranked. This means that although he didn't produce the strongest speed index for all 4 sectors, in the sectors where he did excel (1 and 3), his speed indexes were significantly stronger than all his opponents.
This allowed him to gain ground and pull ahead every-other-sector as he first climbed his way through the front group after a subpar grid start, and then continued to advance forward in the remaining laps. We did not see a classic Marquez takeoff where he demolished the group and ended with a 7+ second gap. Understand why? Sectors 1 and 3 were his jam but his momentum was not matched in the remaining 2 sectors.
He was a close 2nd for sector speed index in sector 4, just behind Yamaha rider, Maverick Vinales and produced a competitive consistency index, that ranks him 1st in sector 1. The remaining areas, speed in sector 2 and consistency in sectors 2-4 did not result in notable indexes.
2nd Place – Fabio Quartararo, Petronas Yamaha SRT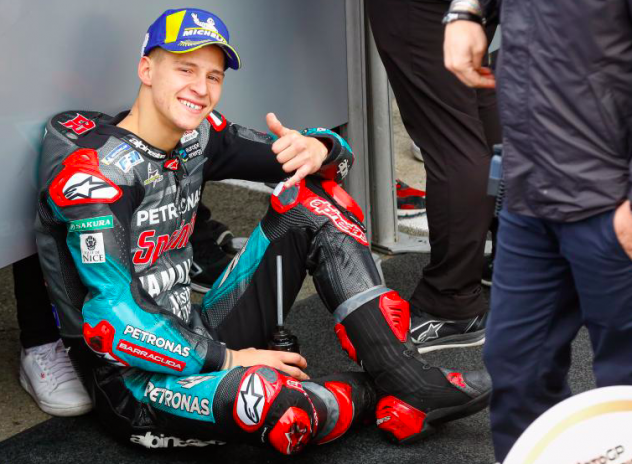 The young gun started hot off the grid from pole position and once again, impressed the global audience with his tenacity and refined technique that often lacks in a rookie. Starting big picture, Quartararo rocked in the consistency department as he held the strongest consistency index for all sectors combined. Again, not necessarily something you would expect to see from a rookie. More times than not, new riders either constantly fluctuate race position as they bring high speed but weak consistency, or we see slower, more reserved speed but respectable and often times, superior consistency.
By looking at his indexes from Valencia, it appears Quartararo has learned in dog years…
#1 speed index and consistency index for sector 2
#2 consistency index for sectors 1, 3 and 4
#2 speed index for sectors 1 and 3
#3 speed index for sector 4
Quartararo has a proven ability to adapt not only to a new team/bike but also to the ever-changing outlying factors such as weather. The cool circuit temperatures posed great challenges to many riders but going in with a strategic mindset for tackling each entry and exit for all corners, he was able to overcome the questionable grip from start to finish.
Maintaining such a strong consistency through each unique sector will always give a rider an upper hand. Being able to maintain this in demanding conditions such as the remarkably low circuit temperatures we saw this weekend, now that is something of worth.
3rd Place – Jack Miller, Pramac Racing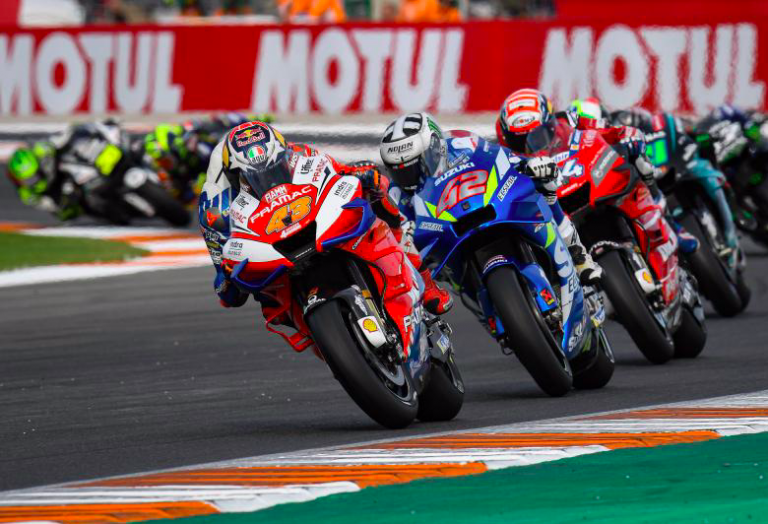 Last but certainly not least, Australian rider, Jack Miller. Starting off the grid from P3, Miller did something that we have all been waiting for…. He paced himself, executed optimum tire management and was able to defend a top ranked position for 27 laps.
This isn't the first time we saw #43 on the podium this season but his performance this weekend was notably stronger and incredibly consistent. In the past, Miller has been referred to as a "wild card." One that might excel when you least expect it but also not a reliable racer from one circuit to the next. He was a contender for a 2020 Factory Ducati seat which ended up being a missed opportunity as Danilo Petrucci was singed on for another year.
But this weekend, Miller made a statement as he cranked out some of the most competitive speed indexes of the group. With the exception of sector 4, Miller ranked in the top 3 for speed index for all sectors. Where he prevailed in speed, he floated by in consistency with an average rank of 6 for consistency index.
On Sunday race day, Jack Miller showed similar skills to those we have seen in Ducati master, Andrea Dovizioso. That being, the potential to harness the raw power of the Ducati and shed light on the more agile side in order to dominate in sectors that have previously been labeled Honda or Suzuki territory. Finding his groove in the more technical sectors, Miller matched the clearly superior acceleration power of the Ducati with smooth, methodical transitions in and out of corners.
And with that, the 2019 MotoGP season has come to an end! 2020 testing starts this week and the 2020 grid has yet to be finalized. Stay tuned and welcome to the MotoGP off-season!