All rider photos sourced from MotoGP.com
Another race, another new race winner for this rollercoaster of a season – Alex Rins not only brought home a 1st place finish at his home GP in Aragon but he also became the 8th different winner of the 2020 MotoGP season. It was an exciting weekend to say the least at the Spanish circuit as cooler temperatures challenged riders and teams to find some lasting grip in the Michelin tires. And although Sunday race day may have lacked the over-the-top drama we experienced in the beginning of the season, the level of raw talent and strategy left fans on the edges of their seats from start to finish.
Headline: 2 Suzuki riders and 1 Honda rookie led the MotoGP pack across the checkered line in Aragon. The top 2 riders ended with almost identical performance indexes.
Question: How?
Answer: Read on…!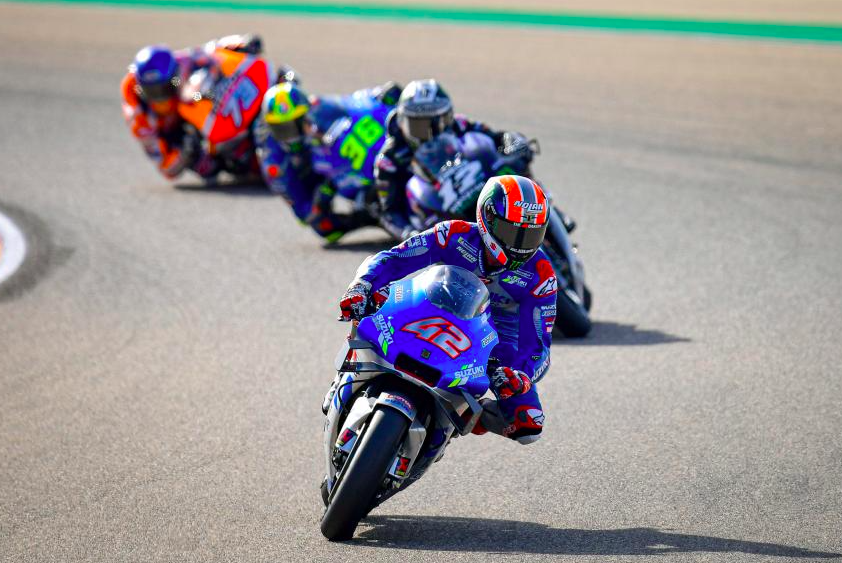 1st Place – Alex Rins
From P10 on the grid to P1 across the checkered line, Alex Rins had some serious ground to cover if he wanted to be in the battle for a podium finish. Luckily, Rins was able to pull a classic "Rins" as he got a strong start off the grid and finished the first lap in 4th. From there it was a waiting game to let the tires warm up and his opponents figure there "stuff" out which quickly worked in Alex's favor. One by one, the Yamaha boys boarded the struggle bus and were slowly engulfed by the sea of competition. Not so slow but very steady, Alex crept his way up to P1 by lap 8 and instantly transitioned into defense mode as he spent the remaining laps blocking lines and identifying areas to increase his gap. Because of this, it is no surprise that Alex Rins tied for 1st place with Alex Marquez in both Predator and Prey indexes. With 9 opponents overtaken and 0 positions lost, Alex Rins showed off his adaptability and ability to smoothly transition between an offensive riding style and a defensive riding technique.
A strong start off the grid gave Rins a huge advantage as he was able to avoid the excessive tire wearing and energy draining sector-to-sector battles that many riders endured as they tried to pull away from the mid-pack. In fact, Alex Rins held the strongest Efficiency Index out of all the riders, reflecting his ability to maintain forward momentum and execute clean passes. A combination of Alex's strategic riding and raw speed allowed him to swiftly secure a 1st place finish. It was in sectors 1 and 3 that Alex and Suzuki prevailed the most in regards to speed as he held the strongest Speed Index in both sectors.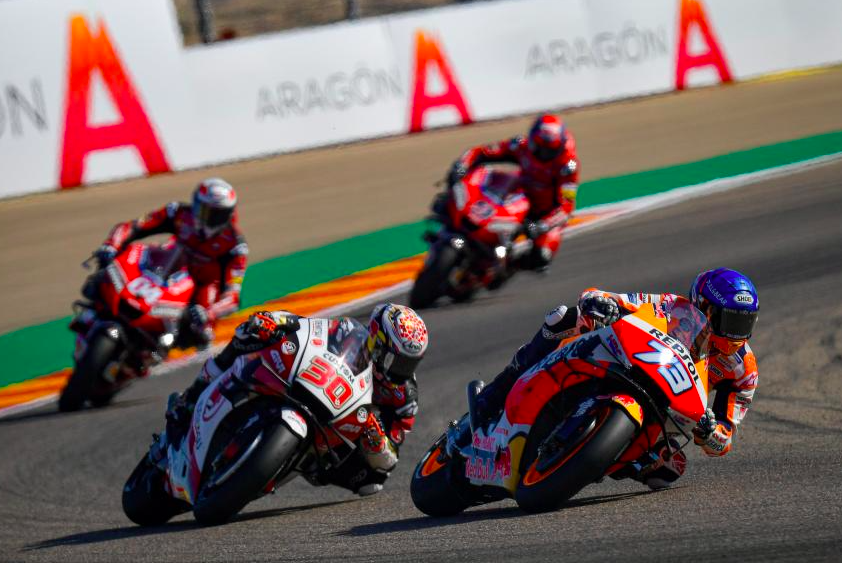 2nd Place – Alex Marquez
An almost identical performance to that of Alex Rins, Alex Marquez brought strategy and speed to land his 2nd MotoGP podium finish in a row. Ending the race with the exact same Predator and Prey Indexes to that of Rins, the young Marquez proved his methodical riding ability as he picked off opponents one lap at a time. Without the slam dunk start that Rins got off the grid, Marquez had his work cut out for him as he clocked in at P9 after the first lap. Patience is a virtue and Alex Marquez expressed that perfectly as he took his time studying those in front to ensure and execute a clean plan of attack. Study your opponents, preserve your times and know when and more importantly, where to push.
One of Alex Marquez's arguably more significant edges was his ability to maintain a balance between speed and consistency. In fact, the young Spanish rookie held the strongest balance out of the 3 podium finishers between the two indexes for all sectors combined. On a sector level, Alex Marquez cranked it out as he showed off the fluidity and adaptability of both his riding style and the Honda through all 4 sectors. While his opponent's performances fluctuated from one sector to the next, Alex charged along, maintained his pace and matched his lap times.
And so the student becomes the master… Remember when we talked about Alex Rins as if he was an up and coming superstar with a solid base but a lack of experience? Well I am here to say that he has rounded that corner and is racing through the season with no mercy. A double threat, Rins has proven time and time again that a poor qualifying won't deter his mental state and that his defensive riding skills are just as good as his offensive.
As one rider progresses in his career, another falls in his footsteps. Alex Marquez began the season with a solid base, cranking out superior Consistency Indexes left and right. But now the fun really begins as the young Marquez begins to match his diverse skills sets to play off specific opponents in varying conditions. It is a perfect storm of performance characteristics and we can't wait to see Alex Marquez ride that wave.