Rider photos sourced from MotoGP.com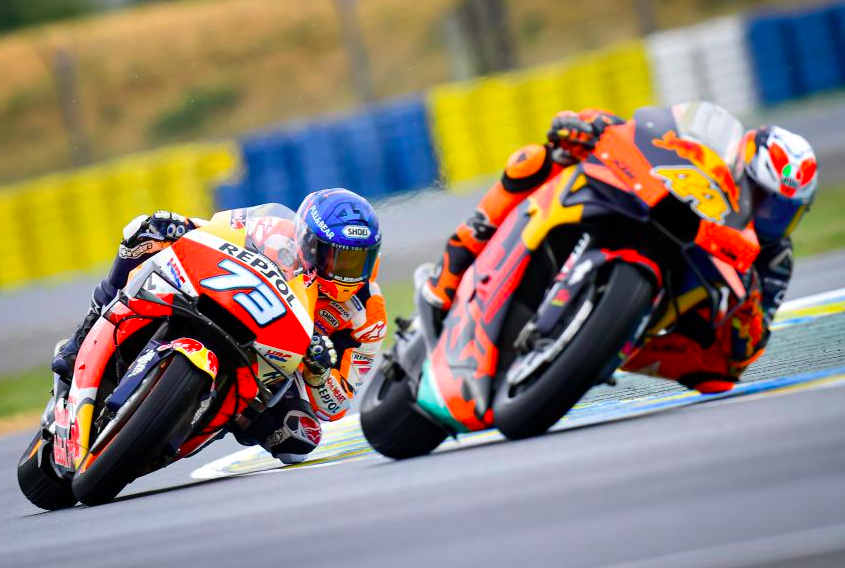 It was a cool, wet weekend in Le Mans but the gloomy weather didn't stop the MotoGP riders from bringing the heat. Tire wear and smaller lap-to-lap battles were the hot topics from the weekend alongside Rins and Rossi's tragic low slides. The Le Mans podium welcomed not only the 7th different winner for the 2020 season, Danilo Petrucci, but also 2 new faces that have been charging their way through this "silly" season, Alex Marquez and Pol Espargaro. Three riders, three manufacturers and three unique stories.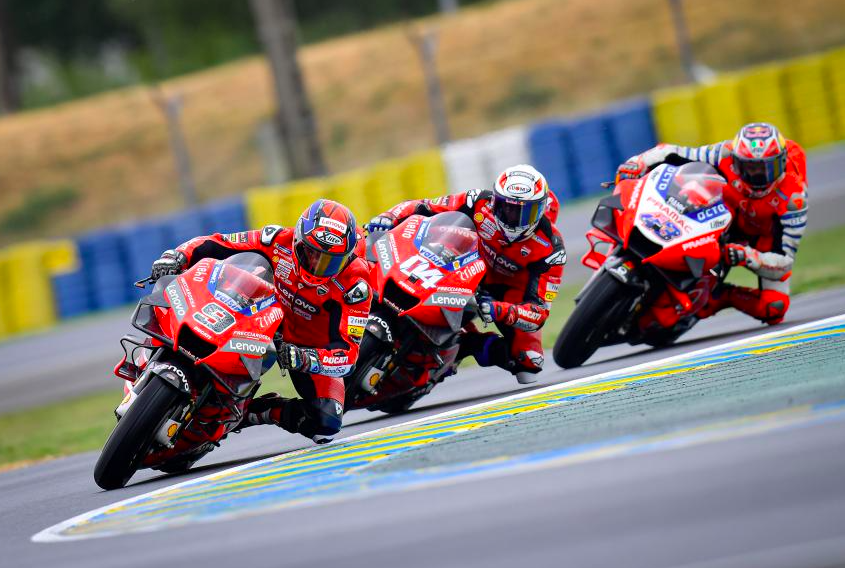 Many people around the world were happily surprised to see Petrucci and A. Marquez land on the podium given their in-season performances thus far. Happily surprised, yet still surprised… While these two may not have been the most obvious podium contenders, both of their historical performance data identifies unique attributes that instilled an elevated level of confidence within the Grand Prix Scout team.
Racing is all about chain reactions – one thing happens which forces a rider to adapt which affects his strategy which tests his execution skills. A wet race is a prime example of this as you can enter a race weekend with one game plan but line up on the grid with a totally different one. So let's talk about the simple two-step chain reaction that identified both Alex Marquez and Danilo Petrucci as threats going into the Le Mans race weekend.
The Weather – It is no secret that a wet race not only affects a rider's physical performance and handling of their bike, but it also plays a mental game across the grid. Those who have found success in wet conditions in the past automatically have an advantage as their confidence and focus outweighs their opponent's. In addition, experience racing in the rain and within that, excelling in the tricky conditions allows a rider to better understand the impact it has on specific riders and bike handling, allowing them to target an opponent's weaknesses. Both Petrucci and A. Marquez have a proven ability of holding their sh*t together during wet conditions and methodically playing their strengths at opportune times. Lastly, a wet race reduces speed and places a heavier weight on strategy and consistency, bringing us to our second topic…
Consistency – As speeds are reduced due to wet conditions, consistency automatically carries a heavier weight. Going into the race weekend we knew two very important things, A. Marquez has been cranking out some of the strongest Consistency Indexes this season (think Austria, Brno and Catalunya) and Petrucci holds the strongest Average Historical Consistency Index at the Le Mans Circuit. Boom – case closed. It was clear from the start that these two riders posed major threats going into the race weekend not only because they are generally strong in the rain, but because they have a proven advantage in regards to consistency which we know can make or break a rider's wet race.
Takeaway – The hints are subtle, but are proven to be very accurate. So much information lies within simple numbers and rankings – we are here to paint a picture around the numerical data, put it into context and explain why certain events happen. There will always remain a level of uncertainty within racing, it's inevitable. But Grand Prix Scout's performance indexes offer a new level of insight to the sport that have been missing in years prior. Congratulations to both Danilo Petrucci and Alex Marquez on a well deserved, not-so-surprising podium finish at the French Grand Prix!