All rider photos sourced from MotoGP.com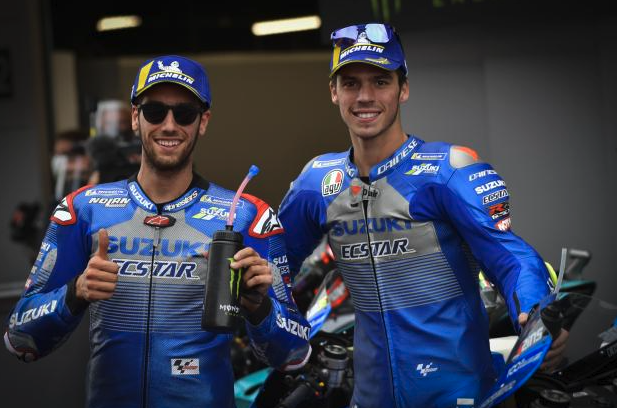 The Catalan GP came and went with a blink of an eye as cooler temperatures posed new challenges to the 2020 grid. Race winner, Fabio Quartararo closed out the weekend with his 3rd win of the season and an elevated level of confidence as he begins preparing for his home Grand Prix at Le Mans. A lot happened between the flags in yesterday's race and between Dovizioso getting taken out and Rossi low-sliding out of P2, fans were once again left with their jaws on the ground.
Perhaps the most talked about riders were the men in blue – Alex Rins and Joan Mir from Suzuki ECSTAR. The two performances mirrored each other closely in strategy and style, focusing on tire management, predator like behavior and speed. The choices made by both riders portray their strong awareness of their surroundings including the evolving circuit conditions and opponent strengths and weaknesses.
Today we are going to identify both Joan and Alex's edge – what about their performances allowed them to pick off their opponents one by one? How did they manage to preserve their tires so well? Read on my fellow race fans!
Efficiency Index
Ranking 1st and 2nd for Efficiency Index, Mir and Rins pulled a classic, let's call it "Rins move," with an underwhelming qualifying but superb forward momentum between the flags.
Let's start with Mir – qualifying P8, the MotoGP sophomore had some ground to cover before locking in a podium finish. Patience is a virtue and after finishing the 1st lap in P5, Mir stayed focused and held his position for the first 15 laps before utilizing his excellent predator skills and overtaking Miller and Morbidelli. Joan Mir held the strongest Prey Index in the race as he blocked any opponents from overtaking him, meaning the young rider only saw forward movement from one lap to the next. Never dropping a position, Mir understood that those pushing hard from the start would run the risk of wearing down their tires by the last quarter of the race and so like a stealthy animal in nature, he waited for those in front to start struggling. As expected, within the last handful of laps, those in front of Mir began having tire issues and were ultimately unable to focus on blocking passes as every corner posed threats of a low-slide. Having saved tire life throughout the race, Mir acted on his opponent's weaknesses and executed clean, strategic passes before bringing home his 3rd podium in a row.
Alex Rins found himself in an almost identical position as he qualified P13 on the grid but crawled his way up to P6 by the end of the first lap. Rins endured significantly more minor lap-to-lap battles with his opponents as he fought his way up the grid. Being challenged by KTM and Ducati riders from all sides, his smooth riding style prevented excessive tire wear and his strategic riding style kept his Prey Index low as he only allowed one rider to pass him and hold the advantage before pushing too hard and gradually dropping back. Patience and awareness allowed Rins to finish the race with a net movement of 10 and a volatility of 12. In an ideal world, these two numbers would be equal, reflecting successful passes with no wasted time or energy, but a haul from P13 to P3… we'll let this one slide.
Speed Index – All Sectors Combined
Each year the technology behind the MotoGP bikes advance the raw power and top speeds continue to soar. Suzuki is no exception to this trend as we saw in yesterday's race. Following closely behind Fabio, Joan and Alex ranked 2nd and 3rd for Speed Index for all sectors combined. The ground that both of these riders covered was considerable and while they're Consistency Indexes were subpar, this is excusable as they both were challenged with numerous overtakes and rider-to-rider congestion.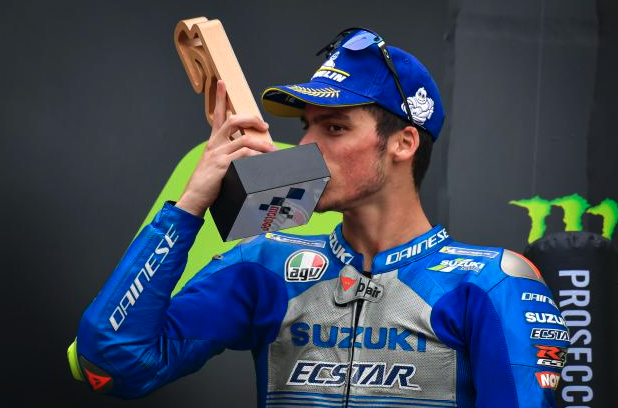 Takeaway
It is evident that Joan Mir is following closely in the footsteps of Alex Rins as they possess a similar, methodical riding style. Learning to play their strengths off of their opponent's weaknesses, the two Spaniards are guiding Suzuki to the top of not only the podium, but the series. Being able to navigate the various weather and circuit conditions throughout the season offers the boys in blue a significant advantage as they continue to grow their awareness of external factors between the flags.