Rider photo sourced from MotoGP.com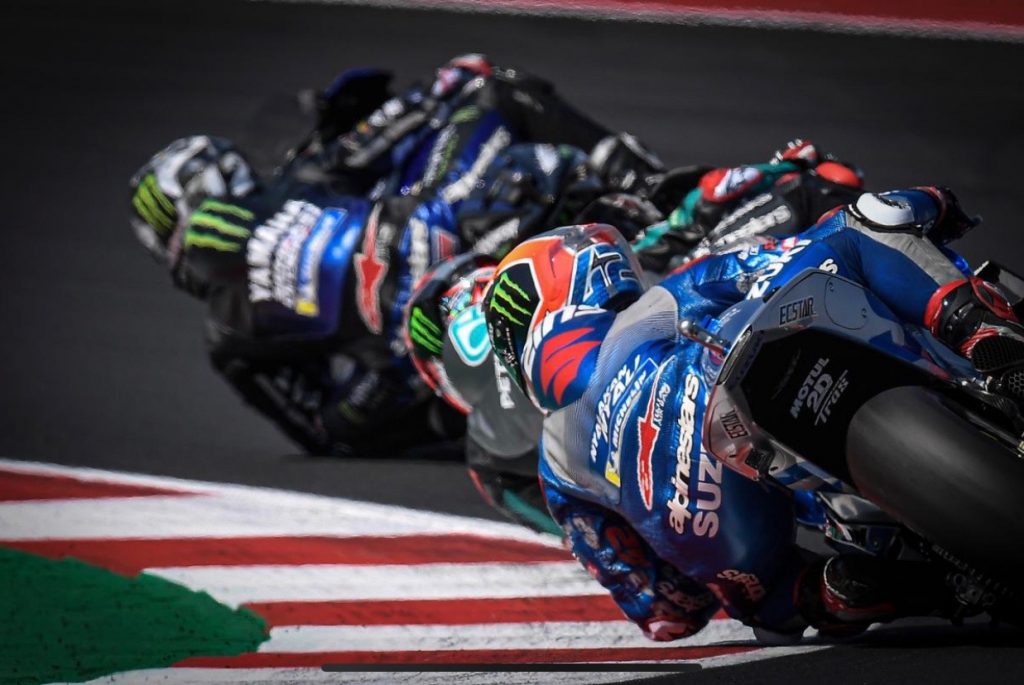 The wait for the start of the 2020 MotoGP season was long and and honestly a blur as what should have been adrenalin pumping, passion filled race weekends were replaced by at-home interviews and cross-training footage one day after the next. Now that the season is well underway, it's flying by as riders sprint through back-to-back races across Europe. Press conference today, free practice tomorrow, qualifying on Saturday and round two at Misano on Sunday – it's time for the Emilia Romagna GP!
So far, the 2020 season has been filled with impressive MotoGP debuts, first time podium finishes, first time race wins and a red flag here and there. Last weekend didn't skip a beat in regard to drama and excitement as Franco Morbidelli sealed his first win in the premier class followed by MotoGP sophomores, Francesco Bagnaia and Joan Mir.
To supplement additional media sources in summarizing last weekend's race, today we are going to look back and identify those who excelled in various performance factors. By analyzing specific indexes generated by the Grand Prix Scout team, we are able to better understand those who hold unique advantages over others across the entire grid. Let's dive in!
Below are rider rankings by performance index. Note that there may be a varying number of riders listed for any given index – this is due to the quantitative breakdown of quartiles.
2020 San Marino Grand Prix – Race Performance Rankings
---
The Speed and Consistency Index are the more "well-known" performance factors that dictate a rider's path between the flags. One fast lap may land you on the front row of the grid, but a certain level of consistency is required to hold a position between the flags. Consistency is typically a fine tuning detail that riders either master in the beginning before pushing speed boundaries, or later in their careers after they have tested and danced along the fine line of reckless and untouchable, dominant speed. It is those who are able to sprinkle in superior consistency to their competitive sector times that prevail.
| | | | | | |
| --- | --- | --- | --- | --- | --- |
| | 1st | 2nd | 3rd | 4th | 5th |
| Speed Index | Morbidelli | Mir | Bagnaia | Rossi | Rins |
| Consistency Index | Rossi | Morbidelli | Bradl | Mir | Nakagami |
The Efficiency Index is built off a handful of variables and offers a bird's eye view of the movement of a rider from start to finish. Taking into account grid position and the volatility of a rider's race position, this index rewards those who execute clean passes and maintain forward momentum. Life is too short to have meaningless battles with opponents from one sector to the next, not to mention the mental exhaustion and added tire wear from blocking and passing. This index offers a whole new insight to riders across the entire grid, even those who may have missed out on the limelight.
| | | | | | |
| --- | --- | --- | --- | --- | --- |
| | 1st | 2nd | 3rd | 4th | 5th |
| Efficiency Index | Morbidelli | Dovizioso | Nakagami | Mir | Bagnaia |
The three indexes below tell a detailed story around a rider's strategy and execution within a race. Supplementary to each other, the volatility index helps identify those who made clean passes, held their position and avoided smaller lap-to-lap battles. The Predator and Prey Indexes are complimentary to each other as the Predator Index reflects those who overtook significant positions and the Prey Index reflects those who maintained a defensive style and reduced the number of overtakes. When analyzed together, we are able to see who holds superior defensive and offensive skills and from there, who can successfully carry out their race strategy.
| | | | | | | | |
| --- | --- | --- | --- | --- | --- | --- | --- |
| | 1st | 2nd | 3rd | 4th | 5th | 6th | 7th |
| Volatility Index | Morbidelli | Dovizioso | Rossi | A. Espargaro | Nakagami | Rins | |
| Predator Index | Leouna | Oliveira | A. Marquez | Binder | Bagnaia | Mir | Nakagami |
| Prey Index | Morbidelli | Dovizioso | Nakagami | Mir | | | |
Talent lies deep within the grid as those hitting performance milestones and achievements are often overlooked by the media. If the 2020 season has taught us anything thus far, it's that a new generation of racers is upon us.