All rider photos sourced from MotoGP.com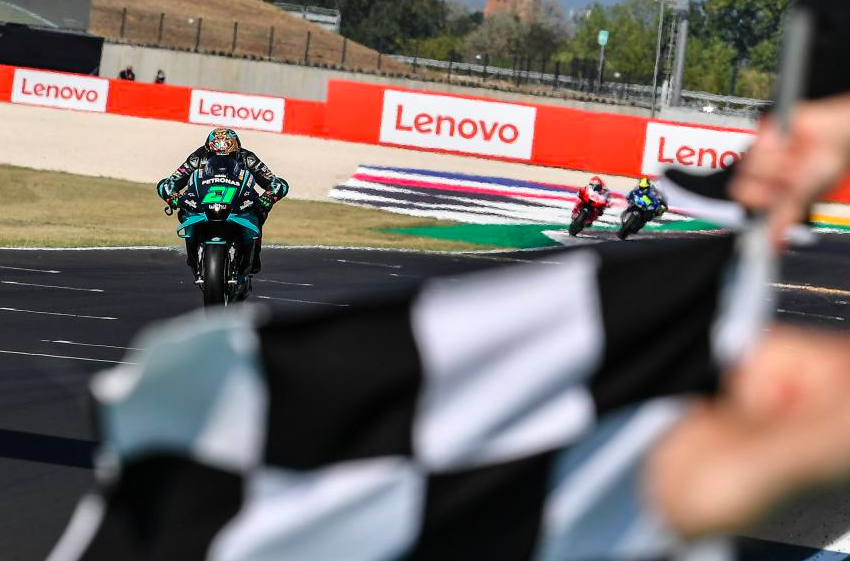 This past weekend marks yet another amazing race in the books as Italian rider, Franco Morbidelli, seals his first MotoGP victory at the Misano World Circuit! As the 2020 season continues to unfold, fans are constantly reminded of the upcoming generation that are wasting no time in regard to challenging those who will go down in history as some of the greatest racers. New faces and manufacturers have taken over the podium this season with the more seasoned riders being forced to take a back seat. The competition is fierce, the bikes are faster than ever and the certainty of who will become the World Champion is at an all-time low.  
Ducati legend, Andrea Dovizioso is currently leading the championship as he rides out his final season for the red machine. MotoGP rookie, Fabio Quartararo is close behind in 2nd with Jack Miller, Joan Mir and Maverick Vinales rounding out the top 5. The individual championship rankings are an obvious hot topic for discussion, but what about the team rankings?
Each manufacturer puts in endless hours, sweat, innovation and let's not forget, a pretty penny, to become the most successful team in the series. Without the hard work in the garage, a rider would hopeless. Additionally, a team has to work around 2+ riders to tailor specifics to each unique riding style. Now, we can't say that it takes all riders combined within a manufacturer to bring them success. Look at Marc Marquez and Repsol Honda in 2019 – he carried the weight of his team and manufacturer (with some help from Nakagami and Crutchlow) on his shoulders and brought them historical success. But let's be honest, it's nice to see a manufacturer that excels on all fronts, with all riders.
And with that, let's dive into today's topic – 2020 Team Rankings – Top 5
Petronas Yamaha SRT – 127 Points
Monster Energy Yamaha – 116 Points
Ducati Team – 101 Points
Team Suzuki Ecstar – 100 Points
Pramac Racing – 97 Points
A closer look at the top 3:
Well, Yamaha is clearly killing it. It's no secret they've already endured some ups and downs this season with engine problems, braking problems and the Factory boys almost being decapitated by a flying bike in Austria. But nonetheless, they continue to charge forward as a well rounded team, each rider carrying their weight in gold. All 4 riders currently fall within the top 7 of the championship ranking, all with 2 podium finishes with the exception of Valentino who has landed on the podium once. Although Quartararo finds himself 5 positions ahead of his teammate, Morbidelli, it is a slim 19 points that separates the two which could all change within a single race weekend. Now Rossi and Vinales are an interesting story as they are currently tied at 58 points. One may not have thought these two would be tied as Maverick has fallen in the limelight a handful of times with front row starts and podium finishes. But you have to remember, a consistent performance goes a long way in this sport and while Vinales has been up and down and all around, Rossi has been cruising right along, subtly collecting points.
Ducati, the big red machine that has to be handled correctly in order to reveal its agile side but can absolutely rip when given the chance. It's a unique bike that takes a certain individual to find success and the manufacturer has yet to confirm its 2021 lineup as Desmo Dovi recently announced that he will be parting ways with the Italian team after this season. Although it is his last season with the team, Dovizioso's focus remains the same as he currently leads the World Championship. Proceeding through the season with tunnel vision, Dovi is carrying his team on his back as he currently stands with 3X the amount of points as his teammate, Danilo Petrucci. While we're happy to give two thumbs up to Dovizioso, this balance is not sustainable, especially with the slightly underwhelming results we have seen from him. On an individual level, Dovizioso has himself in a unique position where he has gained a slight lead in the championship with only 2 podium finishes and otherwise, just average finishes. A consistent performance, similar to that of Valentino will support his climb to the title, especially given the volatility of his opponents. But on a team level, Ducati will need to see significantly more podium finishes and a stronger balance between their two factory riders in order to become the #1 team. With that said, a continued success within Pramac may just bring them ahead of Yamaha in the Constructor rankings.