All rider photos sourced from MotoGP.com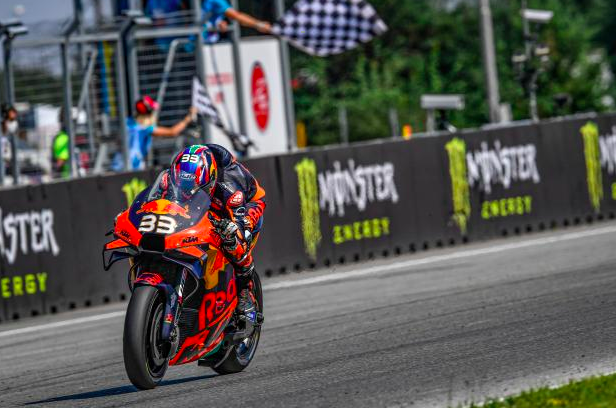 Similar to the opening races in Jerez, the Czech Grand Prix left fans on the edges of their seats as yet another 20 something laps unfolded and absolutely blew their minds. While the third round of the 2020 MotoGP season may have lacked the "drama" that the grid endured during back-to-back races in Jerez, the Czech GP brought an elevated level of raw, beautiful talent.
A lot happened within those laps at Brno with a handful of new riders riding into the limelight. With Marquez unfit to race, Dovizioso struggling to match his historical success at Brno and Vinales and Quartararo running into issues with bike set up, the new generation seized the opportunity to step up and prove their worth. And boy did they…
MotoGP rookie, Brad Binder was the man of the hour (or perhaps weekend) as he rode a clean race and landed himself on top of the podium. With his first podium in the premier league only 3 races into the season, Binder bluntly reminded KTM why they signed the South African straight to the factory team. Finishing alongside Binder was Petronas rider, Franco Morbidelli and the comeback kid, Johann Zarco.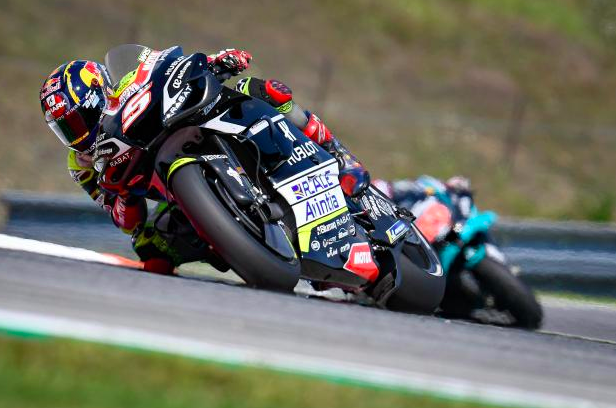 It is evident that the new generation of MotoGP racers are upon us as rookies, sophomores and juniors continuously challenge those who are considered seasoned, MotoGP legends. While those who have historically dominated the series are not to be counted out, they most definitely have their work cut out for them as a new breed of racers joins the race to the World Champion title.
Today we are going to identify those who absolutely dominated various areas of the Automotodrom Brno this past weekend. There is significant overlap between the four sectors of the circuit with an intriguing mix of green vs seasoned riders. The analysis is based off Grand Prix Scout's Speed Index, Consistency Index and Efficiency Index.
A few things to take note of:
1. Being able to match a competitive speed with consistency is a skill that riders typically acquire with years of experience. Some of the top ranked riders for Consistency Index held weaker Speed Indexes as they pushed less, but prevailed in lap to lap uniformity. This ultimately allowed them to hold their positions to those with fluctuating consistencies.
2. The Speed Index holds a heavier weight in sector competitiveness but those who made the top 5 for Speed Index and landed in the top group for Consistency Index are the riders who we saw climb their way through the pack.
3. Efficiency can be an overlooked performance factor but it allows us to identify riders who maintained forward movement with strategic lines, blocking their opponents from overtaking at opportune times. A balance of defensive and offensive riding skills is pivotal for the tiring, inevitable, lap-to-lap battles.
Sector 1
| | | | | | |
| --- | --- | --- | --- | --- | --- |
| | 1st | 2nd | 3rd | 4th | 5th |
| Speed Index | Johann Zarco | Valentino Rossi | Alex Rins | Brad Binder | Miguel Oliveira |
| Consistency Index | Valentino Rossi | Alex Rins | Miguel Oliveria | Takaaki Nakagami | Danilo Petrucci |
Sector 2
| | | | | | |
| --- | --- | --- | --- | --- | --- |
| | 1st | 2nd | 3rd | 4th | 5th |
| Speed Index | Brad Binder | Valentino Rossi | Franco Morbidelli | Alex Rins | Miguel Oliveira |
| Consistency Index | Danilo Petrucci | Alex Marquez | Alex Rins | Miguel Oliviera | Takaaki Nakagami |
Sector 3
| | | | | | |
| --- | --- | --- | --- | --- | --- |
| | 1st | 2nd | 3rd | 4th | 5th |
| Speed Index | Brad Binder | Takaaki Nakagami | Johann Zarco | Miguel Oliveira | Franco Morbidelli |
| Consistency Index | Takaaki Nakagami | Miguel Olveira | Jack Miller | Stefan Bradl | Tito Rabat |
Sector 4
| | | | | | |
| --- | --- | --- | --- | --- | --- |
| | 1st | 2nd | 3rd | 4th | 5th |
| Speed Index | Brad Binder | Johann Zarco | Miguel Oliveira | Alex Rins | Franco Morbidelli |
| Consistency Index | Alex Marquez | Alex Rins | Jack Miller | Miguel Olveira | Brad Binder |
Efficiency Index – All Sectors Combined
| | |
| --- | --- |
| 1st | Brad Binder |
| 2nd | Valentino Rossi |
| 3rd | Alex Rins |
| 4th | Alex Marquez |
| 5th | Miguel Oliveira |