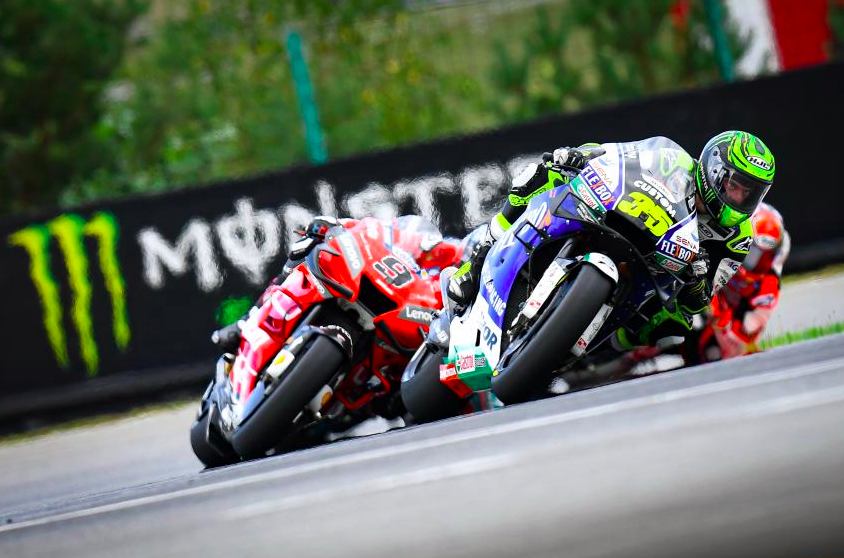 The short sprint of a season is well underway as the MotoGP paddock arrives in the Czech Republic for a quick weekend at Brno before heading to back-to-back races in Austria. Coming from Jerez, a historically Honda and Yamaha favorable circuit, the pressure is on for the Ducati riders as they strive to defend their historical dominance at the unique Czech circuit.
Reigning Word Champion, Marc Marquez will be missed this weekend as he has been declared unfit for the Czech GP and perhaps the following 2 rounds in Austria. While fans will no doubt miss seeing #93 line up on the grid this weekend, the competition is fierce and the show must go on.
Below we have provided a "rider watch list" that outlines a handful of riders whose historical performance and current, in-season performance poses them as significant threats going into the race weekend. The top 5 riders are listed with a few notes as to why they made this weekend's watch list.
---
Andrea Dovizioso – A seasoned Ducati rider, Andrea Dovizioso has proven his ability to adapt both his strengths and his bike's unique strengths to just about any circuit. After landing himself on the podium in Jerez for the first time just three weeks ago, Dovizioso has proven that despite his years on the circuit and questionable future with Ducati, he shows no signs of slowing down. This ambition and fire we saw in Dovi during the last two races has sparked hope and instilled faith that he can get the job done. With historically superior Speed, Consistency and Combined Indexes among his opponents, Dovizioso has proven to be a major threat on the Automotodrom Brno. His strong Efficiency Index leads us to view him as a shark in the water regardless of where he qualifies as his strategic passes and calculated tire preservation often results in him cherry picking his way through the grid.
Cal Crutchlow – With Marc unfit for the Czech GP, the pressure of success transfers heavily onto Crutchlow's shoulders as he sits as one of the more competitive Honda riders. Coming back from an injury sustained during the first round at Jerez, Crutchlow has some work to do in order to bump himself up in the championship rankings. Over the years, Cal has maintained a highly competitive Speed, Consistency and Combined Index ranking, falling one rank higher than Andrea Dovizioso. Similarly to Dovi, Crutchlow's historical Efficiency Indexes reflect a strong balance of both defensive and offensive skills which will be crucial during this cutthroat season. Tire preservation has been a common obstacle for the British rider to overcome but if he is able to create a perfect storm of raw, emotional drive, consistent sector times with strategic lines and awareness of tire wear, we may just see him leading the pack.
Fabio Quartararo – Unless you've been living under a rock, you know that MotoGP sophomore, Fabio Quartararo is on FIRE. Two back-to-back poles and race wins left the young French rider pumped up and ready to fight for the World Champion title. Will ambition outweigh his talent? It may be too soon to tell but based off his performance in Jerez, he is most definitely considered a threat for Brno. Despite his young age, Quartararo has a proven ability to nurse his tires while maintaining a balance between speed and consistency, a few skills that tend to come with years of experience in the series. Although his 2019 performance at the Czech GP did not land him in the top 5, he proved his ability to maintain forward movement between the flags as he held a high Predator Index. If the elements all come together this weekend, Quartararo may be challenging the power hungry Ducatis around the Automotodrom Brno.
Johann Zarco – French rider, Johann Zarco has had a solid start to the 2020 season as he recently joined the Ducati team. Aside from his promising two races with Ducati in Jerez, Zarco has some very strong historical data that outshines his past struggles with speed and consistency at Brno. Looking back at the 2019 Czech GP, Zarco qualified onto the front row with KTM, a bike that he openly admitted to not have harmonizing with. This is very important because it proves that Zarco can fully utilize his unique riding style and skills at Brno regardless of his comfort and adaptability to a bike. Given that Zarco and Ducati have found some common ground, we believe that his threat level rises significantly, especially due to the fact that Brno is a historically Ducati favoring circuit.
Jack Miller – Miller is coming in full speed to the 2020 season as he defends Ducati's choice to bump him up to the factory team starting in 2021. The greener Australian rider walked away with mix reviews from Jerez as he opened with a fantastic race but made a historically familiar mistake and low slided out of the second round. With a front row start and podium finish at Brno in 2019, Miller has a proven ability to exploit the strengths of the Ducati around this unique circuit and maintain stamina and tire wear between the flags. Miller must bring his A game in regards to Predator and Prey abilities this weekend in order to defend his position and overtake at opportune times to fully embrace the ability and power of the Ducati.
Francesco Bagnaia
Alex Rins
Valentino Rossi
Takaaki Nakagami
Maverick Vinales