All rider photos sourced from MotoGP.com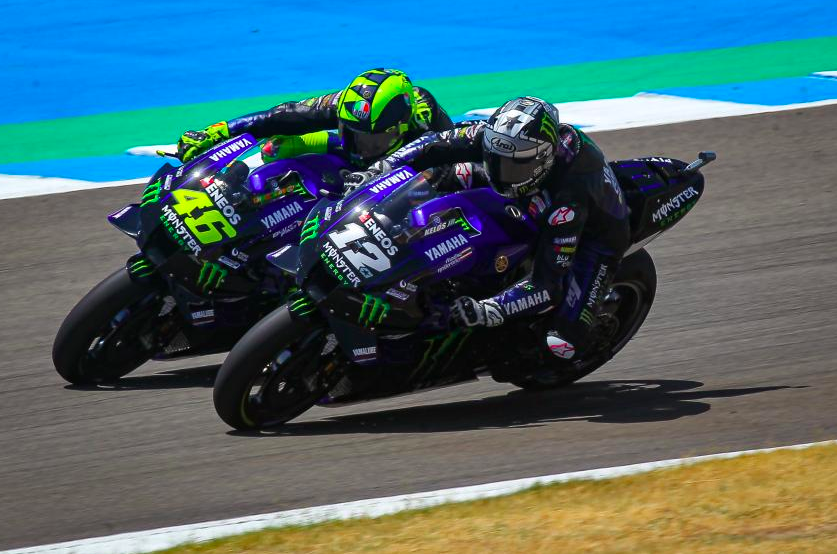 Just when we thought a race couldn't top the last, the Andalucia Grand Prix did just that as the drama and excitement continues to soar, setting fans up for one hell of a race season. MotoGP sophomore and rising star, Fabio Quartararo locked in back-to-back pole positions and race wins at the Circuito de Jerez, smashing any preconceived ideas that he didn't deserve a factory ride starting in 2021. Joining him on the podium at last weekend's Andalucia GP were two fellow Yamaha riders, Factory boys Maverick Vinales and Valentino Rossi.
Three Yamahas, three nationalities and today, two specific riders to analyze.
Valentino Rossi vs Maverick Vinales
Rossi and Vinales showed complimentary strengths during those 25 laps as they both showed off the power, handling and pure agility of the Yamaha while playing their individual, unique skills off of each other. Where one rider excelled in some aspects, the other dominated in remaining areas, perhaps explaining the constant back and forth dance between the two. 
So what exactly made the difference between a 2nd and 3rd place finish? Let's dive in…
Speed Index – Overall, Maverick Vinales held a superior Speed Index around the Circuito de Jerez. In fact, the Spanish rider maintained a quicker pace through 3 out of the 4 sectors, with Valentino prevailing in sector 3. Although Rossi only outrode Vinales in one sector, it just so happened to be the longest of the three sectors which ultimately allowed him to gain slight, yet very valuable ground on his teammate before putting his defensive skills to the test in the remaining sectors. It makes sense why Vinales concluded the race with a stronger Speed Index in those shorter, more technical sectors as he had to put some serious work in to recover positions lost to Bagnaia and Morbidelli during the middle of the race. 
Consistency Index – Now we all know that speed is nothing without being matched by a certain level of consistency. We also know that the harder a rider pushes in speed, the more difficult it can be to maintain the necessary level of consistency to remain competitive and avoid those taxing, mentally draining, tire wearing, little lap-to-lap battles. From this, you may not be terribly surprised to learn that Rossi held a much stronger Consistency Index in sectors 1, 2 and 4 while Vinales buckled down in sector 3 and earned a gold star for Consistency Index. See a trend? Where one rider prevailed in speed, the other maintained a superior consistency. 
Prey Index – If you watched the race, it was hard to ignore the incredible defensive skills that Valentino Rossi brought to the circuit. Now how exactly can we confirm these skills? Grand Prix Scout's Prey Index! Incase you need a refresher, the Prey Index tracks a rider's ability to switch on their defensive mindset when being studied and tailed by other riders. It is no surprise that Rossi held a superior Prey Index as he managed to hold off Vinales for 13 out of the 25 laps, blocking all possible passing points and ultimately choosing the best lines in and out of corners. 
Perhaps it was Rossi's years of experience and wisdom, paired with the fierce focus and drive from Vinales that brought these two seemingly contrary forces together, ultimately creating a complimentary dance to the checkered flag. Yin and yang, a concept of dualism, also known as an epic showdown between two teammates that reignited the passion of fans around the world.