* DOTD = Data of the Day *
Grand Prix Scout has developed a real-word simulation platform that offers statistical probability projections prior to each Grand Prix. Numbers don't lie and all of Grand Prix Scout's base and derived indexes stem from historical data that allows us to analyze past events and forecast the future.
At the start of each race week, simulation results broken down by quartiles will be released, allowing you to see where each rider falls against his opponents based on statistical probability distributions. The results offer a panoramic view of the entire grid and insight to the fierce battles that occur mid-pack that are often left unseen due to the frontrunner coverage.
With the first MotoGP race of the 2020 season only a few days away, it is time to release the first round of simulation results! First, let's lay out the simulation process and results…
Simulation process – Thousands of race simulations are performed that take into account unique pieces of data such as external factor standardization, timing and weather. The simulations are circuit specific and only study racers who have at least 1 year of experience on the circuit since joining the premier league.

Simulation results – A calculated probability is assigned to each rider for each possible finishing position that identifies the likelihood of them finishing in that position. This allows us to analyze each rider through a range of positions and ultimately separate them into statistical quartiles. Due to substantial probability gaps, it is possible for each quartile to have a varying number of riders. As we know – a race frequently consists of numerous smaller battles broken up into groups, each equally competitive and each equally important as riders fight for the valuable championship points.
And now, without further ado, here are the simulation results for the Gran Premio Red Bull de Espana.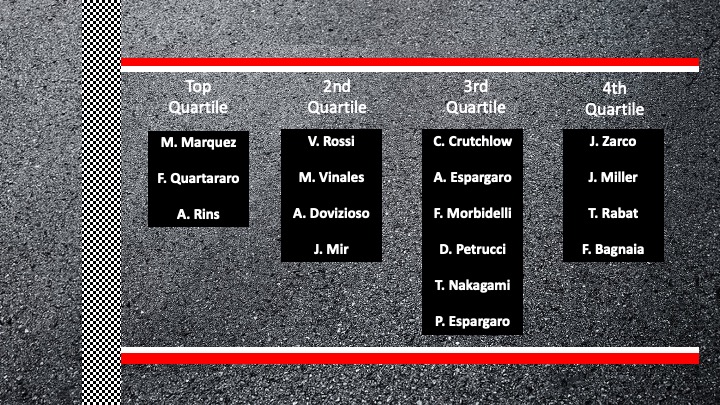 For more information and to keep up with the in-season simulation results, check out the MotoGP stats page!