* DOTD = Data Of The Day *
All photos sourced from MotoGP.com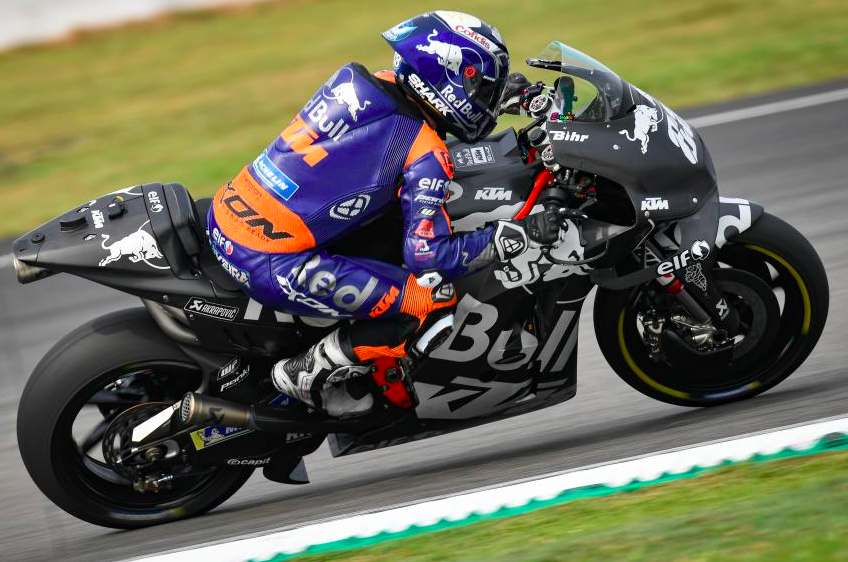 Entering his second season with Red Bull KTM Tech 3, Miguel Oliveira has found himself in one of the more competitive groups of riders that the MotoGP series has encountered in quite some time. The Portuguese rider concluded his rookie season in 17th place and ended the 2020 pre-season tests in 12th and 19th.
With the first race of the season yet to be scheduled, we continue to look back at historical performances and analysis around the talented group. Today we are going to review Oliveira's debut season performance in regards to Efficiency Index and Net Movement vs Volatility Index. By studying these variables, we can better understand the unique patterns within Oliveira's performance and the path he took during his rookie season.
---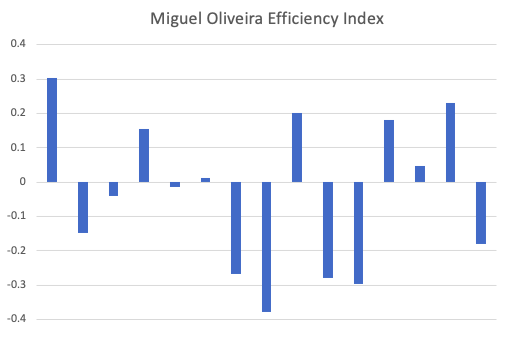 The chart above depicts Oliveira's Efficiency Index for every race that he completed during the 2019 season. As with all of Grand Prix Scout's indexes, a smaller number represents a stronger performance while a larger number indicates a weaker performance with more room for error.
As you can see, Oliveira encountered a balance between positive and negative Efficiency Indexes with just a few more bars falling on the negative side. This means that more than 50% of Oliveira's rookie season performances concluded with a strong Efficiency Index where he maintained forward momentum, finished ahead of where he started and limited the minor yet tiring lap-to-lap battles. From this chart, we can infer that Oliveira is building off a strong foundation as he focuses on the detail oriented, strategic movements first before going full throttle and risking a DNF.
This chart provides unique, supplementary analysis to the Efficiency Index chart above. Each bar represents the difference in Net Movement vs Volatility within a race. Let me break that down… The Net Movement Index identifies the fluctuation in race position across all laps – think starting position vs final position. On the contrary, the Volatility Index accounts for the total number of times a rider changed positions. Some riders endure a high number of lap-to-lap battles with their opponents until they are able to create a gap between themselves. In an ideal world, the Net Movement and Volatility Indexes would cancel each other out, meaning that each pass was clean and the rider was able to hold their position with no exhausting, wearing battles.
Miguel Oliveira's 2019 Net vs Volatility shows a familiar pattern that we would expect from a rookie as he rode out highs and lows throughout the season. The smaller bars (refer to TT Assen and Czech) resemble races in which Oliveira maintained a competitive position and was able to reduce the back and forth battles with his opponents, ultimately persevering his energy, bike and tires. The trend line shows a slight positive slope meaning that his performance did not vastly improve or worsen throughout 2019, although he experienced a weaker Net vs Volatility in the second half of the season. Reducing this ratio is much easier said than done but we hope to see Oliveira strengthen his prey skills as he learns to defend his position from those behind.
Takeaway: Miguel Oliveira shows promise within these detailed indexes as he builds off a strong foundation. It is hard to teach an old dog new tricks but we believe that the young rider gained valuable experience within his first year with the big dogs and that an improvement in defensive skills may go a long way.