* DOTD = Data Of The Day *
Photos sourced from MotoGP.com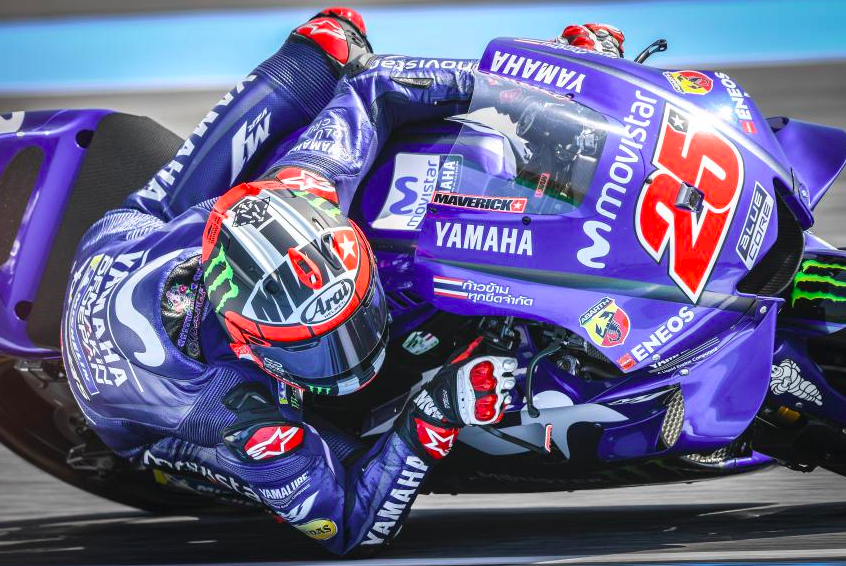 Prior to the 2019 season, the Grand Prix Scout team released pre-season trajectory analysis around the top 10 riders from the 2018 championship. One of those riders, Maverick Vinales, continued on his path to excellence and proved his ability to fine tune his riding with focus on the more minor, yet crucial details. The Spanish rider finished the 2019 championship in 3rd place just behind Andrea Dovizioso and Marc Marquez. Consistently battling with some of the most talented riders the series has ever seen, Vinales has proven time and time again that he not only deserves to be in the premier league, but that Yamaha made a very wise choice in re-signing him for an extended 2 year contract.
Today we are going to revisit Maverick's 2019 pre-season trajectory analysis, allowing you to see where he started in March 2019 compared to where he ended in November 2019. The analysis touches on his performance rate of improvement as well as what we had hoped to see from him throughout the upcoming (2019) season. Needless to say, Vinales did not disappoint…
---
Maverick Vinales 2019 Pre-Season Trajectory
Heading into his third season with the Yamaha Factory team, Maverick Vinales shows a competitive trajectory after an impressive performance throughout the 2018 MotoGP season. Out of the top four placing riders from 2018, Vinales holds the strongest speed improvement rate based off his average speed index trendline slope. This steep slope reflects a consistent improvement each year in regards to sector times. Additionally, Vinales proved to be a strong competitor in regards to consistency where his lap to lap sector times had little variation. Can he maintain this linear progression?
Below we have provided graphs tracking both his average speed index as well as his average consistency index over time. These graphs represent an annual average with all races combined for the past 5 years. If you are unfamiliar with our indexes, a rider's speed index is calculated from sector times for every circuit of every race. A rider's consistency index quantifies their ability to keep consistency sector times on a lap by lap basis. For both indexes, a smaller value = faster sector times with little variation (high consistency).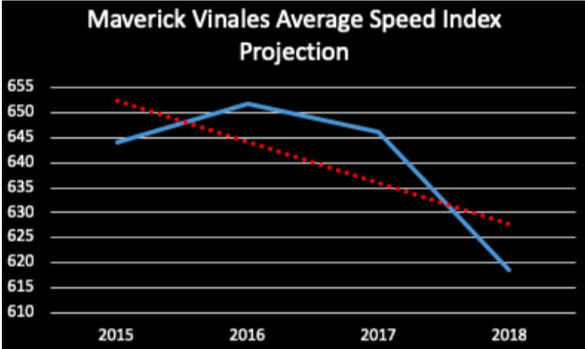 Trendline Equation: y = -8.1905x + 660.62
Maverick Vinales raced with Team Suzuki in 2015 and 2016 before switching to the Yamaha Factory Team in 2017.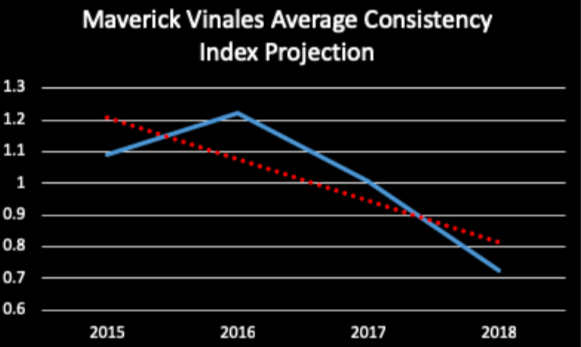 Trendline Equation: y = -0.1313x + 1.3388
What do we hope to see from Vinales going into the 2019 season? His progression rate over his four years in MotoGP is close to linear with a steep slope indicating significant improvement year to year. This does not mean that he holds the fastest or most consistent times, but it does show that his riding career is still evolving and not reaching a plateau in performance just yet. In order to stay ahead, we must see Vinales and Yamaha come together to utilize their strengths on specific areas of a circuit to claim a territory and push sector times, allowing Vinales to gain ground on his opponents. Consistency is important, but without competitive sector times a rider loses his chance at pulling ahead, checking out and leading the pack across the finish line.