* DOTD = Data Of The Day *
Rider photos sourced from MotoGP.com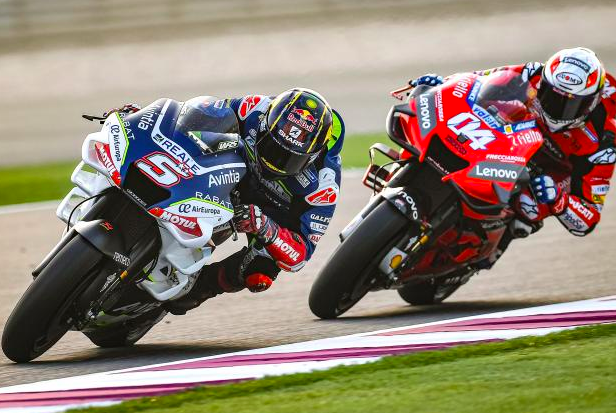 From Yamaha, to KTM, to LCR Honda and now Ducati, Johann Zarco has covered a significant amount of ground since joining the premier league in 2017. The French rider had an incredible rookie and sophomore season in the MotoGP series, finishing 6th in the World Championship both years. He collected a handful of first row starts and podium finishes before joining the factory KTM team in 2019.
A rollercoaster start and early departure from KTM left Zarco without a seat partway through the 2019 season. But when Honda rider, Takaaki Nakagami had to undergo shoulder surgery, Zarco stepped in and finished off the 2019 season alongside fellow LCR rider, Cal Crutchlow.
It was unclear where Zarco would land for the 2020 season but with Karel Abraham moving on from MotoGP, a new seat on Ducati was open and fans now look forward to seeing Johann Zarco and Tito Rabat represent the Reale Avintia Racing team this summer. Many were skeptical of this move as Zarco has yet to match his competitive performance we saw from him on Yamaha. We are here to put these at bay as we acknowledge the areas that yes, Zarco has struggled with, but more importantly, where he has been putting in the work.
Let's start with the pre-season trajectory rankings:
Consistency and Speed Trajectories – It is no secret that Zarco lost his competitive speed last season that had helped push him up the ranks in 2017 and 2018. This is very evident in his pre-season Speed Index trajectory as he ranks quite low compared to his opponents (15th out of the 15 riders). Here's the thing, while everyone was focusing on his lack of speed last season, Zarco was actually making great strides in improving his Consistency Index. To put is simply, slower, more reserved sector times allowed him to polish the tedious yet critical skill sets. Ranked 3rd out of the 15 riders of study, Zarco has continued to fine tune this crucial aspect of riding that can ultimately make or break a race. One fast lap can place you high on the grid, but it is the riders that are able to put 20+ laps together with minimal fluctuation in sector times that come out on top. We hope to see Zarco maintain this secret weapon as he adapts to the Ducati and finds his groove and speed with the powerful machine.
Moving onto pre-season efficiency trajectory:
Efficiency Trajectory: Johann Zarco falls in the middle of the pack when it comes to the Efficiency Index Trajectory. Ranked 10th out of 15, Zarco's trajectory index is positive, indicating that his Efficiency Index has gradually weakened since the start of 2017. This is not a big surprise as this unique index rewards riders for 4 complimentary performance factors:
1. A strong starting grid position
2. A positive net movement meaning they finished the race ahead of their starting position
3. A large net movement value which suggests they overtook a significant amount of their opponents
4. A lower volatility signifying productive movement

It is important to note that although Zarco holds a positive index, the uncertainty and rollercoaster of a career that he has endured has yet to crack him and he remains on a stronger path in regards to efficiency than 1/3 of his opponents. Throughout his career, Zarco has finished ahead of his starting positions 49% of the time which again, given his seemingly continuous shift in bike and team, is impressive.
If Zarco can find stability within the series in regards to bike and team adaptability and partnership, we may see a significant rise in his index trajectories as he enters his 4th year in the MotoGP series.