* DOTD = Data Of The Day *
Rider photos sourced from MotoGP.com
It's Thursday, or as we like to call it, throw-back-thursday! Today's DOTD is taking it back to the 2019 Aragon Grand Prix post-race analysis where we analyzed two riders with very different styles and techniques. Aleix Espargaro and Andrea Dovizioso had notably strong performances at the Motorland Aragon as they exposed the unique attributes and adaptability of their vastly different machines.
So sit back, relax and learn something new about Aleix and Andrea at Aragon.
---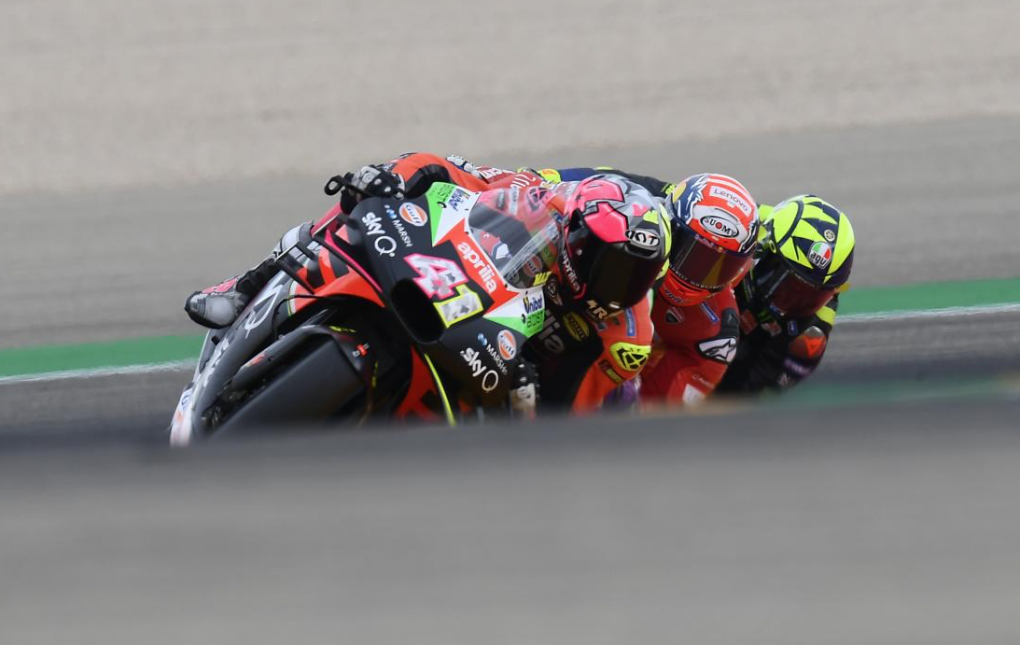 While Marquez's performance may be the trending topic of the week, there is also quite a bit of discussion around two other factory riders who walked away in good spirits. Ducati rider, Andrea Dovizioso and Aprilia rider, Aleix Espargaro both gave remarkable performances at MotorLand Aragon this past weekend. Today we are going to dive into what exactly these riders held over their opponents and where on the circuit they made the biggest impact. As always, we'll keep it short and sweet!
Consistency and Speed Index Rankings by Sector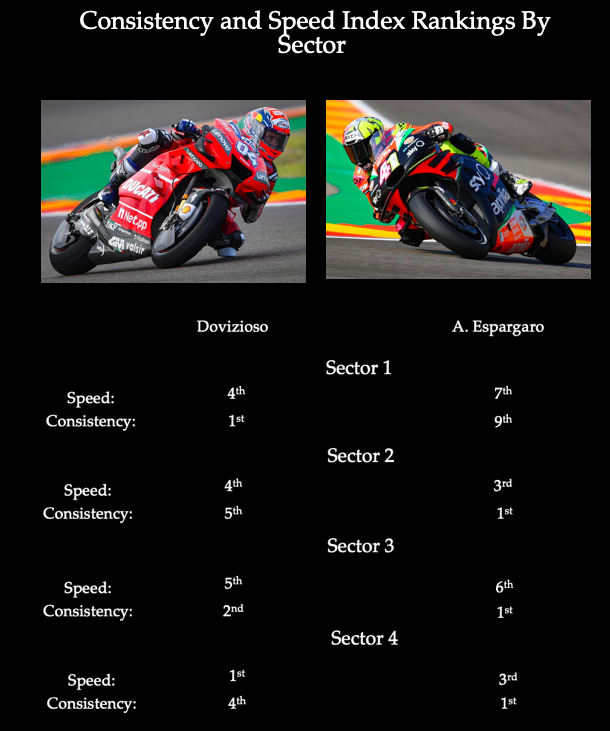 Starting 10th on the grid, Andrea Dovizioso had his eye on the podium from the beginning and did not let his poor qualifying position get in the way. By the 1st lap, Dovi had moved his way up 3 positions and continued to pick off opponents every 3 – 6 laps. Taking the time to study those ahead of him and utilizing the Ducati's superior acceleration, Dovizioso recognized the optimal times to overtake without risking his speed or sector consistency.
It is no surprise to see that Dovi held the strongest speed index in sector 4 as the Ducati gave no mercy to other manufacturers down the notebly long straightaway. Making up significant time in this sector, Dovi continued to balance his performance throughout all sectors with superior consistency in areas where his speed was lacking. Maintaining a well-rounded performance through the shorter, technical sectors gave Dovi an advantage as these are usually perceived as Honda, Yamaha and Suzuki territory.
Aleix Espargaro was another one to utilize sector 4 with his strong consistency index that he managed to carry over into 2 of the remaining 3 sectors. Starting from the 2nd row of the grid, Aleix let the Aprilia rip and rode a perfect race with fluidity and harmony.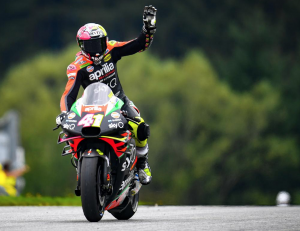 Although he was not able to carry a balance between speed and consistency in sector 1, the Spanish rider found his rhythm in the remaining 3 sectors with unmatched consistency and a surprising amount of speed for all 23 laps.
By the end, it came down to Aleix showing off the power hidden within the Aprilia and riding with a defensive mindset as he protected his position until the 17th lap when LCR Honda rider, Cal Crutchlow swooped in to take P6.
Dovizioso and A. Espargaro benefited greatly from holding such big advantages in regards to speed and consistency in sector 4. Standing as the longest sector of the circuit, this fast section allowed for Dovi to cover signficaint ground and for Aleix to defend his position.
Although the Aprilia and the Ducati carry very different characteristics, two riders with very different styles and techniques were able to succeed on this unique circuit and walk away knowing they both had a big impact on that race.