* DOTD = Data Of The Day *
All rider photos sourced from MotoGP.com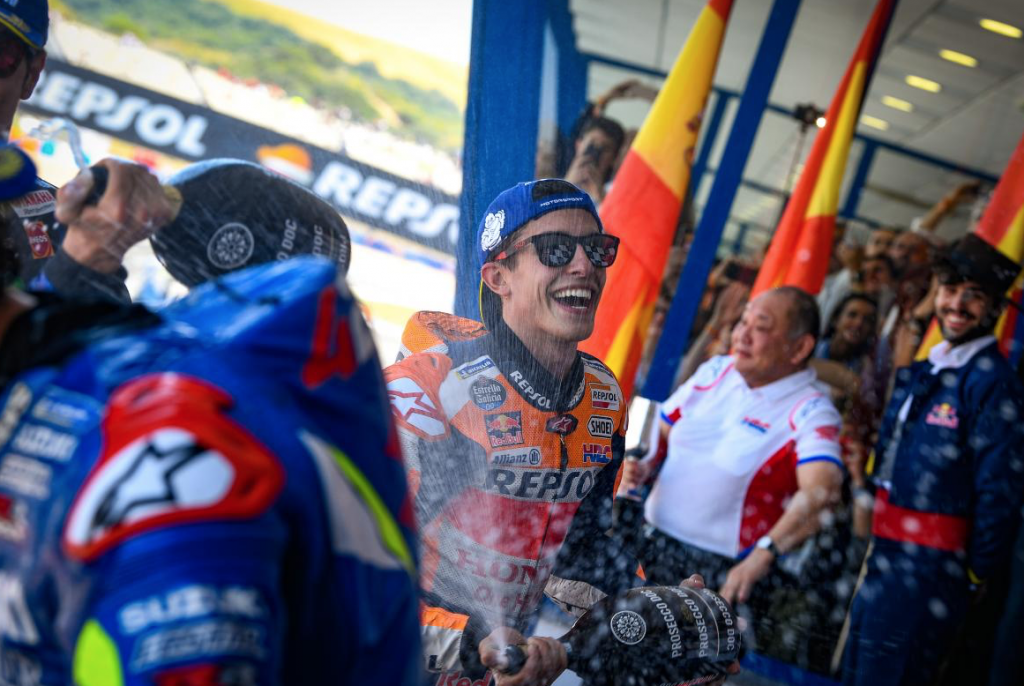 The entire world is feeling the ripple effects of the Coronavirus and because of that, individuals are forced to adapt to the whole "take it day by day" agenda. It is no secret that this has greatly affected the sports industry and the MotoGP racing series is no exception. With the seemingly endless off-season creeping its way through March, the first scheduled GP now stands as Sunday, May 3rd at the Circuito de Jerez.
The possibility of Jerez being postponed to later in the season is not unlikely as Thailand, Texas and Argentina have all been pushed to the fall. But until we are told that the calendar has undergone another revision, we are going to keep pushing on and help you all prepare for the infamous Jerez Grand Prix. And what better way to prepare for this year's season opener (fingers crossed) than to look back at last year's action!
Here are 3 quick facts about the top 4 finishers from last year's Jerez GP…
They all stemmed from varying manufacturers:
1st Place- Marc Marquez, Repsol Honda
2nd Place – Alex Rins, Suzuki Ecstar
3rd Place – Maverick Vinales, Monster Energy Yamaha
4th Place – Andrea Dovizioso, Mission Winnow Ducati
There was a weak balance between consistency and speed across all 4 finishers:
A champion is one who can match superior speed with competitive consistency. Both variables will fluctuate race to race given the unique circuit qualities and weather conditions but those who consistently land on the podium have unparalleled indexes. The top 4 riders from the 2019 Jerez GP followed an all too familiar trend… Those with the stronger Speed Indexes held the weaker Consistency Indexes and vice versa. So who came out on top of each index?
| | |
| --- | --- |
| Speed Index | Consistency Index |
| Marquez | Dovizioso |
| Rins | Vinales |
| Vinales | Rins |
| Dovizioso | Marquez |
The Combined Index broken down by sector favored Marquez:
Grand Prix Scout's unique indexing system allows us to study riders on both a circuit level as well as a sector level. When we study riders by Combined Index for each sector, we are taking into account their sector speed handicapped by their sector consistency. This allows us to see where exactly on a circuit a particular rider prevailed. Let's see who dominated each sector by Combined Index..
Sector 1: Marquez
Sector 2: Petrucci
Sector 3: Marquez
Sector 4: Vinales
2019 was Marc Marquez's year as he took the series by storm. But after the off-season testing results and Marquez's lengthy shoulder surgery recovery, the 2020 season seems to have a handful riders ready to challenge the reigning champion. Time will tell… Stay healthy and keep an eye on the MotoGP calendar!