* DOTD = Data Of The Day *
All rider photos sourced from MotoGP.com
The 2019 rookies took the series by storm as they exceeded expectations and continuously lit fires under some of the more seasoned rider's seats. All four of the rookies had their time in the limelight and will remain with the same teams for the 2020 season. Here's a quick reminder of the 2019 rookies AKA the 2020 sophomores:
Fabio Quartararo – Petronas Yamaha SRT
Francesco Bagnaia – Pramac Racing
Joan Mir – Team Suzuki Ecstar
Miguel Oliveira – Red Bull KTM Tech 3
Today we are going to focus on Bagnaia and Oliveira as they slipped in and out of Quartararo's and Mir's shadows throughout the season. They may not have consistency finished within the top 8 or received the support of a factory team but they both made great strides in defending their seat and their worth in the premier series.
Below we have provided three separate charts to compare Bagnaia's and Oliveira's performance indexes. To be more specific, their Speed Indexes, Consistency Indexes and Combined Indexes for each completed race.
If you are unfamiliar with Grand Prix Scout's unique indexing system, visit our Index Library by clicking here!
Please note:
– A smaller index reflects a stronger performance, i.e. faster, more consistent sector times
– The numbers on the X (horizontal) axis identify each GP of the 2019 season (1-19)
– Blue bars represent Oliveira
– Orange bars represent Bagnaia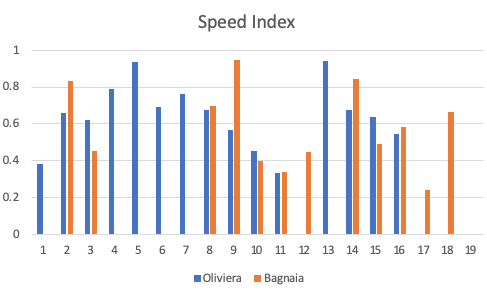 It is evident that Oliveira had a much higher finishing rate compared to Bagnaia in the first half of the season. In addition, Miguel Oliveira showed linear improvement in regards to his Speed Index from the 5th race to the 11th. Although the last half of the season experienced instability for Oliveira, he ultimately proved his ability to prioritize and fine tune the skills needed to advance in the series.
Although Francesco Bagnaia had an overall weaker finishing rate, he showed his full range of performance, both good and bad. His Speed Index followed a more expected path for a rookie as he tested his limits and endured a higher fluctuation in performance from one race to the next. While there were clear times of improvement needs for Bagnaia, he countered those races with strong performances that ranked him close to equal or better than his closest rookie opponent, Miguel Oliveira.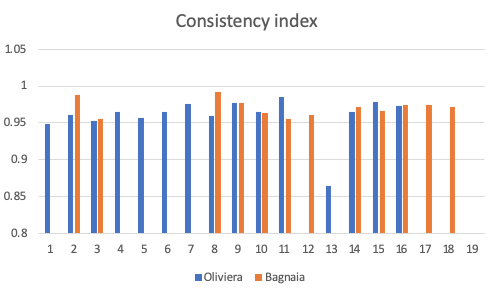 Opposed to their Speed Indexes, Bagnaia's and Oliveira's Consistency Indexes are clearly more evenly matched. While Oliveira shined bright in the speed department, Bagnaia showed not only gradual improvements in his Consistency Index, but he also maintained a more stable Index range from one race to the next.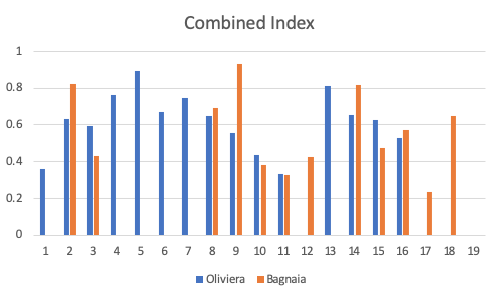 The Combined Index allows us to consolidate the above information as it handicaps the Speed Index by the Consistency Index. While this graph may hide minor trends seen within the individual Speed or Consistency Indexes, it provides a more general view of each rider's performance over the course of 19 races.
Takeaways:
1. Miguel Oliveira saw a more linear path of improvement in the first half of the season but was not able to maintain this momentum in the later races. As he progresses through the series he will no doubt find his rhythm to defend his position in the front of the pack.
2. Francesco Bagnaia's performance fluctuated greatly from one race to the next but his path followed a more expected route for a first year rookie. Bagnaia excelled in consistency across the board but struggled to match it with a competitive speed as he tested his limits with the new bike. With experience will come trust in the bike and a clearer view of fine tuning needed.