* DOTD = Data Of The Day *
All Rider Photos Sourced From MotoGP.com
Aleix Espargaro has been with Aprilia for 3 out of their 5 years in the MotoGP series and after a strong test weekend in Malaysia, the duo left fans feeling optimistic about the 2020 season. A. Espargaro rounded out the top 10 after the combined 3 days of testing with his best results falling on day 1 with a rank of 7th.
As we talk about the outlook of a team, it is also important to identify where it all began and what progress has been made to date. So, below we have provided the annual breakdown of Aleix's Net Movement vs Net Volatility since joining Aprilia. Before we dive in, let's elaborate on these two unique pieces of analysis…
Net Movement: The total positions a rider gained or lost between the flags. A positive net movement identifies riders who finished the race ahead of their starting position while a negative net movement exposes those who finished behind their starting position.
Net Volatility: The total passes made between the flags. The Net Volatility is similar to an accountability tracker as it identifies the efficiency of each rider in terms of holding a position. An ideal volatility is one that matches the Net Movement as that would signify that each pass forward was defended with no back and forth fight.
Each chart below represents a season (2017-2019) and compares A. Espargaro's Net Movement to his Net Volatility for each completed race. The Net movement (blue bar) can either be positive or negative depending on if Aleix finished ahead (positive) or behind (negative) his starting position. The Net Volatility (orange bar) tracks the total passes made between A. Espargaro and other riders. A high volatility is favorable if it is matched by a high Net Movement.
2017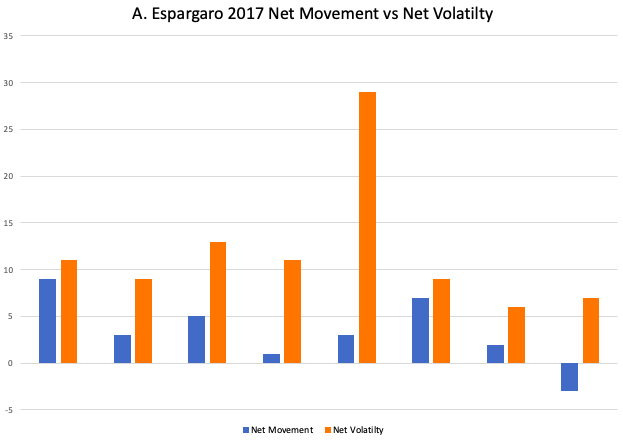 Although A. Espargaro experienced a handful of DNFs during his first season with Aprilia, he almost always finished ahead of his starting grid position. 2017 stands as his 2nd strongest season to date with Aprilia in regards to maintaining efficiency throughout the race as portrayed by the (somewhat) slim gaps between Net Movement to Net Volatility.
2018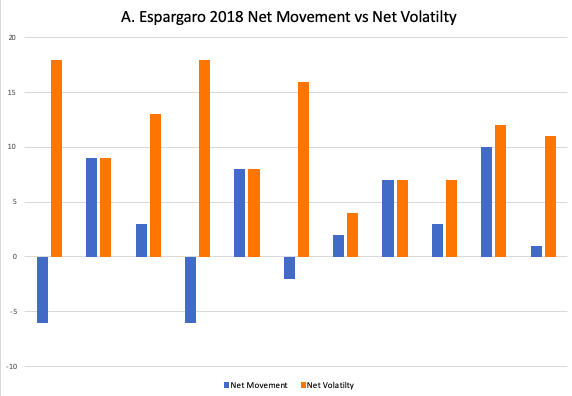 2018 was a learning experience for both Aleix and Aprilia as their performance lacked consistency but ultimately reflected improvement from the start to the end of the season. There was a clear improvement in finishing rate as well as efficient moves between the flags as we see 4 almost identical net bars. The start of the season endured instability as the pair's performance bounced between negative net movement, significantly high volatility and the occasional ideal balance. By the middle/end of the season, Aleix maintained a stronger race performance as he kept his Net Movement positive and experienced less back and forth fights with his opponents.
2019
2019 had its highs and lows for Aleix and Aprilia but overall stands as their strongest year yet in terms of efficient movement forward between the flags. Again, this season saw a higher finishing rate compared to the last and although there are 4 occurrences of negative Net Movement, Aleix's overall season performance shows great improvement. In fact, Aleix ranks 6th in pre-season Efficiency Trajectory which track each rider's rate of improvement from 2015 – 2019.