* DOTD = Data Of The Day *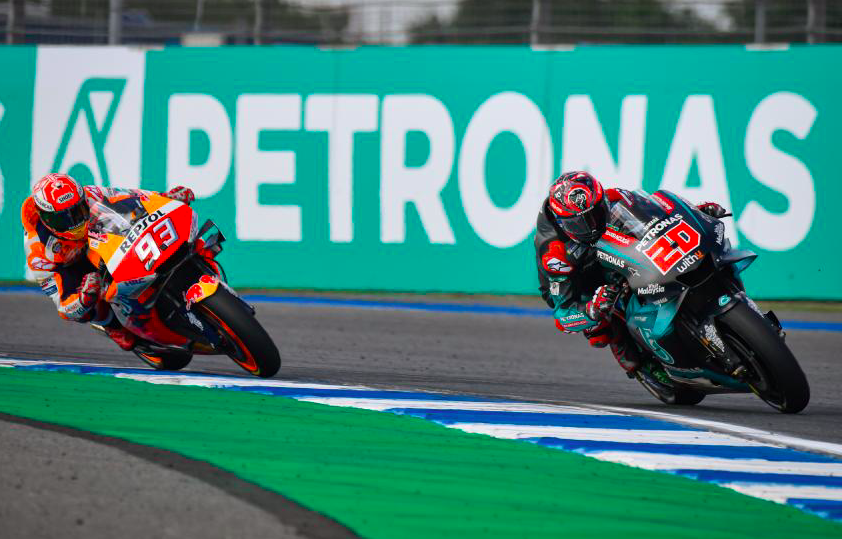 The Chang International Circuit has now hosted 2 race weekends since joining the MotoGP series and has been bumped up from October to March for the upcoming race season. That's right, teams and riders will kick off the 2020 season with the famous night race in Qatar before jumping over to Thailand for the Chang showdown.
Although the 2019 Thai GP yielded similar results as the 2018 race, with 2 of the same riders landing on the podium both years, the sector breakdown discloses otherwise. Yes, Marc Marquez took 1st place both years with fellow Spanish rider, Maverick Vinales right behind him in 3rd place both years. But the leading riders in sector Speed Index and Consistency Index displayed very different patterns.
Overall, the 2018 Thai GP showed great variation on a sector level in regard to leading indexes. On the contrary, 2019 was a constant battle between Marquez and Quartararo with Dovizioso popping up here and there. The chart below portrays the variation in pattern from one year to the next. The significant diversity in riders with leading indexes is hard to miss in 2018 compared to 2019.
| | | | |
| --- | --- | --- | --- |
| Index | Sector | 2018 | 2019 |
| Speed | 1 | Andrea Dovizioso | Marc Marquez |
| Consistency | 1 | Bradley Smith | Marc Marquez |
| Speed | 2 | Marc Marquez | Fabio Quartararo |
| Consistency | 2 | Johann Zarco | Andrea Dovizioso |
| Speed | 3 | Johann Zarco | Fabio Quartararo |
| Consistency | 3 | Valentino Rossi | Fabio Quartararo |
| Speed | 4 | Andrea Dovizoso | Fabio Quartararo |
| Consistency | 4 | Alvaro Bautista | Andrea Dovizioso |
So why do we care?
The diversity in leading riders in 2018 compared to the narrow range in 2019 represents a general trend seen within the series. Please note, both patterns are important…
In 2018, we saw a more level playing field with a wider variety of riders partaking in the battles to the podium. The entire grid as a whole proved to viewers that the sport was excelling with more seasoned riders successfully grooming and challenging their successors.
In 2019, we saw the domination of a single team and a single rider. The level of talent exposed to race fans this past season exceeded all prior expectations. In addition, we saw the rapid rise of rookies from 4 different manufacturers which reinstalled faith in the series.