A picture is worth a thousand words – the notion that a set of complex ideas can be conveyed through a single, powerful image. Take the image below for example, it could be a piece of abstract art, a collage of complimentary colors, or perhaps a chart that tracks MotoGP manufacturer success over the past 4 years.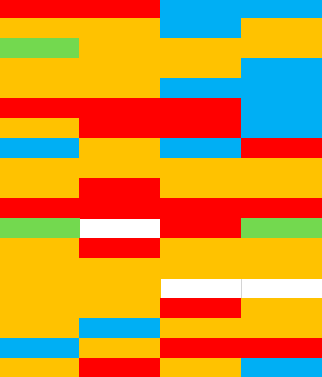 Let's run with that 3rd idea… The image above tracks which manufacturer won each race over the past 4 years. The 4 manufacturers, Ducati, Honda, Suzuki and Yamaha are all assigned a different color to help identify specific circuit historical domination and bike/team advancement within the series. What this chart doesn't identify is which specific rider brought success to the team or if the rider rode for a factory or satellite team.
Color key:
Red = Ducati
Orange = Honda
Green = Suzuki
Blue = Yamaha
White = NA for that year (circuit was not included or race was canceled).
Studying the pattern of success for each manufacturer without labels allows you to see finer details without getting distracted by brand name. You may have overlooked Suzuki if you observed a non-color coded chart with just the manufacturer names labeled. But looking at the chart above, Suzuki stands out as a diamond in the ruff as they make great strides in the premier league. One race win in 2016 at Silverstone and two more this season in Texas and again in GBR, the Suzuki team is evolving each season and beginning to show their true colors as a top competitor in the MotoGP series.
Now let's take a look at the same chart but this time with corresponding labels.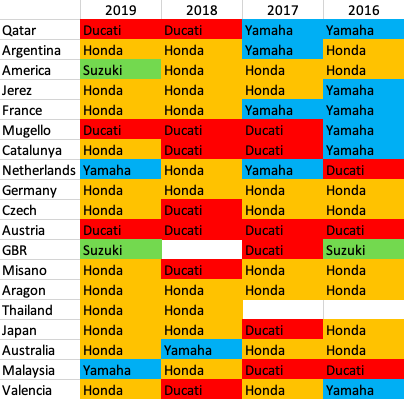 Let me guess, you're a Marquez fan? I guarantee your eyes went straight to the orange blocks and all you could see was that smiling Spaniard on the top of the podium. What you may have forgotten is that while yes, a handful of the orange blocks correspond to Marquez, a large handful also correspond to Dani Pedrosa and some to Cal Crutchlow who rides for the LCR (satellite) team.
What these charts help identify is the constant shifting pattern in manufacture domination from one season to the next. As the bikes continue to evolve with new design and technology, the defining qualities behind each build will be re-defined in parallel. What was once an acceleration beast that couldn't handle technical sectors is now an agile, powerful machine that cranks through tight sections with the quickest, but not always most powerful acceleration.
Identifiable patterns:
2016: a significantly more colorful year than the following 3 as each of the 4 manufactures made an appearance
2017: a very balanced year between 3 manufacturers that (mostly) defended their acclaimed territory from 2016
2018: a phase out of Yamaha and a showdown between the two, at the time, dominant manufacturers, Ducati and Honda
2019: the most unbalanced season as Honda obliterated the competition. With that said, each manufacturer reappeared to take 2+ race wins.
Takeaway: Not one bike is made perfectly for one circuit. Yes, it does depend on the rider, but each bike itself holds unique characteristics that may provide an advantage in specific scenarios such as brake handling or acceleration time. But what we see each season is a smaller gap in raw bike advantage and a more leveled bag of tricks that relies heavily on rider technique and ability to extract the needed features at the optimal time.