All rider photos sourced from MotoGP.com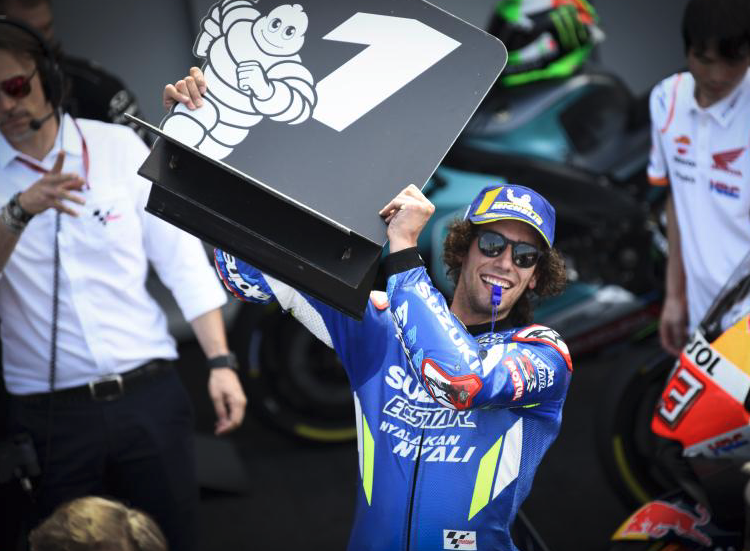 Suzuki star, Alex Rins and 2019 rookie, Joan Mir have made great strides with the Japanese manufacturer throughout the season as the factory team wraps up another year of development and refinement. The Team Suzuki Ecstar is currently ranked 5th in the team championship rankings just 6 points behind the Petronas Yamaha SRT team.
Alex Rins is a known as one of the strongest predators on the grid. Time and time again we have seen the Spanish rider pick his way through the pack, sometimes moving from the back of the grid all the way up to the top 5. His qualifying reputation may not be the most reliable, but you can never count him out for a podium finish.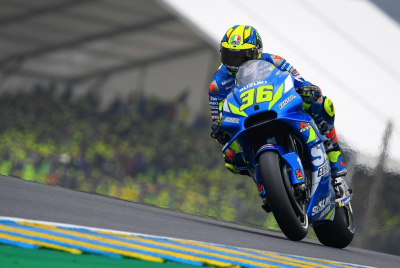 22 year old rookie, Joan Mir has had his ups and downs throughout his premier season but overall, his jump from Moto2 straight to a factory bike has shown great promise. There are a few telling signs reflected through his 2019 performance indexes and today we are going to identify one very unique pattern for both riders.
Net Movement vs Final Race Position
2019
Let's start big picture… Net movement refers to a rider's total forward / backward movement throughout a race. For Grand Prix Scout, this means taking the difference between a rider's Predator and Prey Index – how many opponents did they overtake vs how many did they let slip past?
A forward advancement requires strong predator skills where a rider studies the circuit, their opponents and the conditions to strategically overtake while preserving their bike, energy and tires. It also requires strong prey skills aka a strong defensive riding style. This means protecting lines in and out of corners and knowing your opponents attack techniques to think ahead and prevent passes.
First up, Alex Rins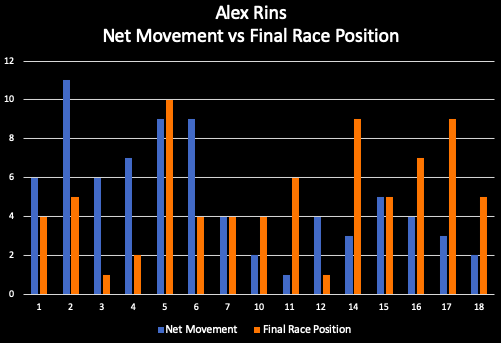 The prior statement fits the chart: Alex Rins has an ability to alwaysmove forward regardless of his starting position. The blue vertical bars represent his net movement: (predator – prey) aka (how many people he passed – how many people passed him). If the net was zero, that would signify zero difference between his start and end position.
As you can see, Rins spent the start of the season fighting his way through the pack, making great advancements and finishing within the top 5. Although his final position began to fluctuate from the 5th race on, his forward momentum persisted. Not only does this portray a superior predator mindset matched with defensive awareness, but it also suggest that Rins has mental durability.
Starting from the back of the grid can throw a lot of riders off. Especially those who are expected to qualify on the front row and defend a factory team name. This may affect some racer's performance, but not Alex Rins. Some would say that this is when he succeeds the most. His races with the highest net movement have resulted in some of his strongest race finishes. Racing at the premier level requires a certain level of mental toughness, adaptability and ability to rebound. The graph above clearly exhibits that Alex Rins encompasses these traits and brings a unique set of skills to the circuit.
Rookie Time – Joan Mir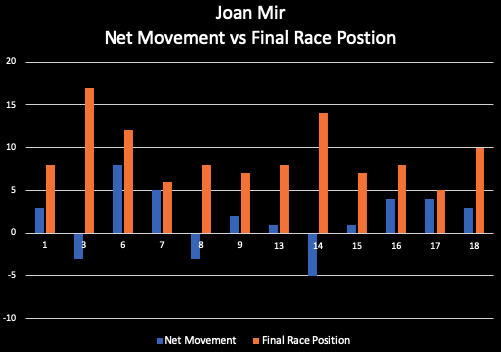 For his first year in MotoGP and first year on a factory bike, Joan Mir shows great potential. His net movement vs final position are not too surprising as we can expect a rookie to ride out highs and endure the lows. Let's start by stating the obvious. Joan's graph shows something that Alex's did not… A negative blue bar. This means that there were 3 times throughout his first season where his final race position ended behind from where he started on the grid.
What does this mean? Joan has yet to refine his prey skills which allows a rider to defend their position from those behind them. So his prey skills may not be fully developed, that's okay! There were only 3 times this season where his position dropped and otherwise, Mir was able to make advancements forward and finish in the top 10 almost every single race. Although some races had very little movement forward, he was able to hold a strong race position and focus on the smaller battles within sectors that require studying your opponents and playing your skills to their weaknesses.
Joan Mir shows a strong trajectory going into the 2020 season with the Suzuki team and we believe that studying his teammate, Alex Rins, would pay off greatly as his net movement continues on a positive trajectory.
Next stop, Valencia!