All rider photos sourced from MotoGP.com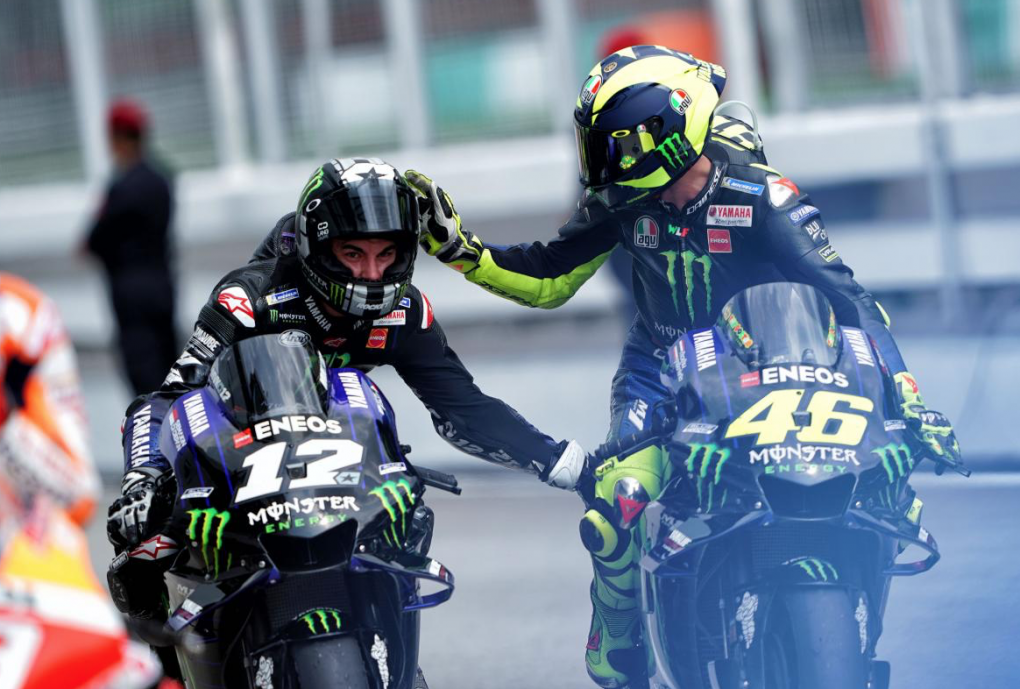 Maverick Vinales is back on top after finishing 1st at the ever so demanding Malaysian Grand Prix! The Spanish rider bumped himself back up to 3rd place in the World Championship rankings as the final round of the 2019 MotoGP season lingers on the horizon.
Sitting a comfortable 35 points ahead of his teammate, Valentino Rossi, Vinales remains the highest rank Yamaha rider in the premier league. As he rounds out his 3rd year with the Yamaha team, Maverick Vinales will continue to fight for 3rd place in the World Championship rankings against Suzuki rider, Alex Rins who sits just 7 points behind him.
Last year, Italian rider, Valentino Rossi finished the championship a slim 5 points ahead of Vinales, making himself the top ranked Yamaha rider in the series. In 2017, Vinales came in hot to his first year with the Yamaha team and finished 3rd in the championship, 22 points ahead of Rossi.
Currently, Vinales sits 25 points ahead of Fabio Quartararo, the young Yamaha rookie who has recently earned Rookie of the Year. Quartararo ranks 6th in the World Championship and is the 2nd top Yamaha rider, just 6 points ahead of Yamaha legend, Valentino Rossi.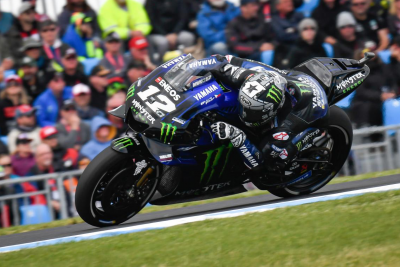 Maverick Vinales has made great strides throughout the 2019 season with triumphs as well as challenges overcome. He remains a strong threat for the upcoming 2020 season as his harmony with the Yamaha team and bike continues to evolve and strengthen. Today we are going to track Vinales's performance through his 3 years with Yamaha. By studying his combined index from each race, we will be able to identify trends in his performance, peaks, plateaus and give insight to his 2020 trajectory.
Each year, riders must adapt to a new bike as the build and technology advances. Some riders experience a smooth transition while others have trouble harnessing their new "teammate." Spoiler alert: Vinales has a proven ability to adapt and evolve, a skill that many riders hope to master by the time they reach the premier league.
The analysis below takes into account the first 18 races of the past 3 years and tracks Maverick's Combined Index. If you are unfamiliar with Grand Prix Scout's indexing system, click here to learn more. 
Please keep in mind that a lower Combined Index reflects faster, more consistent sector times. The Combined Indexes are for all sectors combined for each completed GP. Each graph tracks Combined Index vs GP with the index identified on the y-axis (vertical) and GP on the x-axis (horizontal).
Let's Dive In!
2017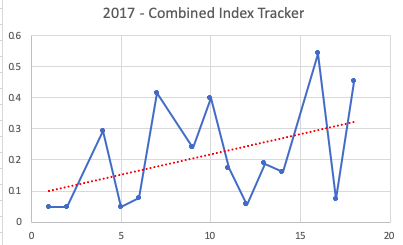 As expected for a season with a new bike and team, Maverick Vinales showed great fluctuation in his 2017 performance. With little consistency from one race to the next, Vinales lacked a clear path of improvement during his first year with Yamaha. While he had a handful of shinning moments with competitive Combined Indexes, they were ultimately outshined by weaker performances. This can be seen by the red trend line in the 2017 graph that shows an upward slope, meaning his performance not only jumped around more the 2nd half of the season, but it also had generally weaker indexes.
What was his saving grace? His finishing rate! Although his indexes showed little consistency throughout the season, he finished 15 out of the first 18 races which is notable for a 1st year on a new bike.
2018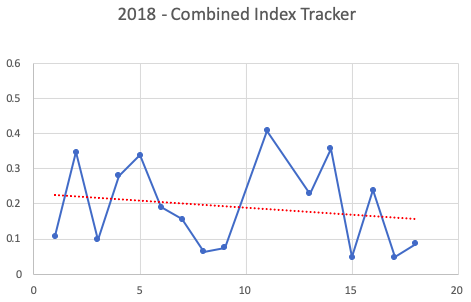 Whereas his weaker performances outweighed his triumphs in 2017, Vinales reversed this pattern in his 2nd year with Yamaha as he began to really find his groove with the bike. Yes, there is still significant fluctuation in his indexes, but if you note the y-axis scale (vertical on the left side of the graph) you will notice that the fluctuation was kept to a smaller range, just barely passing 0.4.
2018 was an important year for Maverick's career. It remains the season with his highest finishing rate since joining Yamaha. He may have finished the championship with less points than the prior year, but he began to present himself as a reliable racer and teammate, who was capable of maintaining momentum throughout a season.
2019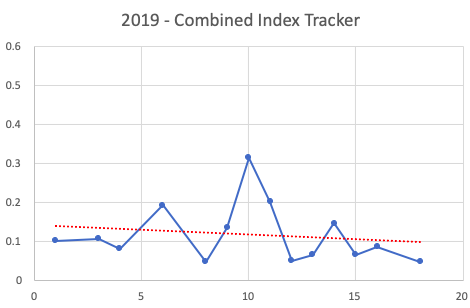 Keeping the ball rolling, Vinales has had a remarkable season as he enters the final round in Valencia in 3rd place. His time and experience on the circuit is reflected through his improved consistency and unique riding style that we have seen time and time again this season. Maverick's Combined Index has very little fluctuation as almost all GPs fall well below 0.2. A downward trend line (in red) suggests continued improvement throughout the season and shines a positive light on his 2020 trajectory.
You may notice that there are less data points on the 2019 graph compared to the previous two because of multiple DNFs. Maverick Vinales has been pushing hard all season. He has taken risks, overcome obstacles and challenged the top riders in the series. And guess what? It has paid off! The risk was worth the reward. But if he wants to continue to climb his way through the series as the top Yamaha rider, he must match his current level of performance with a more consistent finishing rate.
Random things happen all the time in races and not every DNF is a rider's fault. Opponents may make a mistake and jeopardize those around them. But at the end of the day, every single championship points counts and a lost opportunity can make or break a title. If Vinales is able to maintain the momentum and improvement that we have seen from him over the past 3 years with Yamaha, we believe he will play a big part in the race to Valencia in 2020.
Congratulations to both Maverick Vinales and the Yamaha team as they continue to excel in the MotoGP series. Next stop, Valencia!