All rider photos sourced from MotoGP.com
At Grand Prix Scout, we look at things in a different light. So while you can go read a brief summary or re-watch the highlights from last year's Aragon Grand Prix, we are here to tell you what happened and why it happened.
Let's just hit 3 highlights from last year.



1. Ducati rider, Jorge Lorenzo high sided within the first sector and let's just say it was not pretty…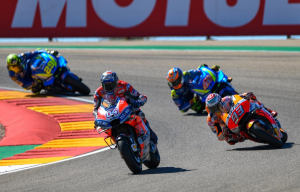 2. Suzuki held their own and both riders were within arms reach of the podium with Andrea Iannone ultimately beating his teammate, Alex Rins to the checkered line.
3. It was another classic Dovizioso – Marquez showdown with the two leaving spectators on the edges of their seats as the Ducati and Honda utilized their unique profiles on the MotorLand circuit. Marquez ended up pulling away at the last moment and won his home GP.

There's the need-to-knows, now let's dive into the numbers!
Let's Start General – All Sectors Combined
Before breaking it down by sector, let's examine the speed and consistency indexes for all sectors combined.
The top 4 riders (Marquez, Dovi, Iannone and Rins) all held significantly superior speed indexes. It's not too much of a surprise if you watched the race as the leading group created a fairly large gap between them and the remaining riders. Marquez ranked 1st in regard to speed followed by Dovizioso, Iannone and Rins. So the speed index, not so surprising. The consistency index, now that's worth mentioning.
Suzuki rider, Alex Rins held the strongest consistency index out of the top 4 riders and the third strongest out of the entire pack. Dani Pedrosa and Aleix Espargaro both maintained a tighter consistency (which explains their 5th and 6th final positions) but weren't able to match that with the speed that Rins cranked out.
Last season we saw Alex's unique style really start to take shape as he became known as an incredibly smooth, consistent rider who could preserve his tires and climb his way through the pack. This season, we have seen instances where this image we have of Rins has escalated remarkably and brought him success in various GPs. As he continues to develop harmony with the Suzuki, we hope to see Alex bring the same performance he did last year with a stronger qualifying to give him the grid advantage he needs.
It's All In The Details
It's easy to give a general overlook of how certain riders performed in a race weekend. But with the more surface analysis, we aren't able to identify why or how an event occurred. Where was Iannone able to push himself and his bike to keep up with the power hungry Ducati? Where did Marquez hold an advantage over Dovizioso? Basically, how the heck did these four riders keep such a tight formation and pull away from their opponents in unison?
Sector 1
The most turns, the most elevation change, a clear win for Marc Marquez. Historically dominant in the more technical sectors, Marquez has a way of moving the agile Honda through these sections with ease. Speed index, 1 point Marquez.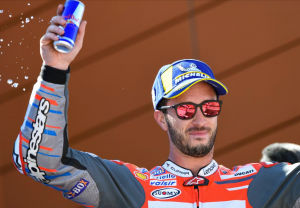 And who do we see on his heels? Ducati rider, Andrea Dovizioso. Ignoring all preconceived notions about the Ducati, Dovizioso has shown fans time and time again his ability to harness the powerful beast and exploit its more agile side as he balances acceleration with braking and handling. The Ducati is not just one to watch on the straightaways, as Dovi has proved throughout his time with the team.
Being the 2nd longest of the 4 sectors, Rins found sector 1 to be a solid territory to gain ground on his teammate, Andrea Iannone. While the gap is small, Rins was able to maintain a quicker pace throughout the race and ended with a stronger speed index over Iannone.
Sector 2
Similar to sector 1 in regard to configuration characteristics, sector 2 provides a fluid transition for riders and we see Marquez maintain his momentum as he holds the strongest speed index for sector 2.
This time, we see Andrea Iannone sitting in 2nd with a superior speed index over both Dovi and Rins. What worked in Iannone's favor? His ability to not maintain a quicker pace throughout this sector but to also match it with a superior consistency. Iannone was able to find his groove in sector 2 as he utilized the balance of power and agility encompassed in the Suzuki.
Sector 3
Standing as the shortest of the 4 sectors, sector 3 is not one to give riders a significant upper hand as it comes and goes. But hey, it doesn't hurt! Just ask Marquez who maintained a superior speed from sector 1, into sector 2 and again into sector 3. Although his consistency was not all there, his speed index was so much stronger than his opponents that he didn't need to rely on a solid consistency being carried over from the previous 2 sectors.
Sector 3 was a brief catch up period for both Andrea Dovizioso and Alex Rins as they ranked 2nd and 3rd in speed index. This may have been a more significant push for Rins as he held the 2nd strongest consistency index out of the group in sector 2 (surprise, surprise).
Sector 4
The longest of the 4 sectors, sector 4 is where you can find the straightaway that we all love to watch riders fly down. You would think Andrea Dovizioso would absolutely dominate this sector, wouldn't you? Well think again…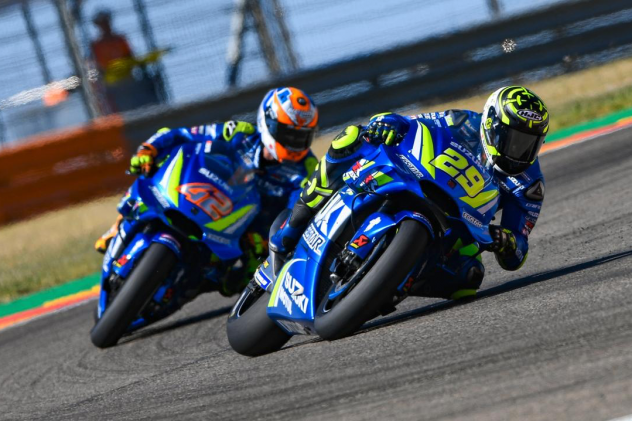 Let's call it Suzuki territory! Hitting the double apex turn and flying into the straightaway, Andrea Iannone and Alex Rins moved that Suzuki like no other. Hard braking and quick acceleration, Iannone conquered sector 4 and although he did not match his superior speed with a competitive consistency, he unveiled the brute power within the Suzuki.
Many would be surprised to see that Andrea Dovizioso didn't hold the strongest speed index in this sector as the Ducati has previously been labeled an acceleration machine. But remember, it's more than just a fast sector. Riders face a technical double apex into the straightaway that requires a balance between braking, handling and quick acceleration that lasts. While Dovizioso cranked out the 3rd strongest speed index, he came out on top in consistency with the strongest consistency index out of the group.
Takeaways
Racing is more than just a fast bike. Being able to strategically utilize both your and your bike's skills while maintaining harmony between the two is something racer's train for their whole lives. Additionally, it is the racer that defines a bike's abilities. Depending on their techniques and strategies used to exploit the bike's characteristics, a Suzuki, for example, may appear as a totally different bike under one rider to the next.
And with that, all eyes ahead as riders arrive at Aragon!