All rider photos sourced from MotoGP.com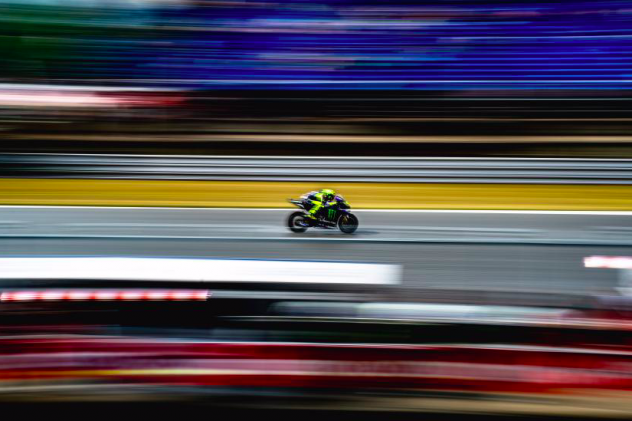 Valentino Rossi AKA The Doctor AKA one of the most influential, successful MotoGP racers to date. With 198 podiums, 89 Grand Prix victories and 7 World Championship wins, the 40 year old Italian rider continues to captivate fans with his genuine nature and masterly presence on the circuit.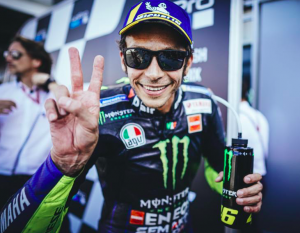 Currently ranked 6th in the World Championship rankings, Valentino Rossi's 2019 race performance may receive mixed reviews as his strong start tapered off and a podium finish appears to lie just out of his reach. While Rossi has finished 4th in the last three races, his current performance lacks a special something that ultimately separates him and the podium riders. Having placed on the podium a total of 2 times so far this season, it is evident that his skill, execution and harmony with his bike are all there. So what keeps holding him back? How does his race performance compare to the average performance between the three podium riders? Let's dive in!
Let's start with what your mind most likely jumped to… race pace. Yes, obviously a superior race pace will give you a huge advantage. But it's a bit more complicated than that… Where exactly on a circuit you hold this superior pace compared to your opponents is arguably one of the most important angles to study. It's all about creating that gap between yourself and your opponents. Excelling in a sector where your opponent is noticeably weaker will allow you to cover more ground and allow you to utilize your bike's unique qualities in the appropriate sections.
So in general, how has Valentino Rossi's speed index for all sectors combined compared to the average of the 3 podium riders?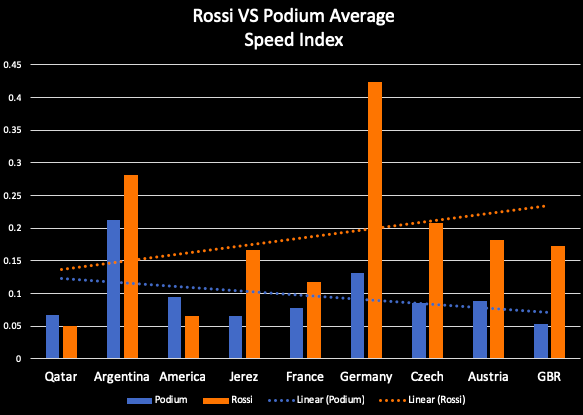 As you can see from the above graph, Rossi's speed index varies greatly from the average podium index, the gap increasing as the season progresses. With the exception of Qatar and America where his index for all sectors combined was stronger than the podium average, Rossi often lacks a race pace fit for a podium finish.
The 2019 rider line up encompasses incredible talent and drive with some of the stiffest competition fans have seen in a while. My point being, the race indexes produced by the podium riders are so strong that it is no surprise when there is gap between them and the runner-ups as they cross the checkered line. So are we necessarily surprised by the deviation in speed index between Rossi and the podium riders? Not really… Have we identified an area of weakness for The Doctor? I'd say so.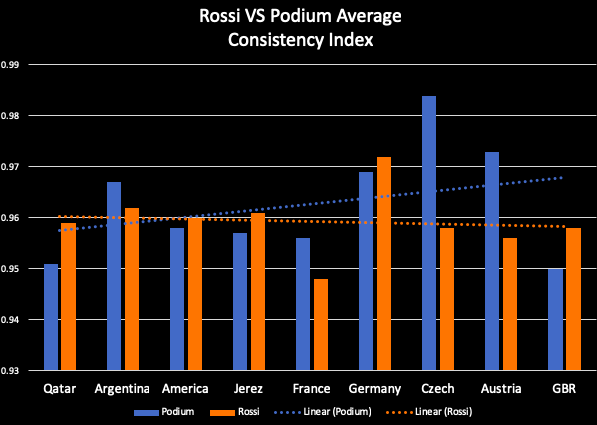 Where Rossi lacks in speed compared to the podium finishers, we see him excel in consistency. Almost always better or equal in consistency index, Valentino Rossi demonstrates his years of training and racing with uniform sector times lap after lap. And whereas the average podium consistency has shown great fluctuation race to race, Rossi maintains a steady index from one circuit to the next as you can see by the almost completely horizontal trend line.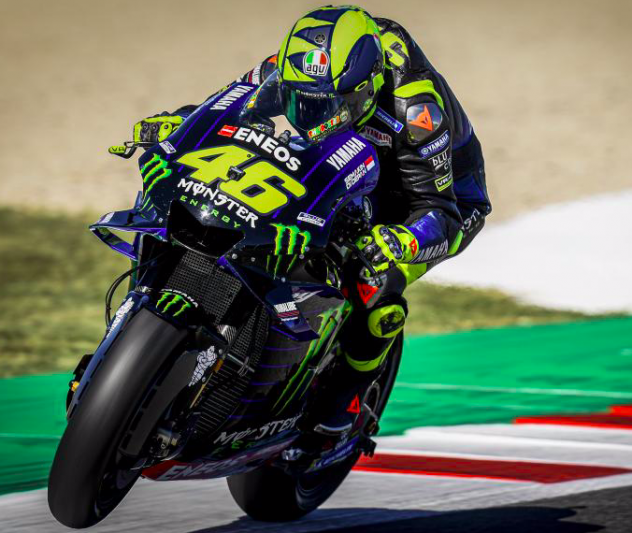 It is no secret that both The Doctor and his team are working around the clock to improve the bike itself and the rider / machine relationship. Each year, new technologies and builds create almost entirely new teammates for the riders. As Rossi shines with his seasoned skills, we hope to see an increased comfort with the Yamaha and a push in speed to close the gap between himself and the seemingly unattainable podium.
Next stop, Aragon!