All rider photos sourced from MotoGP.com
A historically strong qualifier at the San Marino Grand Prix, Yamaha rider, Maverick Vinales is no stranger from the Misano front row. With one P1 start with Yamaha and two P3 starts with both Yamaha and Suzuki, the Spanish rider has started the past three San Marino GPs off with a bang.
From the front row, Vinales has maintained a strong race performance at Misano as he continues to chase a podium finish. Although he has yet to grasp one within the past three years, the Spanish rider has come very close with one 4th place finish and two 5th places finishes.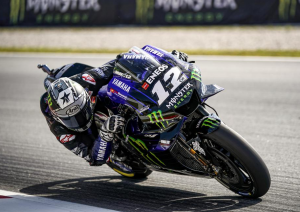 So how has he historically performed between the flags? Although his single lap speed has placed him on the front row multiple times, Vinales has yet to successfully put together a full race with this superior speed. This is not to say his race pace is weak, but at the end of the day, one fast lap does not generally translate to a podium finish.
Where Maverick Vinales has historically lacked in race pace, he makes up for in consistency. We are not too surprised by this finding as Vinales continuously utilizes his ability to hold a stronger consistency than his opponents. This skill has allowed him to pick his way through the pack lap by lap, regardless of his starting position. Fans have become accustomed to watching Vinales study his leading opponents and strategically close in on them with a gradual gap closure.
So how do we feel about Vinales as him and the Yamaha team head to the San Marino GP next week?
This season, he has had an average qualifying position of P5 with four front row grid starts. Additionally, we have seen a push in race pace from the Spanish rider which when matched with his superior consistency, makes him untouchable.
Next weekend we hope to see another strong qualifying from Vinales as a front row grid start will ultimately make or break his chances at the podium. A faster race pace will be essential in the fight for championship points and will compliment his historically dominant consistency greatly.