All rider photos sourced from MotoGP.com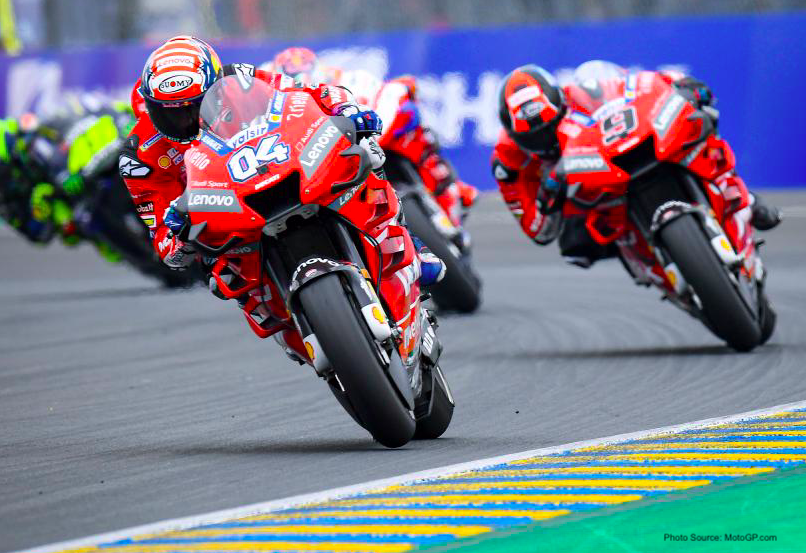 As race fans mentally prepare for the Czech Grand Prix, we think back to one year ago at Brno. Ducati superstar, Andrea Dovizioso took home his 3rd (out of 9 total) podium finishes of the season. He was followed closely by his former teammate, Jorge Lorenzo as well as Lorenzo's new teammate, Marc Marquez. So 2 Ducatis and 1 Honda. What can we expect from Dovi this weekend?
Today we are going to evaluate his current season performance leading up to this weekend's Czech GP compared his 2018 journey to Brno. We will examine his combined indexes, speed indexes and consistency indexes from each GP to the next.
Note
A combined lower index = stronger performance
A lower speed index = faster sector times
A lower consistency index = smaller variation in sector times
This season, Dovi's overall performance has been significantly more stable with less variation in his indexes from one race to the next. With less DNFs leading up to Brno this year compared to last, the Ducati rider is holding on tight to that 2nd position in the world championship ranking. Although he has maintained a more consistent combined index throughout the season, his trajectory shows a positive slope. This suggests a stronger performance within the first few races and a gradual weakening in performance as the season rolls on.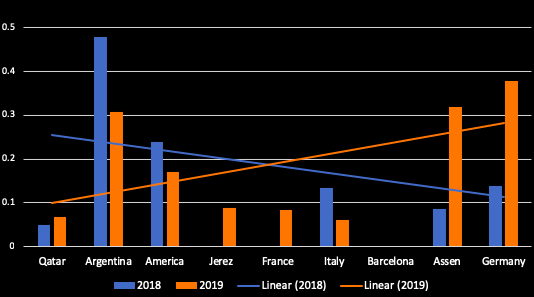 Speed
In general, Dovizioso's speed index has improved notably compared to last season. His 2019 index (marked in orange) has been stronger in almost every race this season. Similar to his combined index, his performance in the last three races has taken a dive which explains the postive slope of his speed trajectory (the solid orange line)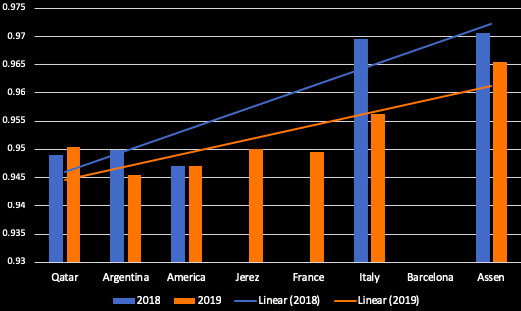 Consistency
Consistency is key and Dovizioso has brought that skill to each circuit this season. Although his 2019 trajectory (solid orange line) follows that of his 2018 trajectory (solid blue line) with a positive slope, the slope is not nearly as steep which identifies an overall much more stable performance.
At the start of the season, Andrea Dovizioso was thought to be one of Marquez's biggest competitors for the World Champion title. He remains a threat to the Honda rider but must increase his overall speed while maintaining his superior consistency in order to overtake Marquez. Petrucci and Dovi have brought incredible talent to each circuit and we hope to see the two Ducati riders continue to push each other as the season unravels.