All rider photos sourced from MotoGP.com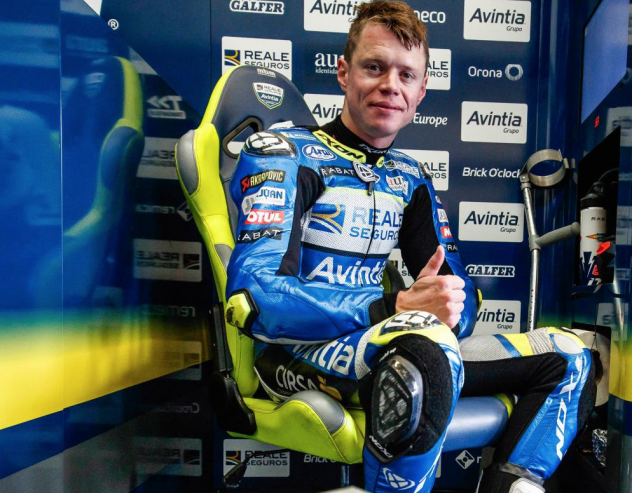 Joining the MotoGP series back in 2016, Tito Rabat raced with Honda for two years before joining the Ducati team. After joining Ducati in 2018, Rabat made great strides in his personal riding as well as improving his competitive edge against others. The Spanish rider currently sits in 19th place in the World Championship rankings after the first 9 races of the season.
Today we are going to elaborate on the performance pattern detected for Rabat as he navigates his way through another season in the premier league. Note: all analysis is based off the first 9 races of the 2016 – 2019 race seasons.
2018 – The Glory Days
Tito Rabat has gotten on and off the struggle bus a few times since joining the series. The most notable breakaway Rabat has had from that bus was the start of his 2018 season, AKA his first season with Ducati. Not many people expect a rider to excel in their personal development the first year of joining a new team. Well, Rabat proved many people wrong. While this may not have been his most accelerated season in regard to race to race improvements, his consistency across all nine races was noteworthy.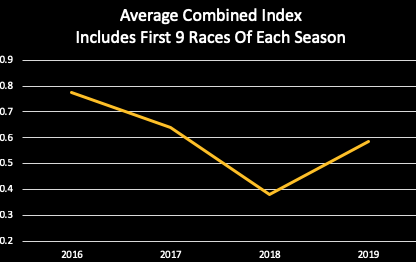 2018 was a good season for the Spanish rider. Standing as his most consistent start to the season yet, Tito Rabat maintained a significantly small range in combined index fluctuation. This means that although his improvement from one race to the next was not drastic, his DNF rate was exceptionally low and his combined index did not take any big hits throughout these 9 races. During this first year with Ducati, Rabat's average combined index was a strong 0.379, almost twice as strong as his 2016 average combined index (his first year with Honda).
As you can see from the chart provided, Rabat's average combined index for the first 9 races of each season was on a linear path to improvement before peaking in 2018 and then jumping back up. Remember, a smaller combined index reflects faster, more consistent sector times.
2019 – An Underwhelming Year
Rabat's transition to Ducati mirrors his transition to Honda quite closely. During his first year with each team, we saw greater race to race improvement with an overall positive outlook and strong slope going into the second half of the season.
So far this year, Rabat has maintained a competitive average combined index. It has weakened from his 2018 average but has remained stronger than his 2016 and 2017 averages with Honda. Moral of the story, Rabat + Ducati = two thumbs up.
With that said, Rabat's performance consistency has taken a turn for the worst. His range in combined index has fluctuated greatly. In fact, his performance consistency this year stands as his 2nd weakest since joining the series. With 3 DNFs and inconsistency from one race to the next, we are missing that fire we have seen from the Spanish rider in the past.
Onward & Upward
Summer break is coming to an end and riders have the Czech Grand Prix on their minds. As rabat continues fighting for those precious championship points, we hope to see a more consistent performance so that he can start focusing more on fine tuning his skill sets rather than finishing the race. By studying other riders, especially those on Ducati, Rabat may develop techniques that he can utilize to hold off his opponents in the upcoming races.