All rider photos sourced form MotoGP.com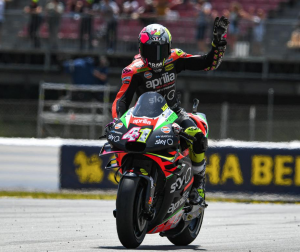 Since joining the MotoGP series back in 2012, Spanish rider, Aleix Espargaro has raced with 4 different teams, claimed 2 pole positions and landed on the podium once. His most successful season thus far was 2014 with the Forward Yamaha team where he took 7th in the championship with 126 points. His days with Suzuki starting in 2015 were glorious but short lived and Aleix hasn't seemed to be able to bounce back since joining Aprilia in 2017… or has he?
If you go according to championship points then no, he hasn't. But if you look at his individual performance and compare it to years past, then you will see some significant improvements.
Today we are going to focus on Aleix's predator and prey riding skills and see how they fluctuate over the course of the last few years. A rider's ability to strategically study his opponents and overtake at opportune times reflects their predator skillset and can be defined by their unique predator index. Catching other riders is obviously a needed skill, but what good will that do if you can't defend your position? A prey index translates to a rider's defensive riding ability in holding their lines and preventing those behind them from passing. 
Predator Index 2015 – Present
Over the past 5 years, we have seen a slight improvement in Aleix Espargaro's predator riding abilities. While his overall average predator index for a season improves on a fairly linear line, his predator variance fluctuates greatly year to year with no pattern. A wide variance reflects little consistency in a predator index from one race to the next. Aleix maintained a more consistent performance from 2015 – 2016 with a slight decline in the 2017 season (hello team switch!). Last year we saw a significant improvement in regard to predator variance and he has continued this into the 2019 season. It is safe to say that Aleix is gradually finding harmony with the Aprilia each season.
Prey Index 2015 – Present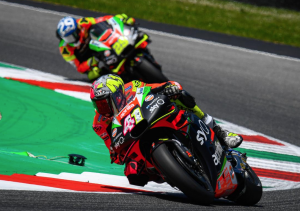 Improving his prey index at a much quicker rate, Aleix has continued to develop and improve a defensive riding ability. Although his variance is again, unpredictable, his average pattern of success was not influenced by a team change. Aleix maintains a strategic, mature riding style in that he knows his limits and has been able to focus on what one would think are minor skill sets that ultimately improve his individual performance.
A. Espargaro demonstrates minor improvements year to year and shows no signs of slowing down as he currently sits in 14th position in the championship rankings. With that said, the 2019 season is evolving into one of the most competitive seasons MotoGP fans have experiences in quite some time.
Study your opponents. Acknowledge their strengths and more importantly, their weaknesses. Utilize your known strengths to overtake and prioritize your training points.