Rider photos sourced from MotoGP.com
Marquez is at it again with 7 podium finishes within the first 8 races of the season. The energy is high as the Repsol Honda team heads to Germany where they have been undefeated SIX yeares in a row. Yes, you heard me right. The young Spanish rider has taken every single pole and win at Sachsenring since 2013. I sure wouldn't want to be in the same ring as Marc this weekend…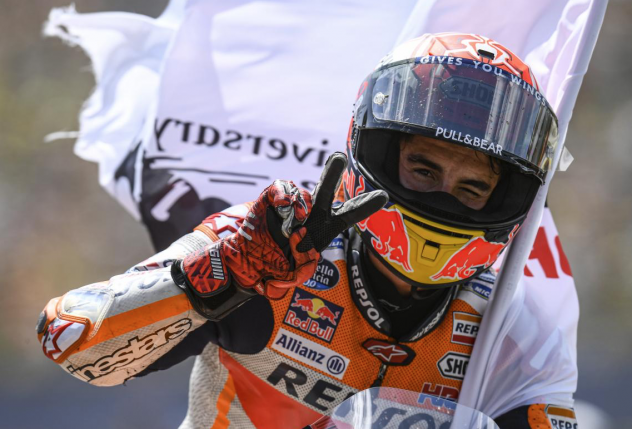 With a comfortable 44 point lead over Andrea Dovizioso, Marquez is slowly taking off in the Championship rankings. So what is it exactly that Marc brings to the circuit in Germany that allows him to, well, dominate?
I will tell you one thing, it is rarely his start off the grid. With the exception of 2017, Marquez has never maintained P1 from the grid through the first lap. In fact, his average position recorded for the first lap off the grid is P4. So his prey index is not so hot… maybe that explains his unmatched predator index. He often gets caught by his opponents but has an ability to study each competitor and ovetake at opportune times. Fun fact: his average lead over the finish line for the past six years is a 3.43 second gap.
Marc Marquez holds the strongest speed index at the Sachsenring Circuit (by far) and surely hasn't been slacking on consistency. Marc and the team want all the points they can get, but if he pushes too hard to defend his title, we may see a similar race to that in Austin this past spring… Know your strengths and weaknesses but more importantly, know your opponent's. In these situations, it is important to remember that a personal best is not the goal, but instead a strategic race to highlight your strengths in areas that others struggle.