All rider photos sourced from MotoGP.com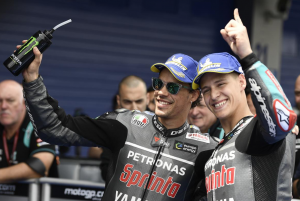 Riding for the Petronas Yamaha team, 20 year old Fabio Quartararo is coming into his first MotoGP season HOT. Currently ranked 7th in the World Championship rankings, the young French rider is a slim 2 points behind Ducati rider, Jack Miller. With 2 pole positions and 1 podium finish already under his belt, the 2019 Rookie of the Year title is looking very promising for Quartararo.
His momentum appears to be moving fast and gaining more power each race, but how does his rate of improvement compare to the 2017 and 2018 Rookies of the Year? In other words, how does Quartararo's performance in the first 7 races compare to Zarco's in 2017 and Morbidelli's in 2018?
Let's start general and then dive into the nitty gritty details… Johann Zarco, Franco Morbidelli and Fabio Quartararo all acquired 1 DNF within the first 7 races of their debut season. During this time, Zarco earned one P3 grid position and Morbidelli earned no front row grid positions. Fast forward to this season, Quartararo has already earned two P1 grid positions and one P2! Like I said, he's coming in hot…
Morbidelli vs Zarco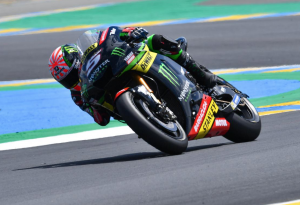 In 2018, Morbidelli's rate of improvement for his combined index in the first 7 races was 0.0229. To put this into context, Zarco's rate of improvement in 2017 for the same 7 races was 0.0055. So what in the world does this mean? Franco Morbidelli showed a faster rate of improvement each race than Johann Zarco during their rookie years. Zarco's combined index had smaller refinement each race while Morbidelli took greater strides in improving his.
Although Morbidelli showed a steeper improvement slope, Johann Zarco started his MotoGP career stronger and ultimately did not need to rely on a fast improvement rate. Averaging 5th place for the first 7 races, Zarco stood among some of the top riders right from the get-go. On the contrary, Morbidelli averaged 14th place for his first 7 races and relied heavily on a quick adaption and improvement to snag the Rookie of the Year title.
Where does Quartararo fall into the mix?
So far, Quartararo seems to be the best of both worlds. His rate of improvement is almost identical to Morbidelli's in 2018 at 0.0268. Similar to Morbidelli, Fabio has been able to adapt to the bike, study his opponents and take each race as a learning experience. He has averaged a finishing position of 8.5, a more similar ranking to that of Johann Zarco in 2017.
There are many reasons to be excited about the potential that the young French rider shows this season. One I would like to highlight is the momentum the MotoGP series shows in bringing up new talent each year. We have a yet to see a plateau in the sport and riders such as the three studied above are a prime example of how MotoGP can and will continue to push boundaries.
Identifying unique talent within the series is one of our goals when bringing race fans in-depth analysis. Never stop learning, push boundaries and most importantly, be sure to join our weekly newsletter by clicking here.
Next stop. TT Circuit Assen!