All rider photos sourced from MotoGP.com
With all the hype centered around the individual World Championship rankings, it can be easy to overlook the team rankings throughout the season. Today we are going to dive into the top three ranked teams which by no surprise are: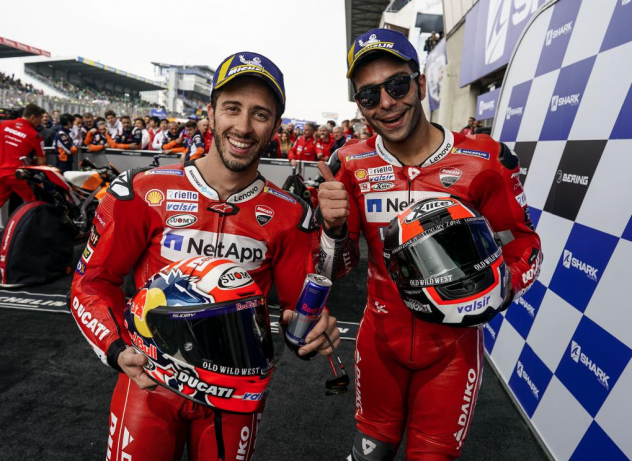 Mission Winnow Ducati – 185 points
Repsol Honda – 134 points
Monster Energy Yamaha – 112 points
The Catalan Grand Prix is a home race for three out of the six riders that are included in the top ranked teams. While some may believe in a home court advantage, the 2019 season has been filled with unpredictable twists and turns making each GP more exciting than the last.
Let's start with tracking each team's cumulative combined index for the first six races. The graph's below display the rate of improvement for each team (not individual rider) as they progress through the 2019 season. If one or both teammates received a DNF, that race is an automatic 0.
*Spoiler alert: The Ducati team is the only one whose riders have finished all six races.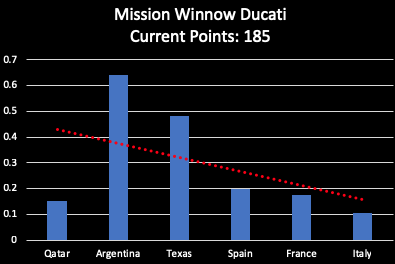 As you can see, the Factory Ducati team is on a fairly steep rate of improvement with the exception of Qatar to Argentina. This graph suggests that BOTH Dovizioso and Petrucci are improving their performances each race and not relying on one to carry the other.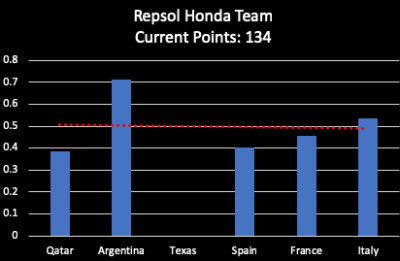 An almost horizontal line AKA little to no improvement from one race to another… All I have to say is, Marquez, you must be tired of carrying the team on your back! Lorenzo and Marquez are ultimately cancelling out each other's points due to their almost opposite performances. With five podiums out of the first six races, Marquez is not only saving the Honda team, but also leading the World Championship. Could a home race change Lorenzo's trajectory?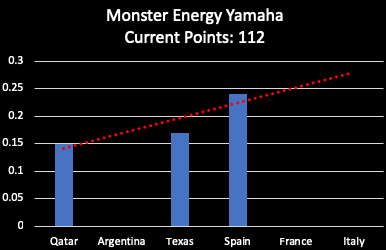 Inconsistency has engulfed the Factory Yamaha team this season. We've seen crashes, jump starts and poor qualifying from Rossi and Vinales and are desperately waiting for a change in pace. The team's performance shows a positive trend line which reflects a weakening team performance as the season progresses. While both Ducati riders are improving in parallel, #46 and #12 are out of sync with each other and themselves.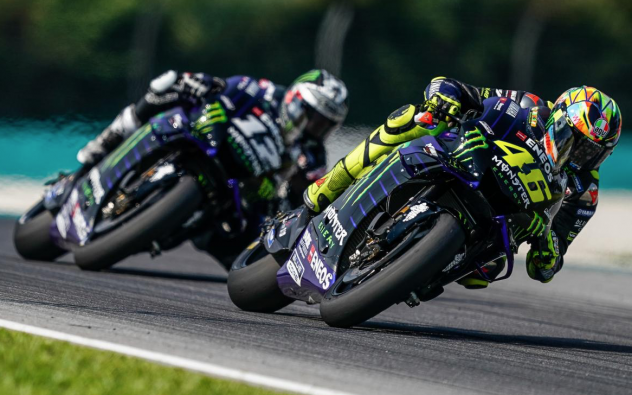 We expect each rider to be heading into race weekend with a fire under their seats. Why?
A poor home race in Mugello left Rossi hungry for redemption.
Could the taste for a Spanish podium in Jerez fuel Vinales to once again show his fans why he's here?
A first win for Petrucci in Mugello, well, he's on a high.
The possible World Champion contender, Andrea Dovizioso, must overtake Rins in the ranking and close the gap between himself and Marquez.
Speaking of Marquez… he's simply unstoppable.
Free practice tomorrow, qualifying Saturday and race day on Sunday. It's time for the Catalan Grand Prix!
Written by Julia Robinson