All rider photos sourced from MotoGP.com

With six podiums out of the first seven races of the 2019 season, Marc Marquez has shown no signs of slowing down. In fact, he's just getting started! The unstoppable Spaniard has landed on the front row of the grid each race and has maintained a strong prey index, preventing his opponents from from overtaking at opportune times.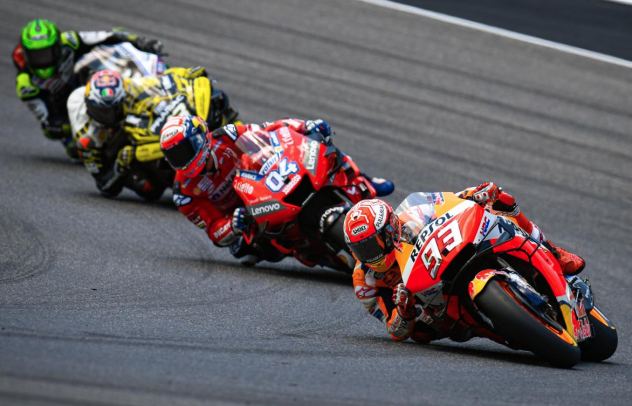 In addition to earning a top grid position each race, Marquez has perfected his start off the grid. The Repsol Honda rider has lead the entire pack for at least four laps without letting anyone challenge him for P1 each race, with the exception of Qatar. His ability to ride in a defensive mindset reflects his maturity as a rider as well as his knowledge and awareness of his opponents. Studying each of his competitors and their riding styles/techniques has allowed Marquez to refine his race lines and blocks. He acknowledges the fact that he only has to be better than the few riders tailing him and knowing their common strategies for overtaking, he can defend his position and the championship points.
Let's revisit Marquez's performance in Austin this year… Talk about a learning experience. Bottom line, he did too much. Had he reigned in it a bit, the COTA king could have kept a safe distance between himself and the pack without jeopardizing his position. A personal best is great in all, but at the end of the day you're not trying to beat yourself, you're trying to beat your opponents.
Study. Be aware. Protect your position.