All rider photos sourced from MotoGP.com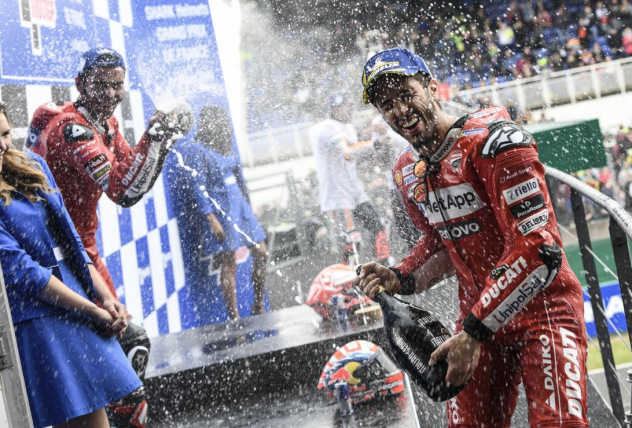 Last weekend, the Ducati team dominated Le Mans with a tight race for 2nd, 3rd, and 4th place. With the exception of Repsol Honda rider, Marc Marquez, who started from pole position and finished in P1 (surprise surprise…), the Ducati boys came in HOT and crushed the race.
Andrea Dovizioso, Danilo Petrucci and Jack Miller all brought unique skills to the circuit and while some complemented each other, others ultimately swayed the outcome to favor the two factory riders. This is not to say that Dovi and Petrucci were obvious podium contenders, as Jack Miller gave a performance that reminded us of his potential as a factory rider. So, what contributed to Dovi and Miller's "edge?" Meaning, what ultimately allowed Dovizioso to climb through the pack after a rough start off the grid? And why was Miller looking so strong until he well, wasn't?
Quite the unpredictable rider, Jack Miller has established a "classic Miller act" where he flies through the first half of the race and then begins to fade. Hey Jack, have you heard of a little thing called self-preservation? Put this in terms of rider stamina, tire care in regard to circuit conditions and your opponents. Miller's consistency indexes reflect his sporatic riding style as he comes in a little too hot and slowly loses his edge throughout the race. A strong first half of the race is important but not if it can't be paired with a competitive second half. Although Miller began to slip back, he maintained a strong prey index which reflected his ability to defend P4 by holding his lines and preventing Rossi from gaining ground on him.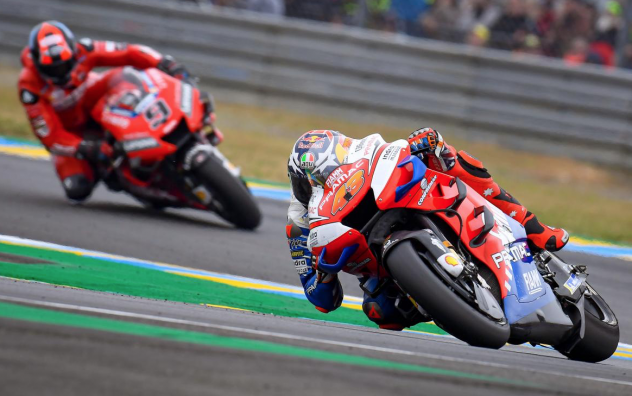 Jack Miller ultimately needs to prove his ability to hit the circuit with a more mature riding style that Ducati can trust him to hold for an entire race. The attention to detail we need to see from the 24 year old Australian will require him to take a step back, get his priorities straight and ripen his style to one that fans and teams can rely on.
Let's welcome Andrea Dovizioso back to the party! Holding the strongest predator index out of the three Ducati riders, Dovi utilized his hunting skills to patiently study Miller and determine how and where he could pass him. Analyzing Miller for 12 laps, Dovizioso didn't try anything risky but instead, preserved his tires for the first half of the race which allowed him to push harder for the second half. Time and time again, Dovizioso strategically navigates the circuit with a levelheaded approach that demonstrates his wisdom and harmony he has developed with Ducati. Take notes Jack!