It's day two here at the Circuit of the Americas and Mother Nature has been full of surprises thus far. With extreme circuit temperatures on Friday and severe thunderstorms to start Saturday off, tire choice is going to be a major factor in this weekend's race to the podium.
Friday ended with Maverick Vinales leading the group and Texas king, Marc Marquez in a close second. The Doctor rounded out the top three with Ducati rider Jack miller taking fourth and LCR Honda rider Cal Crutchlow bringing home fifth. With storms causing officials to cancel FP3, riders will be back this afternoon for Q1 and Q2.
So let's talk weather….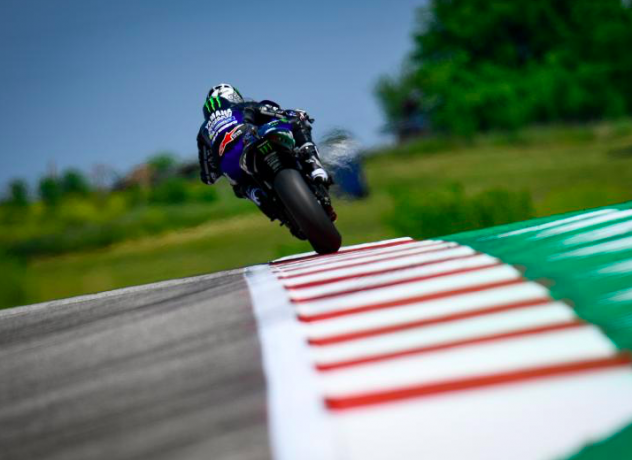 Fri(yay)!
Free Practice 1:

9:55am
Air temperature: 64 degrees Fahrenheit
Circuit temperature: 78 degrees Fahrenheit

Free Practice 2:

2:10pm
Air temperature: 80 degrees Fahrenheit
Circuit temperature: 108 degrees Fahrenheit
Let's break it down… From FP1 to FP2 there was a 14 degree difference in air temperature and a 38 degree difference in circuit temperature. I know what you're thinking, WOW! So why was there such a drastic difference in circuit temperate and how does this affect tire choice? Read on my fellow weather nerds!
With clear skies in the morning and afternoon, there was little to no deflection for the shortwave radiation traveling to Earth's surface. So we have a direct path for insolation to reach the circuit. Then what happens? Asphalt has a very low albedo which means its absorption rate is VERY high. Let's compare asphalt to a surface with a high reflectivity rate, or a high albedo. When short waves come in contact with ice, little to no radiation is absorbed and instead is reflected right back towards the atmosphere. In contrast, when short waves reach a surface with a low albedo such as asphalt, it is absorbed throughout the day until it reaches its holding capacity and then releases heat in the form on long wave radiation to ultimately balance out Earth's radiation budget. As the asphalt is absorbing all this insolation, the temperature starts to steadily climb and results in a significant increase in circuit temperature.
So how does a team ultimately choose the correct tires? Each rider needs an optimal level of feel when they race. While there are numerous factors to be taken into consideration, the condition of the asphalt, which changes over time, along with the circuit temperature heavily influence tire compound choice. At the end of the day, each rider knows their style and their ability to nurse their tires through various conditions. They must ask themselves, can I make these tires last through the finish line?
Round three of the season is in full swing! Check back for further updates and analysis.