It has been two years in a row where we have seen Ducati rider Andrea Dovizioso and Honda rider Marc Marquez neck and neck for the first place podium finish at the Qatar Grand Prix. With an adrenalin pumping season opener, these two did not disappoint.
So how were these two able to stay on top of each other for 22 laps straight? How did Marquez catch Dovizoso just as he began to pull away and where did Dovizioso gain the most ground? We are here to answer those questions!
Let's start big picture… Overall, Marquez had a stronger speed index for all sectors combined. His times were dangerously close to Dovizoso's but he was ultimately able to gain ground on his opponents with these quick times. Where Dovizioso lacked in speed he made up for in…wait for it… CONSISTENCY! Fast lap times are great in all, but if they are not matched with superior consistency then a rider will have a hard time pulling ahead of the pack.
Now let's break it down by sector…
Sector 1: The shortest and least technical of the four sectors.
Less technical? Sounds like an opportunity for Ducati to crank out some significantly faster sector times compared to their more agile, less powerful opponents. And this is exactly what we saw! Dovizioso held quicker T1 times but was unable to shake Marquez given his Honda opponent held a higher T1 consistency.
Sector 2: The second shortest and second most technical sector.
Let's just say…. Dovizoso territory. Andrea's ability to handle this powerful, monster of a bike through more technical sections gives him an edge. He was able to utilize a formally Honda known territory to not only gain ground on his opponents, but to also begin to distance himself from the pack and set a pace.
Sector 3: The second longest and third most technical sector.
And…. Marquez is back in the picture. Given that T3 is the second longest sector, the fact that Marquez held the faster T3 times was a huge advantage. This gave him the ability to catch Dovizioso after he moved through his T2 territory. Cranking out quicker times on a much longer sector gave the Honda rider time to makeup for his slower pace in the previous sector. With that said, we saw an all too familiar flaw with Marquez's T3 performance… Consistency, or lack thereof. Sorry Marc, Dovizioso had you there.
Sector 4: The longest and most technical sector.
The most technical sector out of them all? You guessed it! Marquez territory. Dominating this final sector in both speed and consistency, Marquez prevailed. Throughout the race we saw the formal World Champion catch his opponent going into the final turn. T4 being the longest, and Marquez's strongest sector made up for any ground lost in the previous sectors. In the end, Dovizioso was not giving up here and was able to utilize the power of the Ducati as the two entered the last straightaway.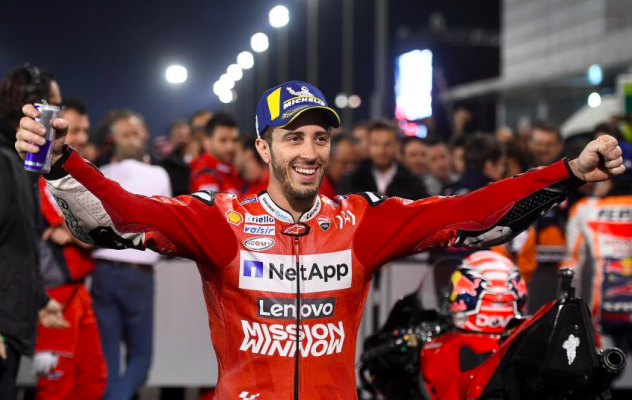 It was another memorable start to the season at the Losail International Circuit and we look forward to seeing the teams head to Argentina for the next GP! Congratulations to both Andrea Dovizioso and the Ducati team for an excellent performance this past weekend.