Rider photo sourced from MotoGP.com
Nearing the end of his second year in MotoGP, the French GP rider Johann Zarco heads to Sepang where one year ago, he dominated the Malaysian Grand Prix placing 3rd.
If you haven't gotten a chance, head to our "Rider Stats" menu to see this week's MVP riders and to see just how strong Zarco is on this circuit.
His historical combined index ranks above the other four riders in a majority of the sectors regardless of the fact that he has only raced on it one time. What is it about his riding that allows him to excel around this circuit?
Consistency.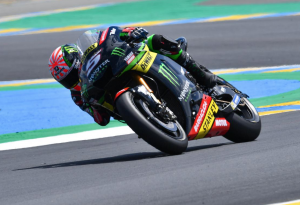 Zarco's historical speed indexes are not competitive enough alone, but when paired with his consistency indexes, his performance level bumps up a few notches. The Sepang International Circuit is a very diverse configuration which challenges riders who prefer particular circuit attributes (think tight technical sections, straightaways, long sweeping sections). This circuit has it all. To have some of the top consistencies in every single sector is exceptional for a rider on this circuit.
We hope to see Zarco come back from his crash last week at Philip Island ready to fight a tough battle to the finish line. If he is able to maintain his consistency that we have seen before and push his bike to the limit, we may just see Johann Zarco back on the podium.